Happy Willow at one-North is an indoor play centre at Fusionopolis themed after an enchanting play garden.
Useful Information
Address:
#B06 Connexis Tower, 1 Fusionopolis Pl, Singapore 138632
Contact: +65 6466 6300
Visit Website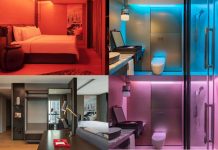 Lighting that adapts to a guest's body rhythm, a multisensorial Experience Shower and an in-room wellness wall. These are some of the features at...
When it is time to relax and kickback, there is nothing quite like slowing down and taking it all in at a restaurant which...

FEATURED LISTINGS