With granite cliffs against a peaceful lake, the park is reminescent of Guilin in China and locally known as Xiao Guilin or Little Guilin.
Useful Information
Address:
Bukit Batok East Avenue 5, 659081
Contact: +1800 471 7300
Visit Website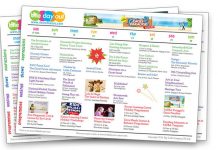 The school holidays 2018 are here! The year-end school break in Singapore takes place from 17 November to 31 December 2018 and it is...
Changi City Point is amping up the fun for kids and families during the 2018 year-end holidays with a host of exciting activities. Enjoy...
FEATURED LISTINGS