Based on a cuckoo clock and an alarm clock, this mosaic covered playground provides nostalgic fun in the form of climbing ladders and a slide. Found at Blk 514C Bishan Street 13.
Useful Information
Address:
Blk 514C Bishan Street 13, Bishan Bus Terminal, Bishan, North S570514
Contact:
Visit Website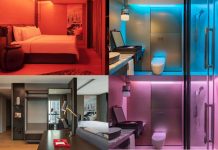 Lighting that adapts to a guest's body rhythm, a multisensorial Experience Shower and an in-room wellness wall. These are some of the features at...
Whether you are looking to enrich your child's sense of aesthetics, engage his or her interest in a new area or strengthen his or...

FEATURED LISTINGS