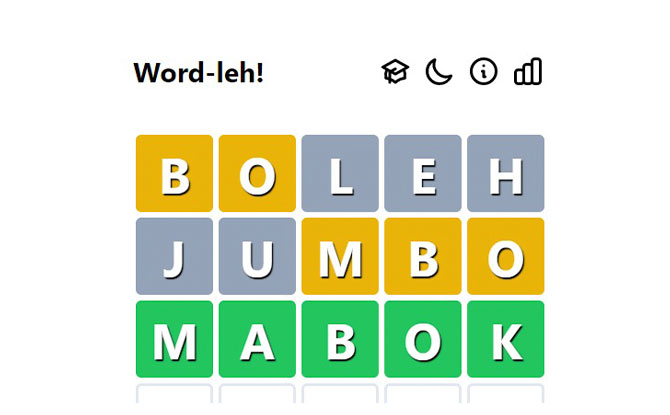 If you haven't done a "Wordle", where have you been?
The web-based word puzzle has since grown so phenomenally popular and successful that New York Times has acquired it. Before the run ends for free play, we found 11 other "Wordle"-like games you can try!
---
11 Other "Wordle" Challenges to Try
1. Word-leh
This is dedicated to the Singaporeans who will need to guess 5 letter Singlish terms. Bring out that heartlander in you and think all things colloquial! I tried this several times and found some of the spelling a little awkward, then again this is a Singlish puzzle.
Try it here.
---
-- Story continues below --
2. Globle-game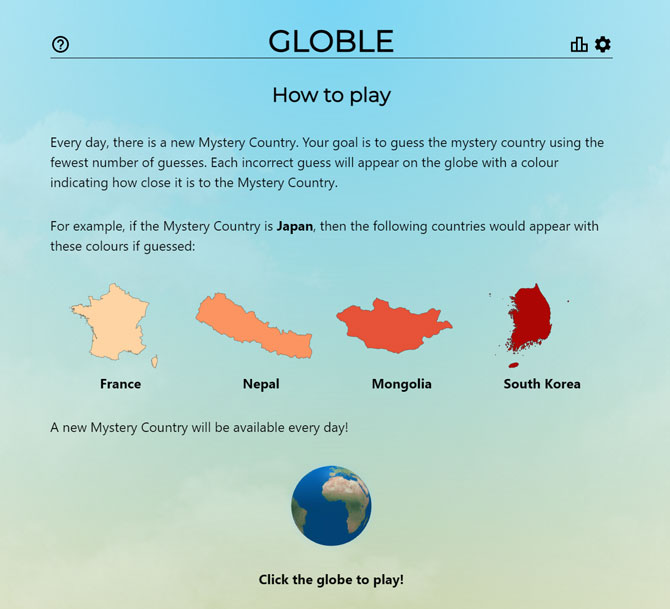 Aspiring to be the next Max Zeng? Well, start learning your countries first. Globle is all about guessing the right country, the deeper the red hues, the "warmer" you are towards getting the right country. Yes it is a heatmap!
Test your geographical knowledge here.
---
3. Country in Shapes
Guess the country with its shape given. Clues about distance of country from the guesses are given as you try to figure out the answer. This is definitely for those who can ace number 2 easily.
Start shape sorting here.
---
4. Cheng Yu Wordle 成语
All the years of memorising four-character Chinese idioms should come in handy here.
Clues are given in the characters supplied, and you can always ask for clues that will tell you which characters are relevant to your guesses. Same rules apply regarding correct characters in the right or wrong spots.
Start guessing here.
---
5. Wordle in Bahasa Melayu
Think you know your Malay words? Try this Wordle in Malay! The interface looks similar to the original Wordle.
---
6. Pinyin Cheng Yu
Another one that's all about Chinese idioms! But this one uses Hanyu Pinyin for guessing, in my view, this is more challenging. Perhaps this would work better for those who are less familiar with Chinese Characters.
Make your HYPY Cheng Yu guesses.
---
7. Nerdle Game
Who says Wordle has to be confined to words? There is one just on math and you can choose to make your own equations!
Make it count here.
---
8. Make Your Own Wordle
Those who love to be gamemasters would love this one, make your own and send it out to friends, family and colleagues.
Make your own here.
---
9. Wordle Unlimited
Solving one puzzle a day must bore some out, so here's a wordle unlimited version that lets you solve as many word puzzles as you want!
Get unlimited puzzles here.
---
10. Just for the Kids – Chinese Wordle
Children are included in this Chinese one by Kidstartnow. Learn two characters from the primary one to three syllabus. It's a great way to recap the words and gamefy Mandarin-learning, any fun ways to learn is always welcome
Try wordle just for the kids.
---
11. Quordle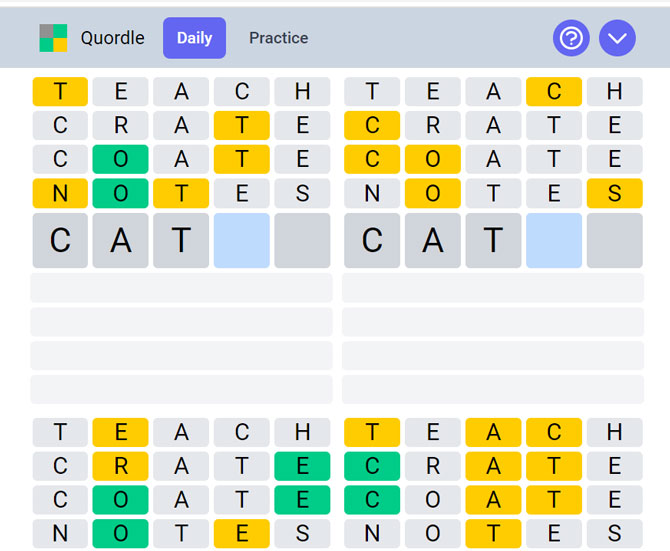 One word a day is possibly too easy for expert wordlers so here's something else to up the challenge. How about trying to guess four words in nine tries? Four words in nine tries, let's go!
You have nine tries!