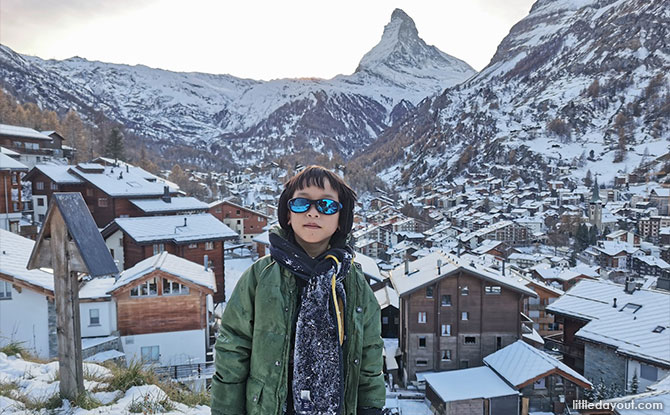 Having a winter holiday does not mean you need to ski! We headed to Zermatt, where we could see one of the most famous peaks of Europe – Matterhorn. It was not surprising that such a scenic destination is a very popular place – even the train heading to Zermatt was a treat in itself. Snow-capped peaks, waterfalls, snowy landscapes, smoking chimneys, houses covered in snow – who doesn't love a charming wintry scene?
Visiting Zermatt does not have to restricted to ski-ers. As a family who doesn't ski, we had great fun in Zermatt. Here is a list of things you can do in Zermatt for families – all of which are child-friendly.
---
Zermatt for Families: Kid-Friendly Activities That Even Non-Skiers Can Enjoy
First thing to do when you reach Zermatt is to visit the Tourist Office located right next to the train station. Staff can best advise you on the spot – which hiking trails are open, train ticket bookings and other essential information. You MUST get the Wolli card for children below 9 – this gives you potential privileges such as discount off hotels and selected restaurants, plus FREE travel on bus, cable car and train rides.
If you already have a Swiss Travel Pass, accompanying children below 12 will get to enjoy free rides on the transport system!
---
-- Story continues below --
---
1. Gornergrat, Riffelsee Lake & Rotenboden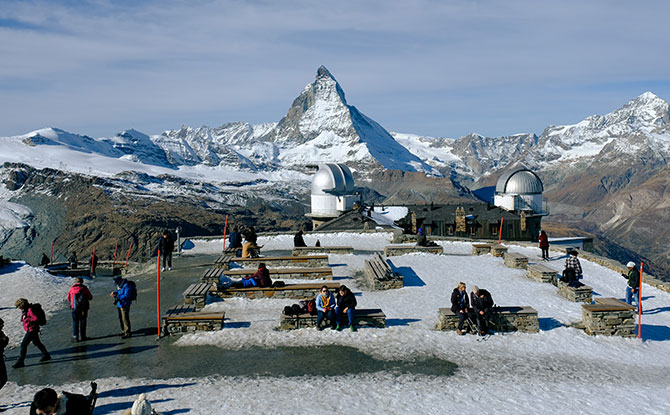 One activity not to miss is taking the cogwheel train up to Gornergrat to get a magnificent view of Matterhorn, mountains and glaciers. Soak in the views with a cuppa at Gornergrat and just sit at the top of the world.
Other pitstops along the way are Riffelsee and Rotenboden, both of which will have stunning views to offer. The famed Riffelsee lake will reflect the Matterhorn in the mornings and evenings. One can also hike from Riffelsee to Rotenboden which takes about 10 minutes.
---
2. Matterhorn Glacier Paradise
Another way to head right to the top is to take the cable car. This will bring you to the glacier palace above Zermatt – highest in the world. Check out ice sculptures and ice formations. One can also dine at Restaurant Matterhorn Glacier Paradise.
---
3. Hiking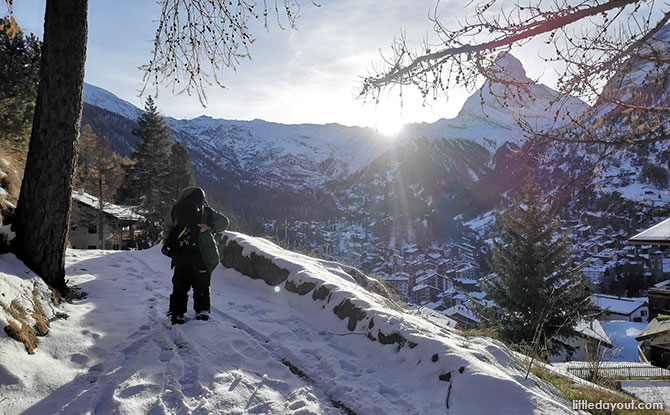 Do remember to check the recommended hiking routes before embarking on them. Hiking in winter is quite the experience. There are child-friendly routes around the Zermatt village which takes you to views of Zermatt and Matterhorn. You can also hike up to places like Furi to have lunch.
---
4. Enjoying Swiss Fondue & Rosti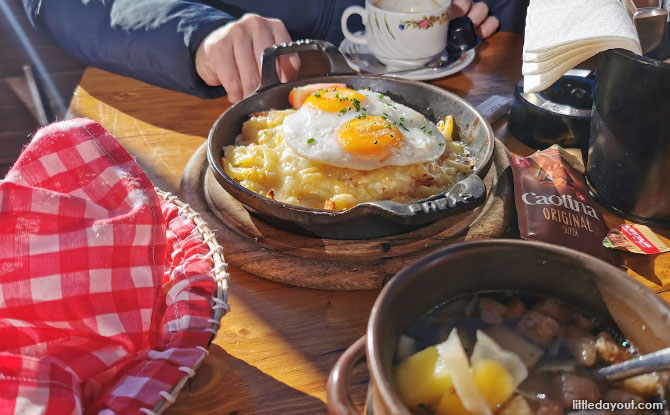 Of course, you will need to try some Swiss Cheese fondue and rosti. Try it at one of the many restaurants in the mountains – you wont forget the warm savoury sensation in the midst of the cold!
---
5. Ice-skating
Rent a pair of skates from the equipment rental store and go ice-skating!
---
6. Tobagganing or Sledding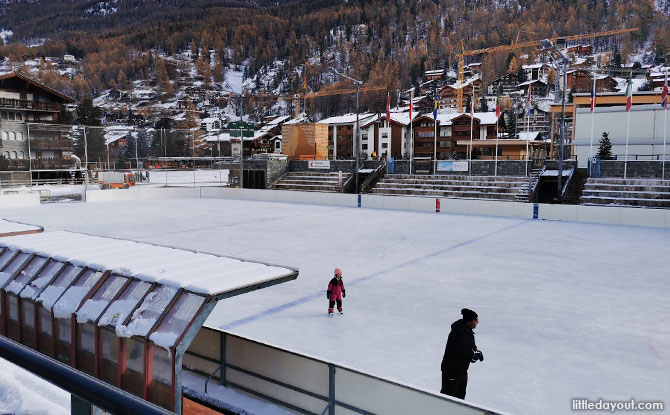 Possibly one the children's favourite activities is tobagganing or sledding! You can rent one from the store or pay for the Snow Fun pass. There is a Toboggan run between Riffelberg and Rotenboden in the winter months as well as at Furi. Otherwise, just choose your slope (that is free from skiers) and just slide down!
---
7. Snow-play
Snow fights, building a snowman, do we need to mention how fun snow play is?
---
8. Zermatt Matterhorn Museum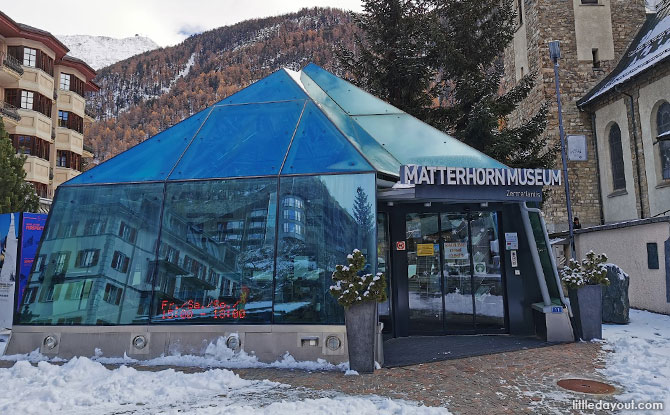 Visit the Zermatt Museum for a slice of alpine history and culture. Learn about how people lived in Zermatt in the 19th century, how lives were lost ascending Matterhorn and get more insight about the development of Zermatt.
---
9. Mountaineers' Cemetery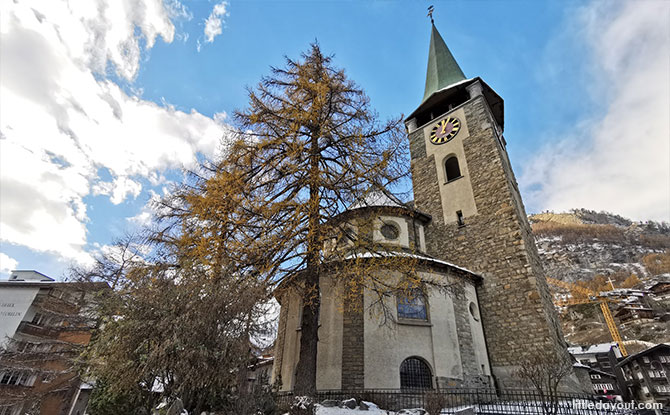 A short walk away from the museum is the Mountaineers' Cemetery, located right next to St Mauritius Church. Reading the tales of the brave attempting to conquer peaks and looking at the shoes and mountaineering equipment left as tributes made me thinking of the strength of the human spirit. It's worth a stroll to this tranquil location.
---
10. Watching Ice Hockey games
There are often ice hockey games held at the ice pitch in Zermatt. Watch the youths and even children play, it's not often we get to watch ice hockey in action.
---
11. Wolli Card & Treasure Hunt
If you have a Wolli Card, go on a Wolli hunt using a map given by the Tourist Office. Win a prize once all the treasures are found.
---
12. Husky Experience
Ever been on a sleigh dog ride, try the Husky Experience only available in Winter. Details are here.
---
13. Helicopter Rides
Get up close to the peaks with a helicopter ride.  You will soar 4000 metres high in the Valais Alps and experience Matterhorn in all angles. Enquire here.
---
A Visit to Zermatt – Plenty for Families
My family had a memorable trip to Zermatt, while we didn't do some of the activities listed, there are plenty of suggested things to do! Make use of the cold weather to indulge in winter-specific holidays. Have a wonderful winter holiday!