If I had to describe YOTEL Singapore along Orchard Road in five words, they would be: 'compact', 'convenient', 'clever', 'creative' and 'cool'. No, I did not consciously make a list beginning with the letter 'c', but this is the impression that I got after a two-day-one-night stay with my family at the hotel inspired by first-class air travel.
A Cool Entrance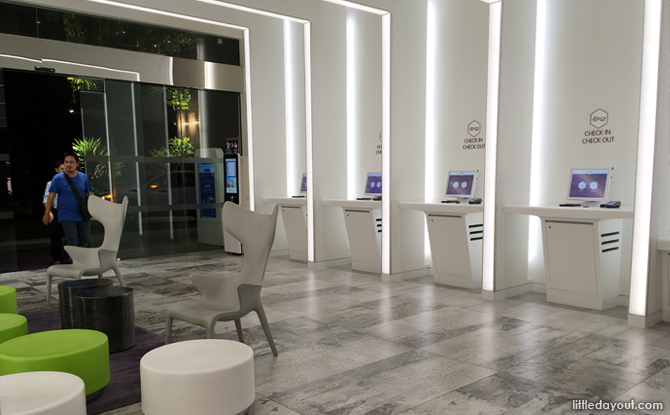 Walking into YOTEL Singapore, our eyes were first drawn to the row of self check-in/check-out counters on our left, then to the two resident robots on our right. Named Yoshi and Yolanda, these crewbots recently won a technology award for the hotel and can navigate around the premises on their own to deliver amenities to guests!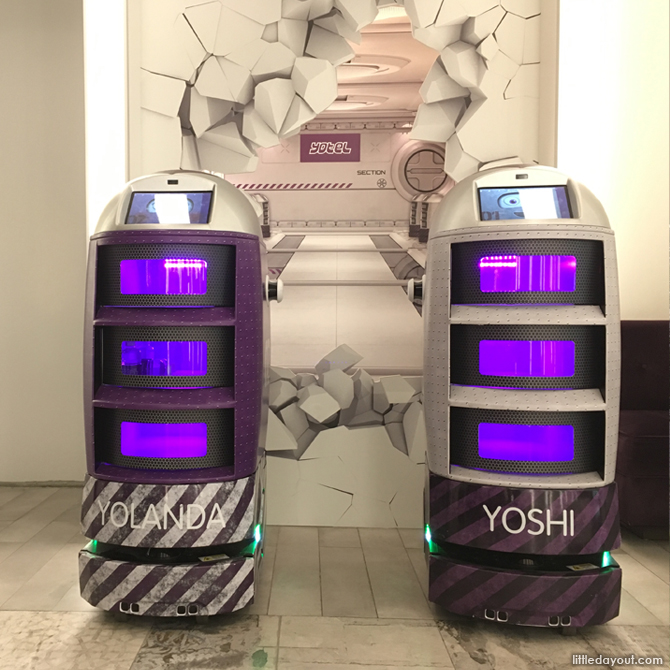 ---
-- Story continues below --
In case you are wondering, there were customer service staff at the reception – and they were congenial and extremely helpful humans. But stepping foot into YOTEL Singapore just gives one the high-tech, hip and casual vibe. We knew immediately that it was going to be an experience unlike our other staycations.
Being the tech-savvy person (read online shopping addict) that he is, my husband went straight for the self-service check-in, with the little one happily assisting him.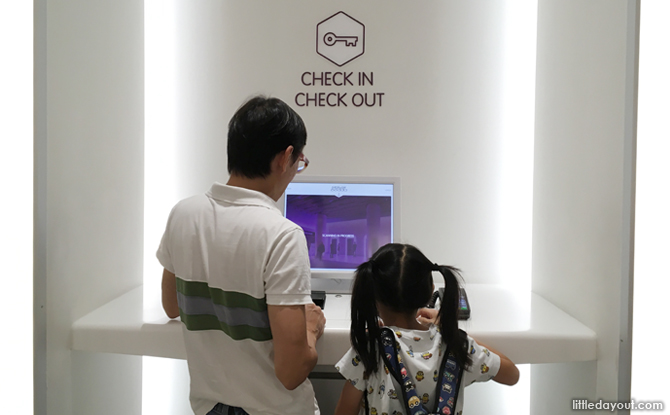 After a quick verification by a YOTEL staff and checking out the robots, we were off to our room. It was efficient, fuss-free, and our kid was already having fun!
A walk down a futuristic-looking passageway and a lift ride later, we were at our door, excited to see our room – or cabin, as YOTEL calls it.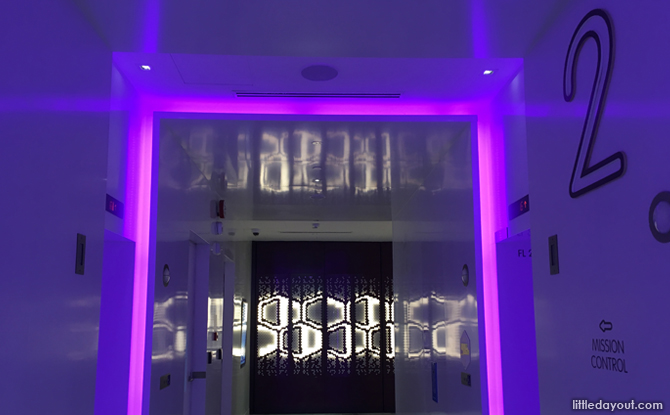 Wonderfully Compact, Cleverly Designed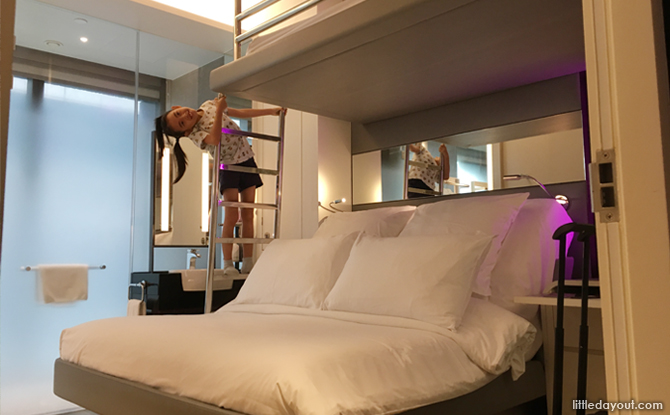 The YOTEL brand was born out of inspiration by luxury airline travel. YOTEL rooms are designed based on the principles of first-class travel, hence the use of the term 'cabins'. Like first-class cabins, they are expected to be on the small side, yet not lacking in anything.
I must say that is exactly the case for our Premium Queen with Bunk cabin. At 16 sqm, it was cleverly laid out to include everything a family would need without compromising on comfort. From the queen-sized adjustable SmartBed to the Smart TV, mini fridge, coffee and tea counter, concealed ironing board, clothes rack and even a pull-out work desk, we were very satisfied with what the room had to offer.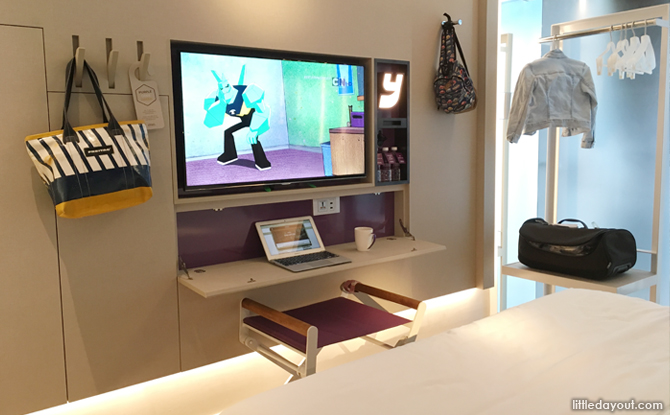 The toilet and shower area, though small in size, felt spacious. There was even a rain shower inside!
Our little monkey's favourite place was of course the overhead bunk bed! She made a beeline for it upon entering the cabin, and throughout the duration of our stay, could be found climbing up and down the ladder at every opportunity.
For me, the most enjoyable thing to do in the room was to set the SmartBed to a slightly reclined position, prop myself against it and watch television. The gel memory foam mattress was just so comfortable!
Beyond The Cabin
We could have lazed all day in our cabin, but the sun was out and the pool was waiting. So we went to the tenth floor for a dip. Our daughter had fun splashing around (literally); hopefully she was not disturbing the sun-tanning and pina colada-downing guests too much!
On the same level was the 24-hour gym, a compact space with basic workout equipment for disciplined holidaymakers.
Convenient For Excursions
After a refreshing swim, it was time for some gallivanting. The best thing about YOTEL Singapore is its central location: behind Shaw Centre, just a few minutes' walk from Orchard MRT Station. This made Orchard Road, and the neighbouring areas accessible via MRT, our playground.
We purchased a $20 one-time exit carpark pass from the hotel, which saved us almost $20 in parking fees from 2pm on the first day of our staycation to 3pm the next day. With the pass, we were able to take the MRT to visit the Children's Biennale at National Gallery Singapore after checking out, without incurring extra parking charges!
Breakfast At KOMYUNITI
Breakfast is on the house when you book direct from YOTEL Singapore, a promotion that is valid till 30 June 2019. I liked the effortlessly chic design of KOMYUNITI, where we had our morning buffet. The little one was in the mood for al fresco dining, so we got a table outside and enjoyed the rather tranquil ambience.
After a bit more of monkeying around, it was time to go home. But not before inviting Yolanda the robot to our cabin by requesting for extra bottles of water!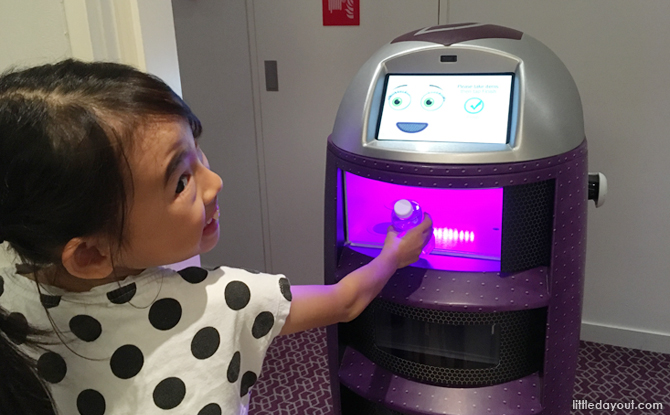 A Creative Concept
Check-out was a breezy affair, done at a self-service counter. By this time, our little one was confident enough to take charge of the process that officially concluded our fun staycation at YOTEL Singapore.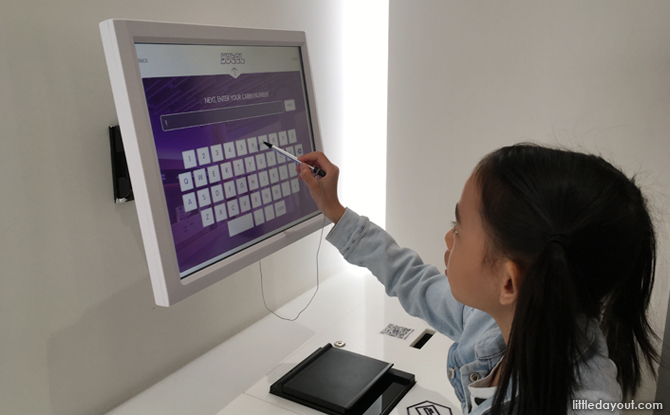 I applaud YOTEL for its creative concept of luxury air travel, which has enabled it to carve out a niche for itself in the crowded hospitality market. We enjoyed our stay in our compact cabin, appreciated the efficiency brought about by the use of technology and delighted in the buzz of the place.
Our little one summed up our experience with her exclamation: "I don't want to go home!"
Find out more about YOTEL Singapore here.
Media invite.