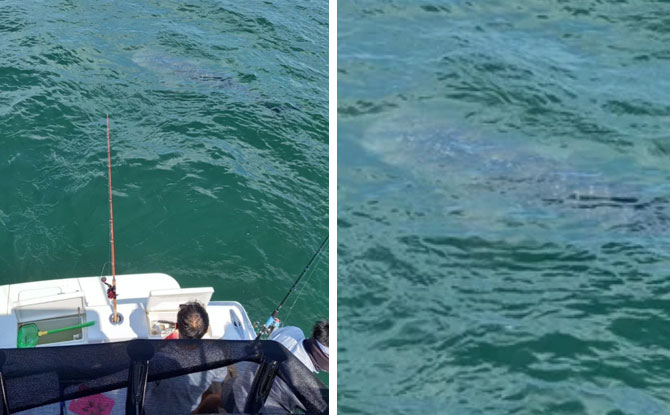 For the first time since June 1964, a whale shark might just have been spotted in our Singapore waters!
---
A Rare Sighting
Reddit user Freakzone2212 shared a picture of what looks like a juvenile whale shark spotted in Singapore waters during a fishing trip on the r/Singapore Reddit thread. Unfortunately, the picture was not the clearest but if it is indeed a whale shark this would be the second-ever recorded encounter of this species in Singapore waters.
Other Reddit users in the thread seem to agree with its identification of it being a Whale Shark although one user brought up the possibility of it being a large tuna fish.
Read the post below.
Juvenile whale shark (I think) spotted in Singapore waters during my dad's fishing trip. Sorry if it's too hard to see from r/singapore
---
Whale Sharks in Singapore and the Region
The first recorded sighting of a whale shark in Singapore waters was in June 1964, where a whale shark, about six metres in length, showed up near Pulau Sebarok, off the southern coast of Singapore. According to a Straits Times report from that period, it weighed a ton and was unfortunately shot and killed by the marine police.
Last year, on 1 December 2019, a large whale shark was spotted in the waters off Sarawak. Some fishermen noticed it had a rope caught around it and helped to release it from the rope.
The whale shark is the largest fish in the sea reaching lengths of 12 metres or more. It is a filter feeder and its diet consists mainly of plankton.
Although massive and large when fully grown, the whale shark is docile fish. Divers have been known to swing alongside this gentle giant.
The whale shark is currently listed as a vulnerable species and can be found in the waters of our neighbouring countries like Indonesia, Thailand and Malaysia. It is unusual for it to be seen in Singapore waters.