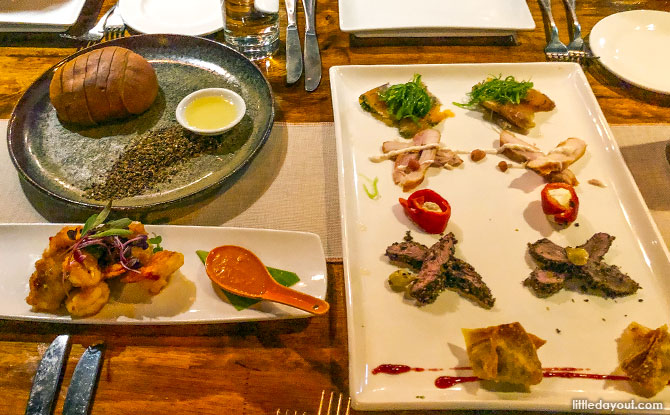 I'd consider myself a rather adventurous eater and my favourite way of exploring any country is through its food. During my visit to Cairns, Australia, I knew that I wanted to try the more unusual protein options that were available in many local eateries, namely: kangaroo, crocodile and emu.
One does not have to go too far to find these meats as they are quite readily available in supermarkets, cafes and of course, restaurants. These so-called "exotic" meats are usually available as standalone dishes as either fillets, patties or sausages, or as a sample platter of different kinds of meats. My family, after much persuasion, agreed to go for the latter. We decided to have the culinary adventure at Ochre Restaurant, a beautiful restaurant located along Harbour Lights boardwalk at the Esplanade.
We ordered the Taste of Australia Platter, which was a three-course meal with an entrée, main and dessert. It was only available with a minimum order for two pax, but each item in the course could be ordered ala carte as well.
We were first served a Wattle Seed Damper Loaf which came with macadamia oil and native dukka on the side. The Wattle Seed Damper Loaf was a dense loaf which when dipped into the dukka (a blend of ground-up nuts, spices and herbs) had a very smoky, earthy and nutty taste. I enjoyed this starter quite a lot.
---
-- Story continues below --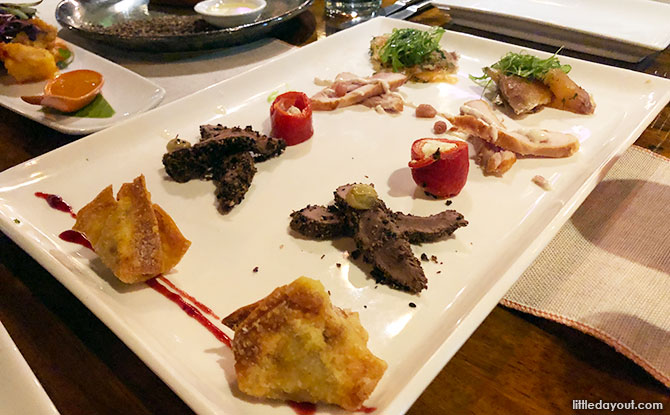 After a bit of a wait, we got our first taste of the three Australian meats. Our entrée was a generous platter of Salt & pepper leaf crocodile and prawns and an Antipasto Plate – which was made up of Smoked kangaroo with wild spice, emu wonton and smoked crocodile, alongside other items such as pepper leaf goats cheese, roast capsicum and Salmon green ant gravlax.
Crocodile on the Table
We started with the crocodile which was served in two dishes: Salt & pepper leaf crocodile and Smoked crocodile topped with riberry mayo. While I have a slight pet peeve when people describe unusual meats to "taste like chicken", how this protein was prepared really did remind me of chicken. The texture was a bit more on the tough side and most of the taste was from the seasoning as well as the sauce.
Emu on the Menu
The second meat that we tried was the emu, in the form of a dumpling served with smoked riberry mayo. It was seasoned wonderfully, really tender and it tasted great! Perhaps it would be attributed to the cooking style that the wanton allowed the meat to keep all of its juices, giving it an almost melt in your mouth sort of texture.
Kangaroo Jamboree
Lastly, I tried kangaroo filet, which we heard is a pretty common protein and substitute for beef in Australia. Kangaroos are very common and the meat is high in protein and close to fat-free. The taste of kangaroo reminded me of a cross of beef and lamb, although most articles say that it tastes the closest to beef and venison. I also learnt after chatting to some locals that the meat would have been softer if enjoyed a little rarer.
The main dish was a sharing platter of kangaroo and wallaby with accompanying sauces, served with chye sim, a sweet potato fritter and steamed Jasmine rice, which satisfied my parent's Asian taste buds. Wallaby is supposed to have less of a gamey taste than a kangaroo, but by the end of a hearty meaty meal, it was a little hard to differentiate the two marsupials.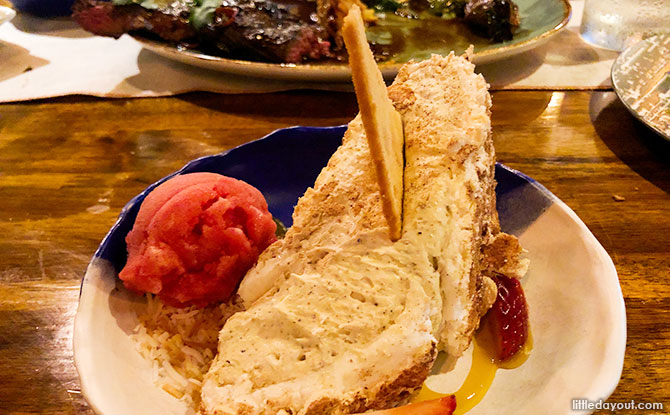 We ended off the meal with a wattle seed pavlova & Davidson plum sorbet, which was a light sweet treat to end the scrumptious meal. Ochre also offers tea and coffee at the end of the meal.
Favourite Australian Meat is…
Out of the three main meats, I'd say that I enjoyed the Emu the best. It was such a unique dish and I'd gladly order it as a standalone if it were available.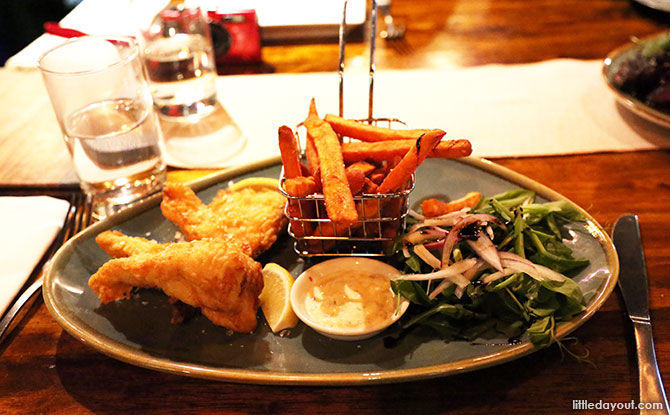 For those who are not yet ready to commit to such "exotic" tastes, fret not as Ochre also offers many other delicious dishes such as the Beer Battered Barramundi with sweet potato fries and salad on the side.
With that being said, if you'd like to draw your own conclusions, any of these dishes in the Taste of Australia platter at Ochre is well worth a try. The food may take a while to arrive and it might also get crowded during dinner, so be sure to make a reservation on their website if you wish to secure a spot.