Big bulk shopping comes to Singapore with the opening of NTUC's Warehouse Club at Joo Koon.
Located on two floors of the new FairPrice Hub building beside Joo Koon MRT Station, Warehouse Club is an 80,000 square feet, membership-based retail store. Shoppers need to sign up as members in order to purchase goods from the store ($35 for NTUC members, $50 for non-NTUC members).
Browsing through the store is free of course!
Shop Over Two Levels at NTUC's Warehouse Club
Offering more than groceries alone, the store's first level has dry goods, electronics, household items and even toys and sporting goods. One level up, via a travellator, lies the fresh food section, cooked food counters, bakery, frozen food, sauces and condiments.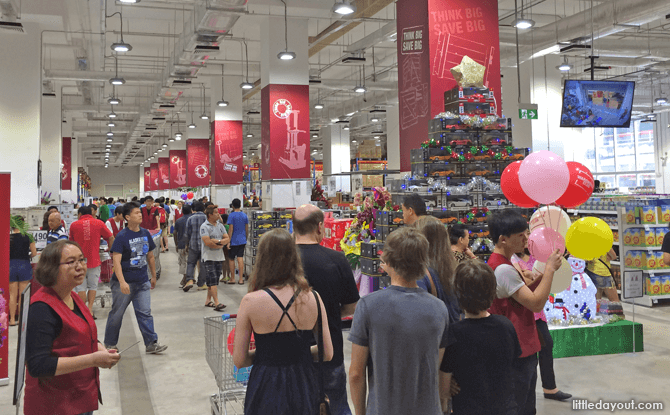 The store's wide aisles and internal travellator make it a breeze for families with prams to navigate through Warehouse Club. Kids will go ga-ga over the sight of oversized buys such as a humongous box of Kellogg's Frosted Flakes and a ginormous tub of bright yellow cheese puffs.
For a "wintery" experience, head to the walk-in dairy section on the second floor for a chilling, time, all year long!
Don't expect the usual range of products at the Warehouse Club. Most goods are packaged for bulk buys – which is where the discounts come from. However, when we did the Milo test (well, what we did was just go in search of regular Milo powder), we could not find it. Instead, what they had available was a carton of twelve 1-litre packs of Milo Protomalt drinks at $25.80.
However, there are some interesting buys at the Warehouse Club. For example, you can find Lay's brand potato chips with flavours such as Baked Scallops, Hot Chilli Squid, and Cheese and Garlic there. Warehouse Club also carries the Carrefour house brand on its shelves.
Do note that some shelves have labels highlighting any "quick-sale" type, with soon-upcoming Best Before dates. It is a good practice to check the expiry dates on the produce at the Warehouse Club and consider if you'd be able to consume it all in time – especially since much is sold in bulk.
On the other hand, this is a perfect reason to band together with your friends and family to buy and share the savings from the Warehouse Club.
Happy shopping!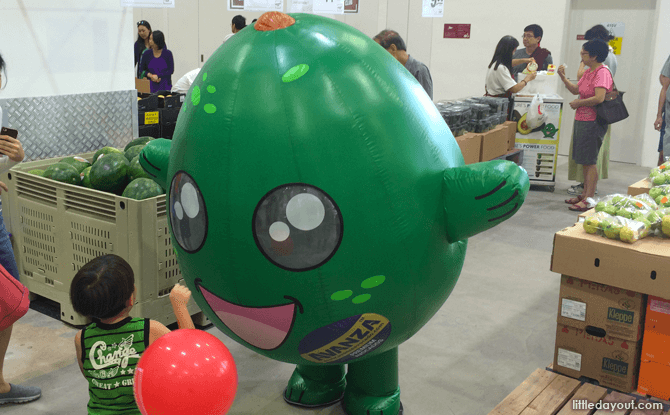 NTUC's Warehouse Club
1 Joo Koon Circle,
Levels 2 & 3,
Singapore 629117
www.warehouseclub.com.sg
Operating Hours: 10 am to 9 pm (Mondays – Fridays); 9 am to 9.30 pm (Saturdays & Sundays)