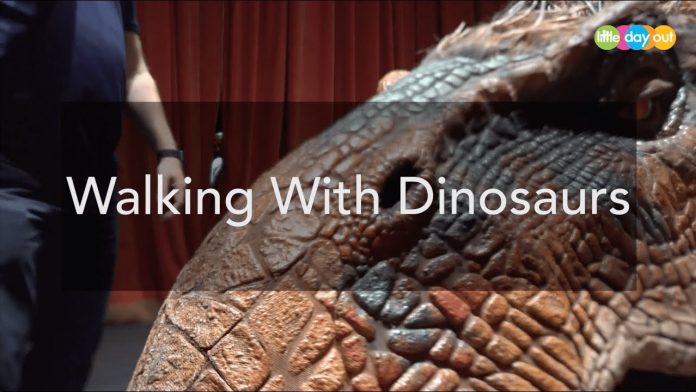 Alert! Dinosaurs are out and here in Singapore! Watch the interaction with ultra-realistic baby T-Rex, one of the 18 dinosaurs that will be starring in the Walking With Dinosaurs in Singapore at the Singapore Indoor Stadium from 29 August to 5 September 2019.
Walking with Dinosaurs – The Live Experience is based on the award-winning BBC Television series. These pre-historic creatures come to life through a combination of animatronics and physical puppetry, returning to roam the earth at the dazzling dinosaur show.
The realistic puppets – the smaller dinosaurs controlled by a single puppeteer and the larger dinosaurs controlled by a team of puppeteers – have been carefully crafted to be as true-to-life as possible. This not only applies to their appearances but also extend to the way in which the dinosaurs move and articulate.
Go on journey as the life-sized dinosaurs put up a must-see live arena experience that will thrill the audience!
Walking with Dinosaurs in Singapore
The arena spectacular was been seen 9 million people in more than 250 cities around the world. Now, Walking with Dinosaurs in Singapore makes its way to the Singapore Indoor Stadium from 29 August 2019 onwards, for a limited time only.
Click here to subscribe to our YouTube channel and to see more great videos!