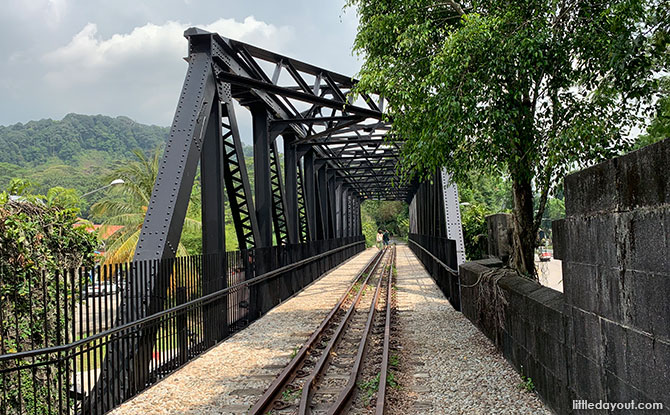 The Upper Bukit Timah Truss Bridge was officially reopened on 22 March 2021. Found next to the Rail Mall, it is one of two bridges that trains used to rumble across as they made the journey from Tanjong Pagar train station in the south of Singapore to the Causeway at Woodlands up till 2011.
---
History of the Upper Bukit Timah Truss Bridge
The Upper Bukit Timah Truss Bridge dates back to 1932. It was constructed as part of the realigned former Keretapi Tanah Melayu (KTM) railway line, south of Bukit Panjang in
1930.
This realignment allow for a more direct route to Tanjong Pagar and minimised road-level crossings which inconvenienced cars and pedestrians who had to stop for passing trains.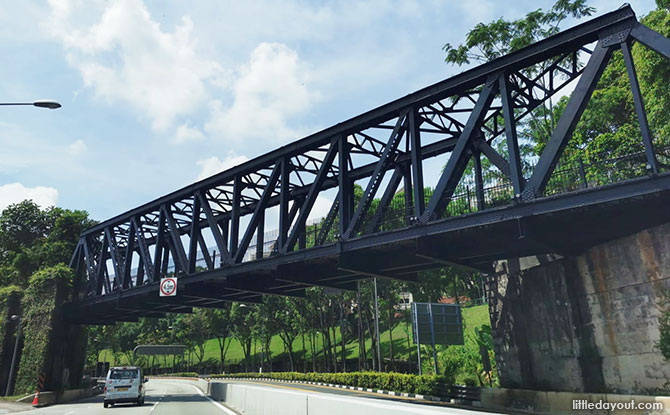 The bridge at Upper Bukit Timah Road is the only Pratt truss bridge in Singapore. The Pratt truss design features vertical supports and diagonals that slope down towards the centre.
The Bukit Timah Truss Bridge at Bukit Timah / Dunearn Road is the only Baltimore truss bridge in Singapore.
Both the Upper Bukit Timah and Bukit Timah Truss Bridges were designed by United Engineers (from which we get UE Square at River Valley Road). They have granite stone piers which were constructed and dressed with ornamental profiles.
There is a third steel truss bridge which crosses over Sungei Pandan. This third bridge was part of the the former Jurong Railway Line which branched off from Bukit Timah Railway Station.
---
Visiting the Upper Bukit Timah Truss Bridge
Now that it is reopened, people can once again use it to cross over the busy road below. However, instead of passengers sitting in train carriages, the people crossing over are walkers and cyclists.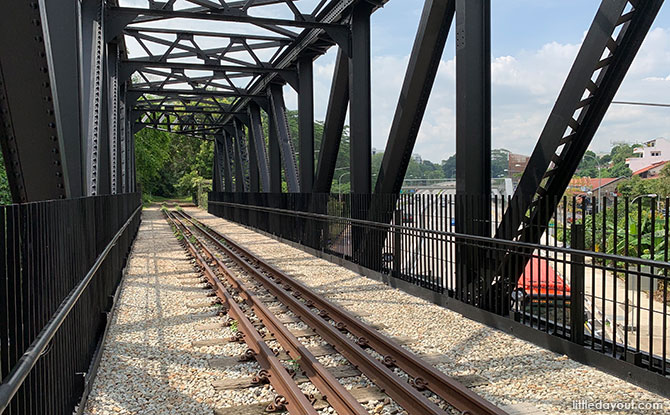 The restoration of the Upper Bukit Timah Truss Bridge required meticulous attention to detail. This included efforts to ensure that its 172 sleepers, some made from wood and some from concrete, were carefully labelled before the restoration works. This allowed they to be removed and put back in the right place.
The refurbished Upper Bukit Timah Truss Bridge also comes with new fencing on either sides to prevent any mishaps.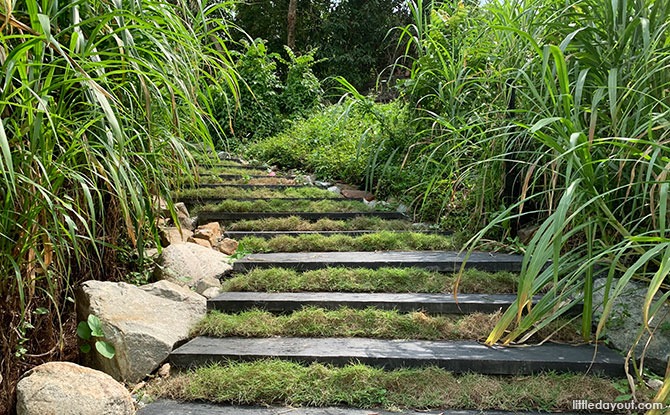 The bridge connects the Rail Corridor North and the Rail Corridor Central. It can be accessed by a set of stairs from Rail Mall.