It's already three months into the new year! If your resolution was to keep fit and to spend your time more meaningfully, consider joining a virtual run to check off both! From fun themed runs to runs for a good cause, here are some of the virtual runs of 2021, of various distances and causes, that you can sign up for to complete in your own time.
---
Virtual Runs 2021 in Singapore
Run For Light 2021
In collaboration with Guide Dogs Singapore Ltd, Run For Light aims to creating public awareness in the visually impaired community. Due to the current unusual circumstances, the 6th edition of Run For Light 2021 will go the 'hybrid way' on 20 March, Saturday at 5 pm where there will be a decentralised on-site 1KM blindfold walk as well as a virtual run. Those participating in the 5KM and 10KM virtual run can choose to run before or after the scheduled flag-off time on 20 March within the allotted 2-day window. More details can be found here.
---
Marvel Virtual Run Singapore 2021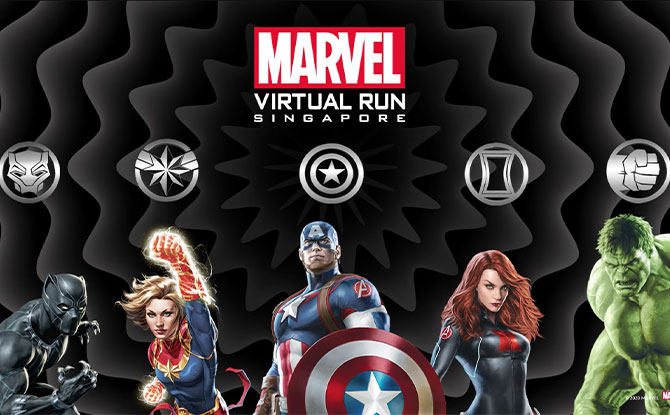 Avenger fans, it's time to assemble for the first-ever MARVEL Virtual Run Singapore! Run toward your victory from wherever you are and plan the completion of your mission the way you wish. There are five categories to sign up for including a parent and child run. Finishers get several exclusive merchandises such as an exclusive marvel virtual run t-shirt, a trophy with a rotating Avengers logo and a Marvel drawstring bag. There are also other fun side quests to complete.
Check out the official Marvel Virtual Run Singapore website here.
International Women Online Marathon 2021
In support of International Women's Day 2021, the organization Spacebib hopes to encourage more women to challenge themselves by completing a marathon race. Each runner has to complete a total of 42.195km. Women who participate in this race get a running singlet and those who complete and finish the race can get a gorgeous finishers medal in a magical stopwatch shape with a heavenly white spinning pearl. Run alongside other sisters in this empowering run here. More details can be found at this site.
---
Sundown Run 2020
Its time for the final event at the Sundown Run 2020! As Singapore's first official night marathon, there is still time to enter the Sundown Run 2020 by joining the last event before 31 March 2021. In this race, participants are encouraged to run a minimum of 3 km at their own pace and time.
They also have a series of challenges each month. The March Challenge is about how far you can run in 3 hours. Participants can upload as many sessions as they wish and the top 50 runners with the longest distance covered in 3 hours will receive a special print on the March Red T-shirt. Sign up here.
---
Spirit of the World Virtual Marathon 2021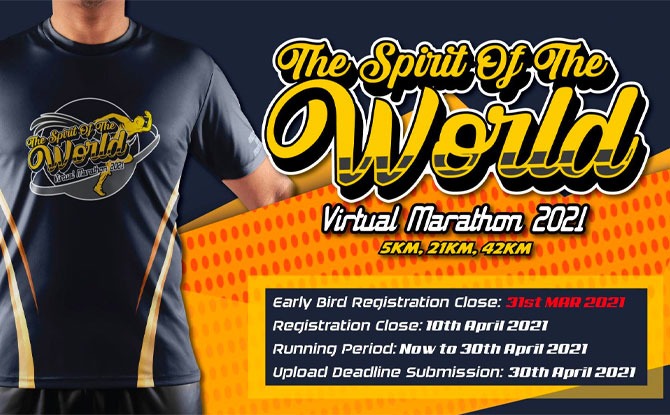 The third in the "The Spirit of" series, The Spirit of the World Virtual Marathon 2021 is a race that celebrates the coming together of runners of the world. Inspired by the trying times of the pandemic, this race is a way for runners to come together symbolically and encourage one another. Run this virtual marathon to celebrate the Spirit of the World running together regardless of race, age and gender. Early bird registrations close 31 March. Sign up for the run here.
---
Changi Run 2021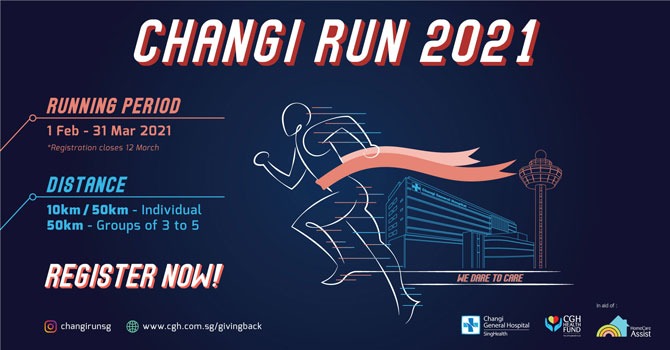 Organised by Changi General Hospital, the inaugural virtual running event of the Changi Run 2021. This year, they are following the theme of "We Dare to Care inspired by the hospital's guiding principles of "daring to care and going beyond to serve the community " The Changi Run will raise funds and awareness for CGH's needy patients, who are supported by HomeCare Assist, the CGH Health Fund's patient welfare programme. All net proceeds will be donated to HomeCare Assist, which provides interim assistance to needy patients after their discharge, ensuring that they receive the necessary medical care and services to continue with their recovery at home. Find out more about the run and support it here.