We had our May school holidays spiced up with virtual classes by Centre Stage Interactive over the past week. The boys boogied, dressed up, made treasure maps, wands, castles and went on an exhilarating ride through mysterious islands, classrooms, journeyed through scary places – all through the magic of theatre while staying safe at home.
Scroll to the bottom to participate in our Giveaway!
As a parent trying to work from home and be somewhat productive, virtual classes are a wonderful way to distract engage the children meaningfully. The classes are opportunities for children to unleash their pent-up energy while parents get a chance to observe how their child behaves in class.
Super Fun Online Classes at Centre Stage Interactive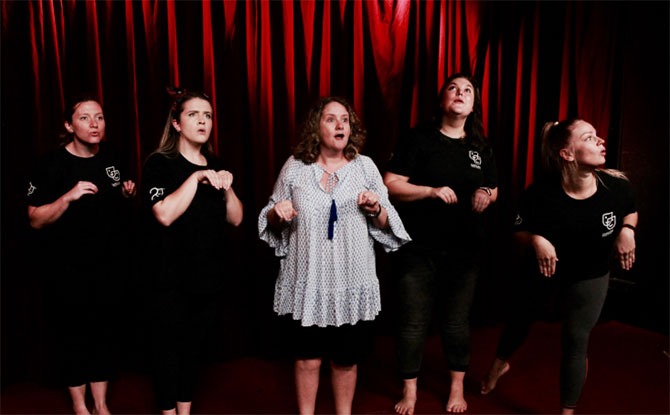 While extended periods of staying at home have altered the definition of a classroom, Centre Stage School of the Arts continues to inject fun with highly engaging virtual drama lessons despite the physical distance! My nearly 6 year old and 8 year old participated in both the Creative Drama and Musical Theatre junior classes by Centre Stage Interactive and were so excited be part of the classes. (Clearly, they have been lacking some social time with peers in this time.)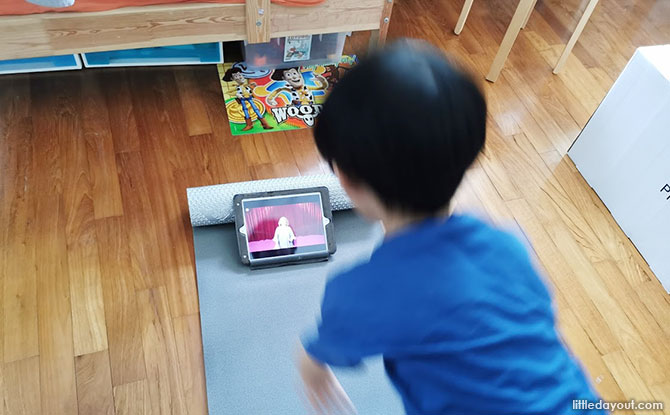 ---
-- Story continues below --
Centre Stage Interactive or CSi online classes are available via a combination of on-demand video recordings and live Zoom classes.
The video recordings are for the children to watch before their class as preparation. As they are between 45 to 60 minutes per video, you can get your child to watch them in parts if you prefer a shorter screen time.
Live Zoom classes are conducted by instructors carrying out various activities. There are interactions with classmates and the instructor.
This combination of video and live virtual classes is as close as you can get to any classes these days and I was thrilled they were so enjoyable. (Plus they gave me some needed peace and solitude.)
As my younger son had never been for a Zoom class, I was a little apprehensive at first about his engagement.
It turned out that I had nothing to worry about.
The novice Zoom class attendee soon warmed up and was all excited, over-enthusiastic and super-eager to participate.
Both brothers even insisted on checking out each other's classes and that was totally welcomed by the friendly instructors.
Despite the "perceived chaos" in a Zoom setting with young children, the instructors could manage the class well with reward systems, muting and giving each child a chance to speak.
Virtual Creative Drama Classes by Centre Stage School of the Arts
You will definitely want to sign your children up for the Creative Drama classes – which is the heart and soul of the Centre Stage ethos. Situations, stories and characters are brought to life using structured play in an interactive way.
Each class is based on a theme each week. On the week my children participated, the theme happed to be knights and dragons, and Harry Potter! Of course, no child would reject the invitation to be chivalrous knights in shining armour battling dragons or powerful wizards in Hogwarts.
The Centre Stage Interactive's classes encourage confidence, communication, quick-thinking, problem-solving, flexibility, team-work, applying creativity and a great deal of imagination.
In both the video resource and live classes, children were asked many questions and given various scenarios in which they will have to think of how to react and respond accordingly.
For instance, each child chooses their character and who they want to be, given time to dress up or bring their props to the session and then act out their roles accordingly. They may be opening a creaking door to a mysterious room or fighting a dragon, or casting spells or pretending to be statues.
Younger children between 4 and 7 get to play many games, improvising to develop listening skills, turn-taking and working together as a team. Learning through improvised drama, music, mime and movement drawn from favourite books, poems and stories like Mr Ben and the Red Knight will help the children acquire the basic skills of drama.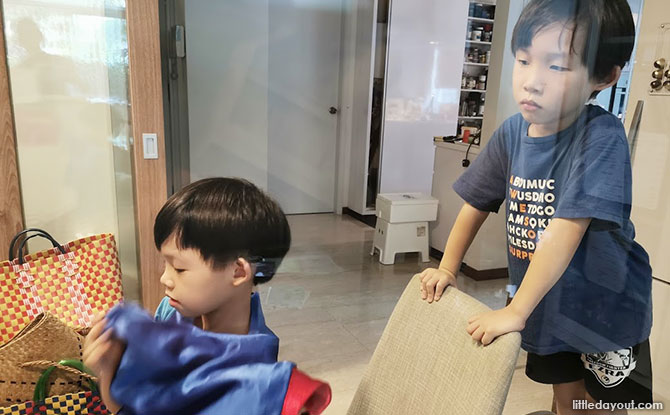 Older children aged 8 to 12 get to learn more about theatre styles, acting skills, use play scripts, scenes, monologues, duologues and improvisation.
I had a good laugh seeing how a cape was used as a magician's tool and seat was transformed into a king's throne. Honestly, it's one of the few times a parent is ever allowed in a classroom and watching the lesson as it unfolds and every little response of your child.
Musical Theatre Classes by Centre Stage
Online classes are one of the best ways to immerse your child in arts, and also a great way to chase away the boredom at home and have some enriching time "online".
Musical Theatre classes combine Creative Drama with song and dance. If your family enjoys musicals and has "The Sound of Music" on repeat mode, here's your chance to develop basic musical theatre skills!
The main aim of Musical Theatre classes by Centre Stage is to build confidence through movement, dance and song combined with Creative Drama and character work which is the fundamental for all performance work. The children will get a safe space to express themselves creatively and learn life skills while having fun.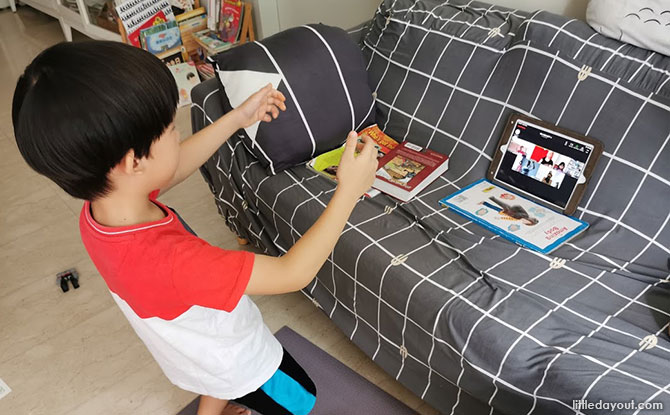 With exciting dance sequences to learn and create, plus familiar songs to sing and boogie to – these classes get children moving non-stop. Apart from dance, children will be warming up their vocal muscles and also creating tongue twisters!
In each video lesson, a story was shared followed by acting out the story and involving the child. "Homework" while encouraged but not compulsory is based on the story and themes shared in the video, then presented during the Zoom lesson. So be prepared to help your child build a castle, prepare spells and ingredients in spells, or find out which wizarding house he or she belongs to.
Engaging Drama Classes: A Centre Stage Interactive Review
While we are safe indoors, there is the benefit of killing two birds with one stone – attending virtual classes, learning and having fun while staying safe! If life has been getting a little monotonous, how about injecting a giant dose of laughter, drama, singing, dancing into the schedules with classes by Centre Stage? My sons have been asking for more of the classes – and it seems like their enthusiasm is unstoppable.
For more on Centre Stage classes, visit this site.
GIVEAWAY: Gold Level Access to "Centre Stage Interactive" for one child!!
Little Day Out is giving away:
to one child Gold Level Access to "Centre Stage Interactive".
This includes access to all Centre Stage online classes for the duration of Circuit Breaker – these take the form of pre-recorded "on-demand" videos and Live Interactive Zoom classes with our highly trained teachers. You can enjoy Drama, Musical Theatre, Ballet, Jazz, Tap, Contemporary, Hip Hop & Musical Theatre Dance!
**Access valid for 3 weeks, to be utilised immediately – if Circuit Breaker measures are lifted after 1 June, physical lessons may be offered instead.
---
This contest has closed. Do check your email/spam mail box to see if you've won!
---