From 21 to 27 July 2017, head down to Tampines 1 Atrium to view a showcase of food vending machines at VendFest.
This one-week event brings together nine companies from the food vending industry to showcase the latest technology and possibilities with vending machines.
Here are some of the vending machines you can see at VendFest.
Pizza Vending Machine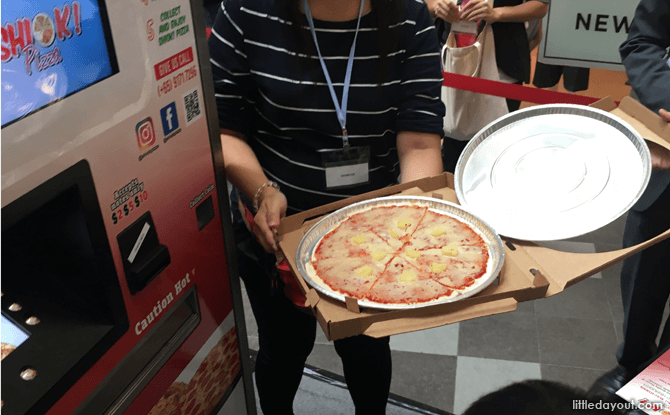 Shiok Pizza's pizza vending machines uses a oven-box technology to heat up its pre-cooked pizzas. Offering two flavours, Hawaiian and Pepperoni, the pizza vending machine can dispense two pizzas in less than four minutes. Shiok Pizza's machines will soon be available at Nanyang Polytechnic and at Orchard Road.
Bak Chang Vending Machine
Bak Chang or rice dumplings are typically found wrapped in banana leaves. U-Market Place is putting a twist to this traditional snack by offering ready-to-eat rice dumplings in plastic wrappings from a vending machine. These are kept warm in the machine and come out ready for immediate consumption. Flavours include salted and Nonya dumplings with more in the works. The bak chang vending machines can be found in six locations around Singapore.
Hor Fun Vending Machine
Chef in Box's vending machine cafes have been lauded for serving hot, delicious food through its machines, with seafood hor fun receiving praise for its taste. From the original Sengkang vending machine cafe that opened in 2016, they have since expanded the vending machine cafe concept to Ang Mo Kio and Lakeside MRT stations. Other than these three locations, Chef in Box machines can also be found in hotels, schools, industrial parks and offices.
Chili Crab Vending Machine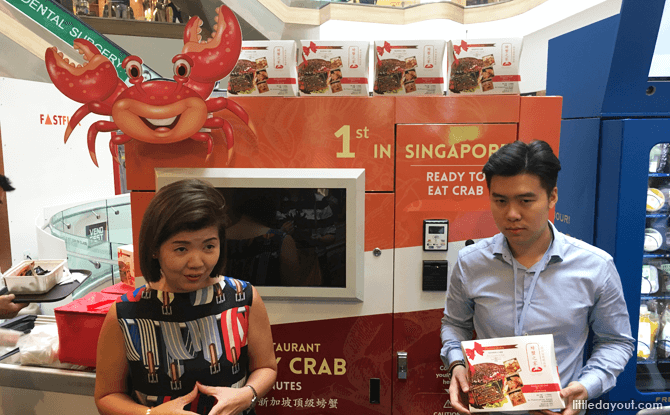 House of Seafood is known for its chilli crab and black pepper crab. From one outlet in 2008, it now has three outlets around Singapore. At the Punggol Settlement branch, in addition to tucking into their award-winning crab, you can also purchase ready-to-eat vacuum-packed crab from a vending machine outside the outlet. Perfect for overseas visitors who wish to take a taste of Singapore home, or for the local who can't get enough chili crab.
VendFest at Tampines 1
Dates: 21 to 27 July 2017
Venue: Tampines 1 Atrium, 10 Tampines Central 1, Singapore 529536