We paid a visit to Taiwan with kids as a continuation from our Okinawan adventure, which you read about here.
Why continue on to Taiwan from Okinawa? Well, it was partially for practical reasons as the direct flights from Okinawa to Singapore with budget airlines were at odd timings, whereas, from Taipei, the options back to Singapore are plentiful.
In fact, at the time that we booked our flights, it was cheaper to fly from Okinawa to Taipei and back to Singapore than directly from Okinawa to Singapore! *Gasp*! So, we planned a quick stopover in Taipei.
Day 1: Taipei Children Amusement Park, Shilin Night Market
We took a budget airline from Okinawa to Taipei. Our hotel, Taipei Imperial H, was right at the Taipei Main station. Commuting was much easier with such a central location.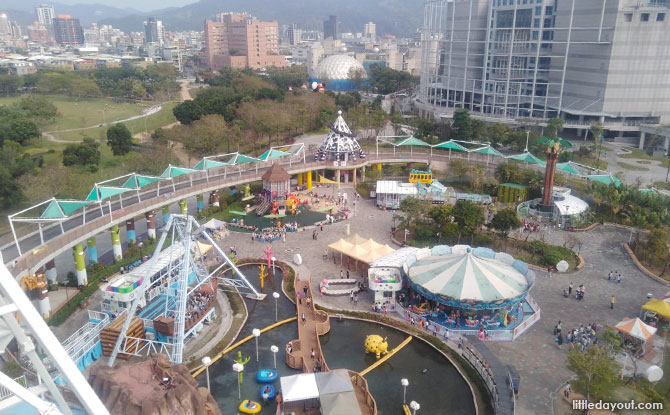 Years ago, we had visited Taipei as a family when our children were still young. Taipei Amusement Park (nearest station: Shilin Station) is one place that we missed and told ourselves that we had to visit it when returned to Taipei. This place offers super high-value fun for those visiting Taiwan with kids! It only costs a few Singapore dollars for each ride and you can pay with the Youyou card (Taipei's Ezlink equivalent).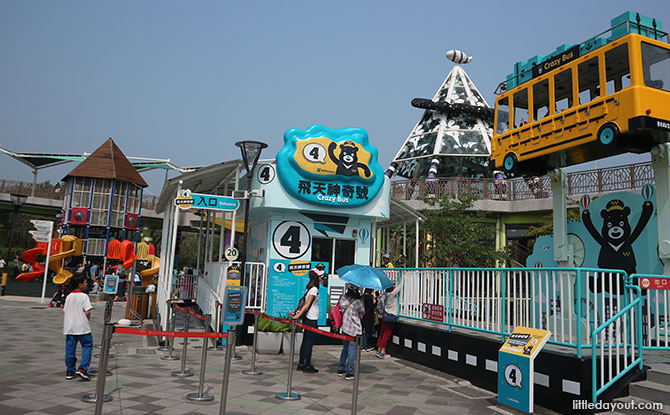 The Taipei Children Amusement Park has both indoor and outdoor areas. At the first level, you will see many cool amusement rides. There is also a playground with sand and water play.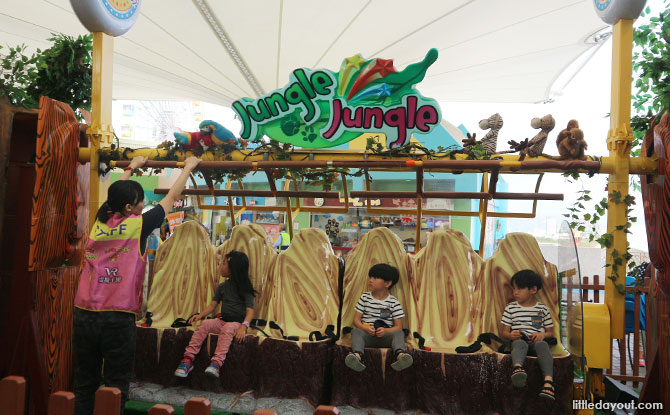 There are more levels of amusement rides to explore on the 3rd and 4th levels.
And a super tall slide where kids can sliding down from level three.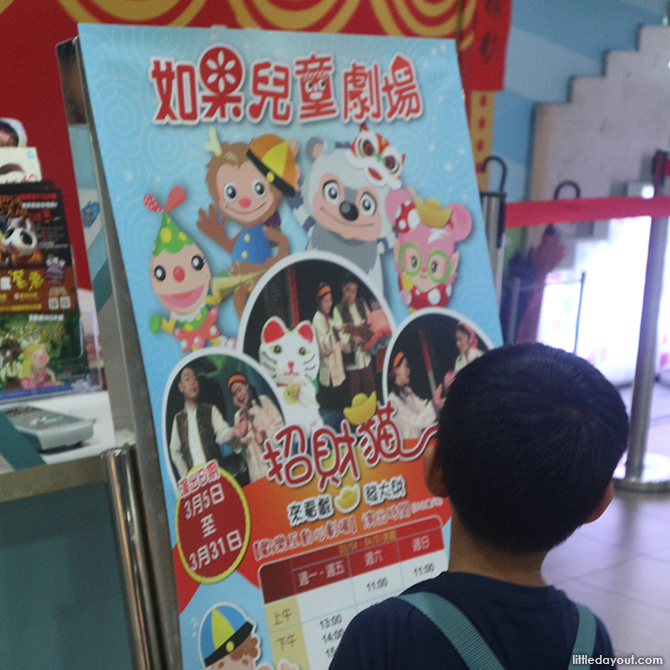 When you are there, I recommend watching the children's theatre! It is only approximately S$4.30 (NTD100) and you watch a theatre performance in Mandarin!
Taipei Children Amusement Park
Address: No. 55號, Section 5, Chengde Road, Shilin District, Taipei City, Taiwan 11169
Opening Hours: 9 am to 5 pm
Website
When we last visited Taiwan with kids years ago, we did not visit ANY night market as our kids had to go to sleep at 7 pm. This time, we visited a night market (in the evening time) on all three nights when we were! Talk about returning with a vengeance!
However, my children still need to sleep early and just as we left the markets at around 7.30 pm, it was perfect timing as the crowds were just starting to build up!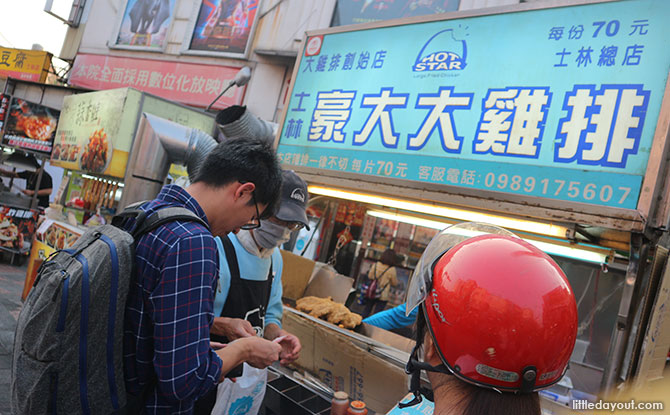 Shilin Night Market
Address: No. 101號, Jihe Road, Shilin District, Taipei City, Taiwan 111
Our accommodation for the night was the Taipei Imperial H Hotel.
The pros of this hotel were:
1. It is literally right above Taipei Main Station where the underground is a huge shopping, eating adventure of its own.
2. TRA (trains), HSR (high speed rail) and Taipei metro all pass through the Taipei Main Station.
3. Washing machines and dryers are available at the hotel. However, expect to queue up to use it.
4. The hotel is good value for money and clean.
The cons:
1. It occupied a few levels of an office building – a little strange.
2. Some rooms have no windows. You should request for a room with a window.
Day 2: Jiufen, Shifen and Ximending
The next day, we headed to another place we did not visit the last time when we were in Taiwan with kids – Jiufen, Shifen and Xinmending. For toddlers, it may seem that there is not much for them to engage in but yet my 6 year-old and 4 year-olds found it to be a very interesting place.
Getting there is a major headache as it requires multiple changes of transport. To prevent exhaustion from all the traveling, we booked a cab for half a day.
We began with Shifen. By car, it takes approximately 45 minutes for us to get to our destination. Take note that Shifen and Jiufen are approximately 30 minutes away from each other but there is NO direct train connecting them.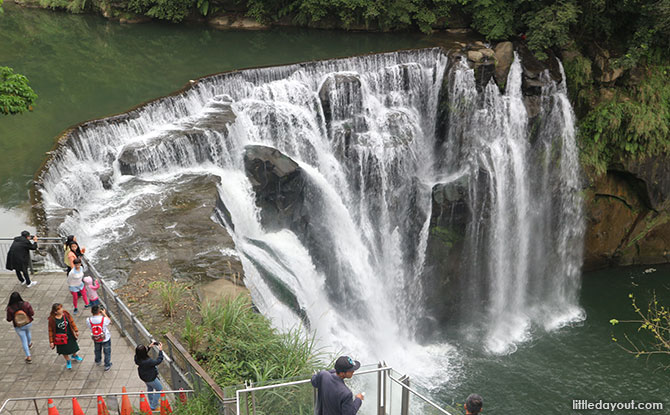 I thought my 4 year old son would be bored but I was surprised that he enjoyed viewing something as simple as a waterfall at Shifen. There is a gentle hike up the hill to the Shifen waterfall, and if you have old folks travelling with you, take note that there are steps to climb. You can will also be able to view an old railway tracks and train.
Shifen Waterfall
Address: 226, Taiwan, New Taipei City, Pingxi District, 乾坑10號
We also got to release a lantern into the sky. For my son who loves hot air balloons, this was a treat and the closest thing to hot air ballooning for now. To take part in the lantern-releasing activity, choose a colour for the lantern, massacre draw it and then set it aloft. It was a bit of a jiffy affair but a fun experience nonetheless.
Shifen Old Street
Address: 226, Taiwan, New Taipei City, Pingxi District, 十分老街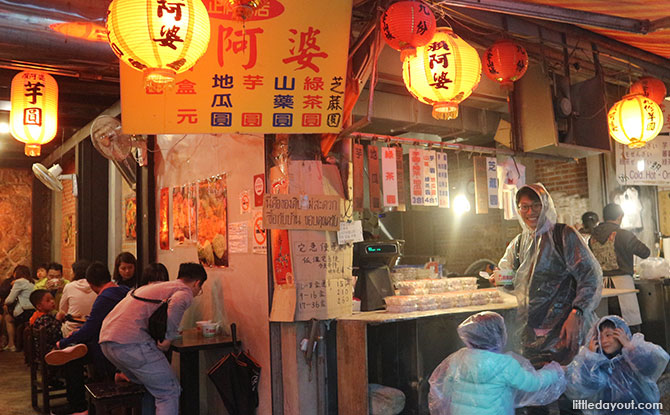 It was super crowded at Jiufen Old Street. Forget the strollers, it is near impossible to use the stroller here. The crowd can be a little overwhelming for the little ones but the numerous snacks that line the street compensates for the discomfort.
We had lunch along the Shifen Old Street followed by a quick photo stop. On the day of our visit, the weather was not good. I heard from the cab driver that it does rain quite a bit over a Jiufen old street. I would not really recommend taking toddlers here.
Jiufen Old Street
Address: Jishan Street, Ruifang District, New Taipei City, Taiwan 224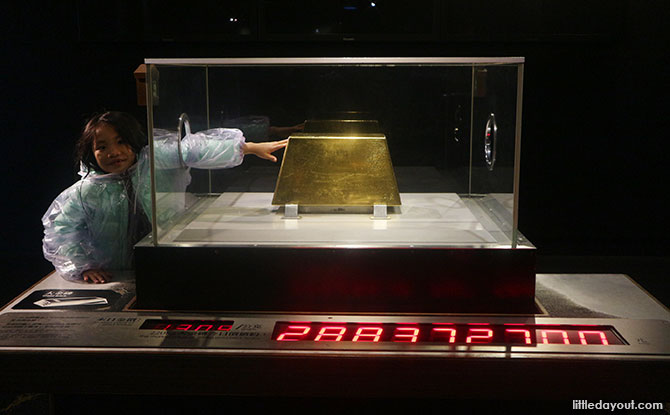 Our final stop was the Ecological Old Mine. It is NOT, NOT, NOT a small place. I totally underestimated the size of this place. It is a big compound but the buildings at Jiufen Ecological Park were really quaint.
We were also pleasantly surprised to see cherry blossoms! This was a bonus as we had initially wanted to head to Alishan to ride the vintage train and view cherry blossoms. However, I had scrapped those plans as I felt my pre-schoolers would not be able to take the long rides. Therefore, we were happy to see cherry blossoms at Jiufen Ecological Park.
Jiufen Gold Ecological Park
Address: 224, Taiwan, New Taipei City, Ruifang District
At the end of our visit to Shifen and Jiufen, we headed back to hotel for a change of clothes and a short rest to recharge.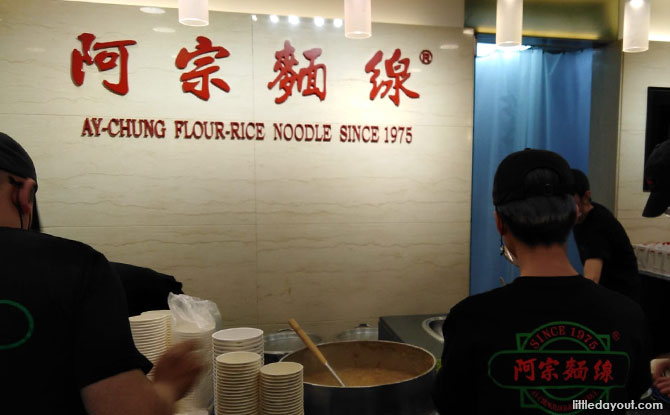 Hubby then suggested visiting Ximending and so off we went. Ah Zhong Mian Xian was hubby's reason for the 'pilgrimage'.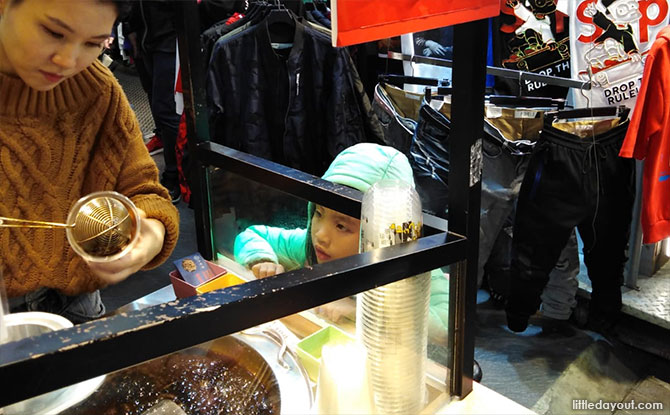 So its snacking away again and I honestly think we over ate. Heh!
Day 3: Chiang Kai Shek Memorial Hall, National Taiwan Museum, train to Zhongli, Republic of Chocolate and Zhongli Night Market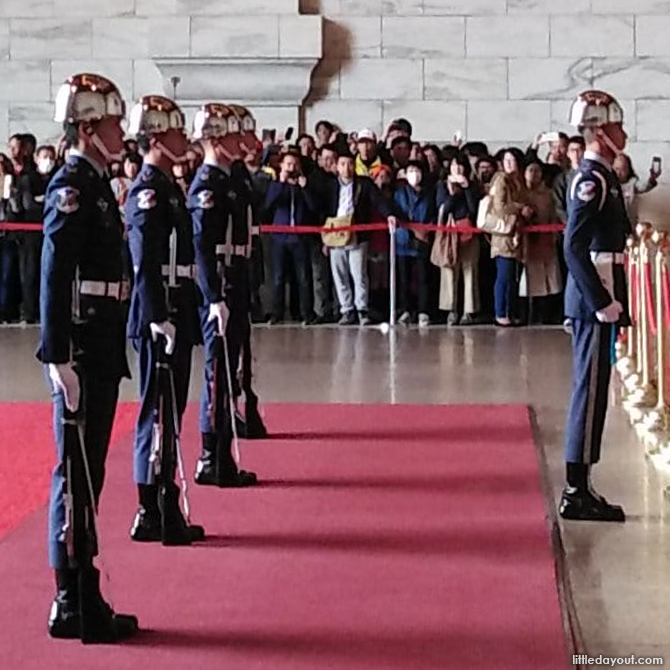 We started our third day in Taiwan with kids at the Chiang Kai Shek Memorial Hall. We were there to watch the change of guards. The whole ceremony took approximately 15 minutes.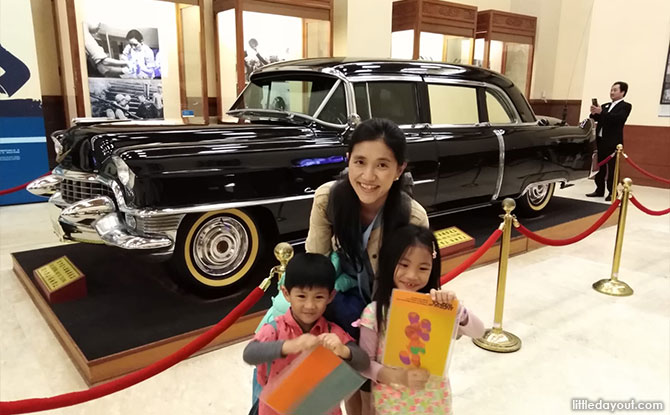 After the change of guard, do not just dash off. Take some time to explore the exhibits on display. We viewed their historical exhibit and they have a little rubber stamps that children can collect. It is something simple enough to delight even the youngest ones.
Chiang Kai Shek Memorial Hall
Address: No. 21號, Zhongshan South Road, Zhongzheng District, Taipei City, Taiwan 100
Nearest Metro Station: Chiang Kai Shek Memorial Hall Station
Website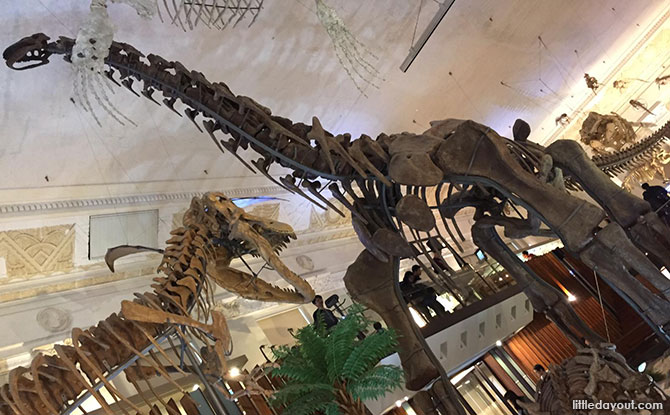 Just one stop away was the National Taiwan Museum (alight at NTU Station). The museum was originally a bank and has been turned into a natural history museum. We chanced upon some activities taking place with the museum and got to hear from a museum guide who brought out specimens to engage the children.
National Taiwan Museum
Address: No. 2號, Xiangyang Road, Zhongzheng District, Taipei City, Taiwan 100
Nearest Metro Station: NTU Hospital
Website
Train to Zhongli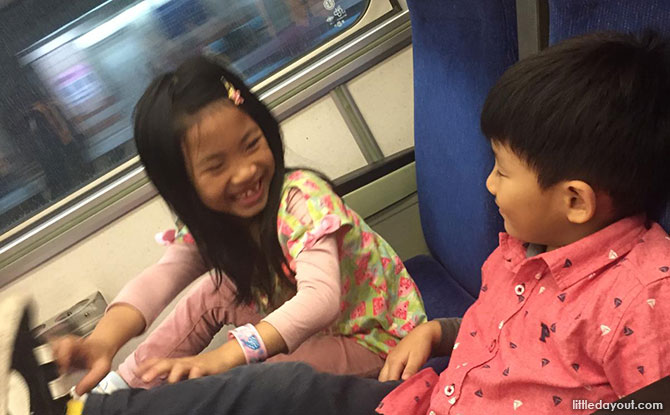 Right after the museum, we went to pick up our luggage and head to Zhongli. I thought that since we were taking an early flight out the next morning, we should stay closer to the airport on our last night in Taiwan with kids. However, it probably also doesn't make much of a difference if your hotel is at the Taipei Main Station as the HSR brings you to the airport in a jiffy.
By the time we arrived, we had a choice of heading to the cute cafes or the Republic of Chocolate. The cafes around the vicinity did not excite me as much though there are SOOOO many good cafes to bring children to in Taiwan.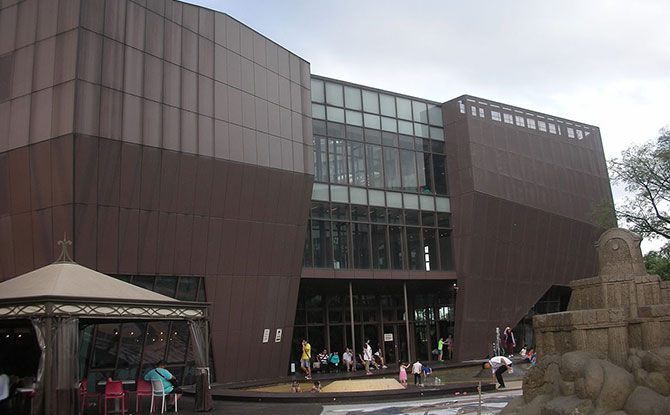 Therefore, off to the chocolate factory we went, where we took a chocolate-making class.
Heh! Ice cream making in Okinawa and chocolate making in Taiwan. The hands-on experience was pretty enjoyable. At this complex, you can shop around for some souvenirs and there are some exhibits to explore.
Republic of Chocolate
Address: 334, Taiwan, Taoyuan City, Bade District, Section 2, Jieshou Road, 巧克力街
Website
Some walking distance away from our hotel for the night, is Zhongli Night Market. After some fun at the night market, it was time to call it a night.
Zhongli Night Market
Address: Xinming Road, Zhongli District, Taoyuan City, Taiwan 320
Our accommodation for our last night in Taiwan with kids was the Xinshe Zhongli Hotel.
The pros of this hotel were:
1. My husband loved the view as the hotel is situated at the top level of a commercial building.
2. It is close enough to Zhongli Night Market.
3. Rooms are really modern looking and affordable.
4. There is an arcade within the same building.
The cons:
1. It is in a commercial building, a little strange, again.
And that's it! Our short stop over at Taipei was at an end. It was time to head back to our sunny island of Singapore the next morning after an fun-filled trip to Okinawa and Taipei.