A child's hat is shaped like a lion has a goldfish motif to signify wealth to the wearer. A pair of infant booties is fashioned with tiger eyes at the tip are intended to protect the child from evil spirits and prevent tripping as he or she learns to walk. These and other hidden meanings found in Chinese children's clothing are unmasked at Stitches of Love, an exhibition at Sun Yat Sen Nanyang Memorial Hall.
Inspired by Love
Being held from 27 May 2017 to 4 March 2018, Stiches of Love – Hidden Blessings in Children's Clothing and Accessories is inspired by the love parents have for their children.
Traditionally, Chinese parents are notoriously reserved and not prone to grand gestures toward their children. Instead, their love for their children is expressed in more subtle ways or as a Chinese nursery rhyme states, a mother's love is captured in the new clothes she sews for her child.
Unlike today where children's clothes are based largely on fashion, traditional Chinese children's clothing was filled with symbolism. Shirts, pants, hats, ear muffs, bibs and shoes were all adorn with motifs intended to bring good fortune to the wearer.
99 of such artefacts are on display at Stitches of Love. These come from the late 19th to early 20th Century during China's late Qing to early Republican period. Common themes found on the clothing include wealth, longevity, a successful career in the Civil Service and male heirs.
The exhibition is presented by Sun Yat Sen Nanyang Memorial Hall in conjunction with Guangzhou's Memorial Museum of Generalissimo Sun Yat-sen's Mansion.
Exploring Stitches of Love
The exhibition is divided into five sections.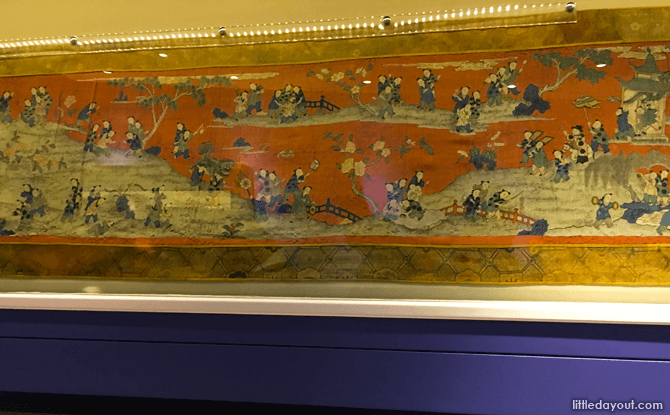 The first, Boys at Play, features a two-metre long tapestry that would have hung over a wedding bed. The piece, Hundred Boys at Play, is filled with pictures of boys, conveying wishes for the couple to have boys to continue the family line.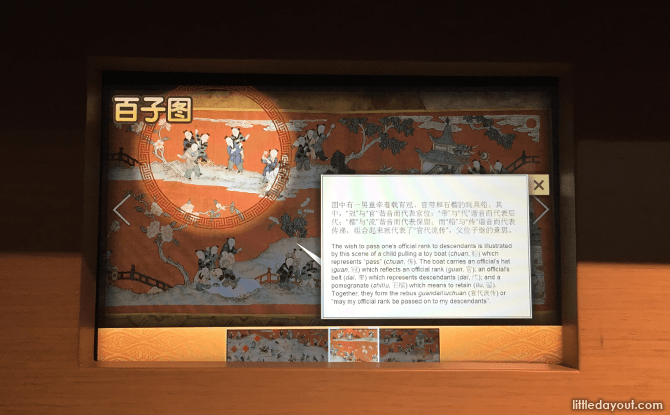 Touch screen displays at the tapestry allow visitors to explore various scenes within this star piece of the exhibition.
The next few sections of the Stitches of Love exhibition present the use of auspicious animals, symbolic flowers and fruit and folklore and legends in traditional Chinese children's clothing. Visitors can view items such as a headband with goldfish in a pond (a pun for gold and jade in the household) and a dudou (belly vest) with a boy sitting on a lotus with the lotus signifying purity.
The exhibition, which is housed within a single room, ends with a look at Chinese Motifs in Malaya, allowing visitors to compare the use of motifs in Chinese communities inside and outside of China.
Interactive Activities for Kids
Catering to young visitors is an interactive kiosk for them to play fashion designer to colour their version of Chinese clothing and send them up to a big screen. There is also a digital photo booth available.
Kids can also pick up an Activity Booklet to explore the exhibits. Inside the booklet, there is also a paper doll craft where kids can dress-up cutouts with traditional children's clothes.
Stitches of Love – Hidden Blessings in Children's Clothing and Accessories
Date: 27 May 2017 to 4 May 2018
Venue: Sun Yat Sen Nanyang Memorial Hall
Opening Hours: 10 am to 5 pm
Cost: Included in admission to Sun Yat Sen Nanyang Memorial Hall