Star Wars Run Singapore returns for its 2018 edition on Saturday, 5 May 2018 with new race elements and a new event venue.
Last year's inaugural Star Wars Run saw the participation of 15,000 runners. It was held together with a carnival at Gardens by the Bay. It was flagged-off at the event space beside Marina Bay Sands.
This year, Star Wars Run 2018 will be held at the F1 Pit Building and the Marina Bay area. The themed run is presented by The Walt Disney Company Southeast Asia and Singapore race organiser Esprimo.
Star Wars Run 2018 will coincide with a Star Wars Festival being held on May the 4th – a date that fans of the movies franchise know as Star Wars Day because it sounds like the phrase, "May the Force Be with You".
Choose Your Side
Participants in the Star Wars Run 2018 will have to choose one of two running routes. One running route will be themed after the Light side while the other running route will be themed after the Dark side. Both running routes will feature engagement zones with music, light projections and photo opportunities that bring the Star Wars experience to life.
Run categories include a 10 km competitive run and a 5.4 km non-competitive run. This year will also see a flag-off format where runners participating in the 5.4 km non-competitive run will take off in opposite directions.
New to the Star Wars Run 2018 is a run category for kids. Younger children will be able to participate in a 540-metre Young Jedi Dash.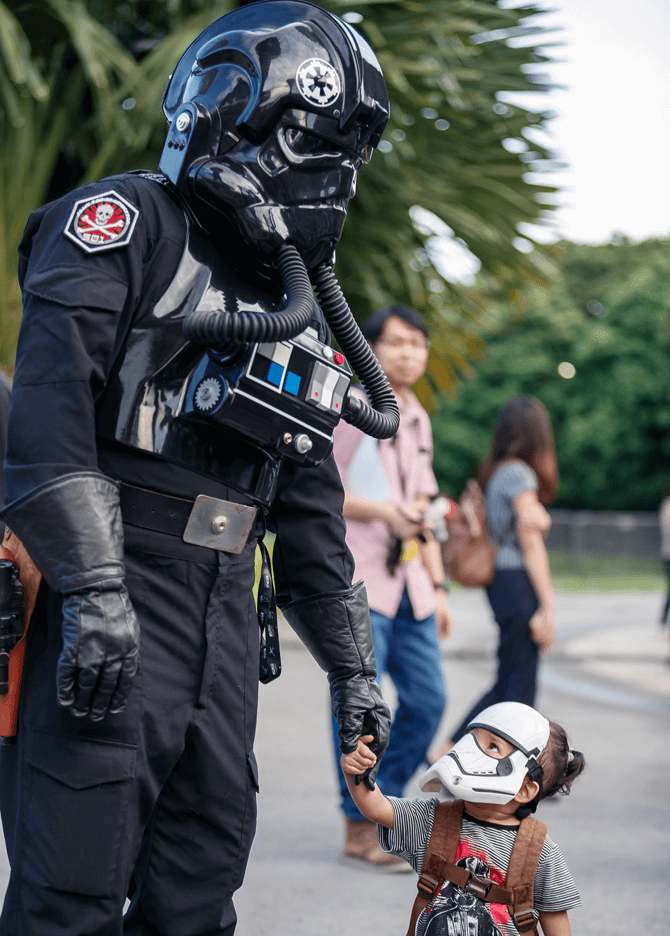 The Race Village for Star Wars 2018 participants will feature themed activities, interactions, food and beverage stalls and an outdoor movie screening of Star Wars movies.
Participants can expect to bring home a race pack with Star Wars merchandise. Finishers of the 10 km and 5.4 km runs will receive a commemorative medal.
Registration for Star Wars Run 2018
Registration for Star Wars Run 2018 is now open. Those who had signed up for the Star Wars Run Singapore 2017 and early birds can enjoy a special registration price till 14 March 2018. Those who had participated in last year's run will be able to enjoy priority registration for the first seven days from today, with limited slots available.