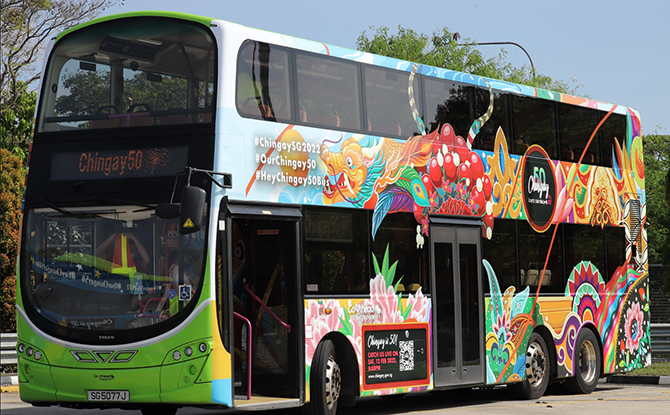 Chingay is associated with colourful floats and pageantry. This year, to mark its 50th year, the floats are taking the form of public buses plying the roads of Singapore.
---
Specially-decorated Chingay50 Buses
20 specially-decorated Chingay50 buses have been making their way around the roads and will continue to do so until 27 March 2022.
The decorations of these Chingay50 buses have been inspired by cultural and community activities such as Indian festivals, Chinese opera, Chingay floats from the past and more.
---
Snap, Post and Win
If you spot one of these reimagined floats, snap and post photos of it on your Facebook or Instagram with hashtags, #ChingaySG2022, #OurChingay50, #HeyChingay50Bus, and stand a chance to win attractive prizes worth a total of $7,000 in the Snap, Tag & Win campaign.
---
-- Story continues below --
Here's a hint to spotting these #HeyChingay50Bus buses: some of these buses travel through cultural precincts like Little India, Chinatown, Geylang Serai and the Civic District.