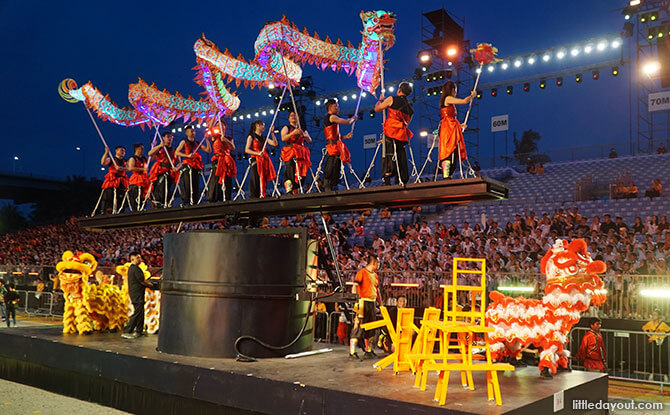 Like many others, I grew up watching Chingay parade on the TV. It never really got my attention in recent years until the invitation to the Chingay 2020 parade came. A quick search on Google yielded many interesting facts about Chingay. First, it originated not just a "Chinese New Year parade" but a one for the deities. Its name is taken from the Hokkien term 妆艺which meant decorated frames with children carried in processions.
Origins of Chingay
Chingay originated in various Chinese provinces such as Canton and Shanxi, where scattered 19thcentury accounts of children in processions had been recorded. Interestingly, Singapore's earliest records of Chingay processions happened in 1840 right through to 1906 when the practice was abolished due to its extravagance though some community groups and amusement parks had their own chingay processions.
In 1972, unhappiness abound when firecrackers were banned due to deaths and injuries at the celebration of Lunar New Year. Then, PM Lee Kuan Yew suggested the staging of a Chingay parade like those held in Penang. Fast forward to today, we have an annual street and floats parade consisting of people from all walks of life and all races. This year, Chingay 2020 marks People's Association's 60 years of community building and the theme "Colours in Harmony" aptly symbolizes our cultural diversity and harmonious blend of different cultures.
Chingay Parade 2020
We got the chance to see the Chingay Parade up close and it was a dazzling display of performances, stilt-walkers, lion and dragon-dancers and floats. Here are five reasons why you should bring your kids to catch the Chingay Parade 2020 live.
---
-- Story continues below --
1. Biggest Chingay Procession in History
This year's Chingay is the biggest ever with close to 6000 performers involved! The parade is a highly energised one – not just because of the youth performers but the many many seniors, aunties, uncles participating! The huge smiles while they perform throughout the procession – dancing, waving, jumping, moving on segways, managing giant mascots and gigantic flags were infectious and kept the audience eager to move along as well.
My boys were glued to the procession and loved the action-packed segments with ninjas, bamboo-drummers, light-saber wielding performers, the zodiac animals on segways and cheerleaders!
2. Lots of Lion and Dragon Dances to Catch!
Keep your eyes peeled – there will be many lions dancing past you and even a dragon soaring in the skies! There were lions of all shapes and sizes, even pokemon lookalikes.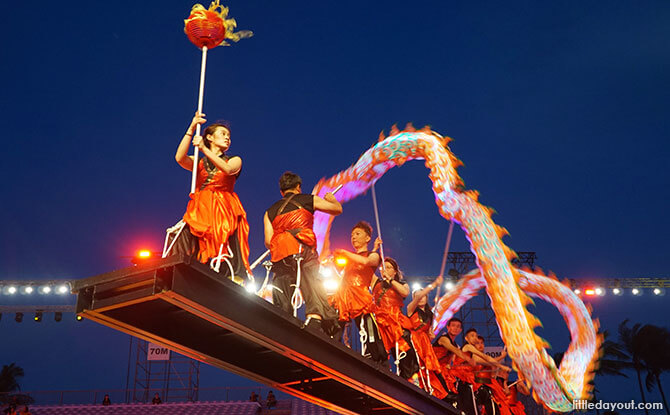 Our favourite float has got to be the one with the dragon dance on it with performers swiftly moving the dragon as the platform swivels and tilts in a different angle. Also, don't miss the world's largest and longest flying dragon making its debut at Chingay 2020.
3. A brilliant opportunity to learn about many cultures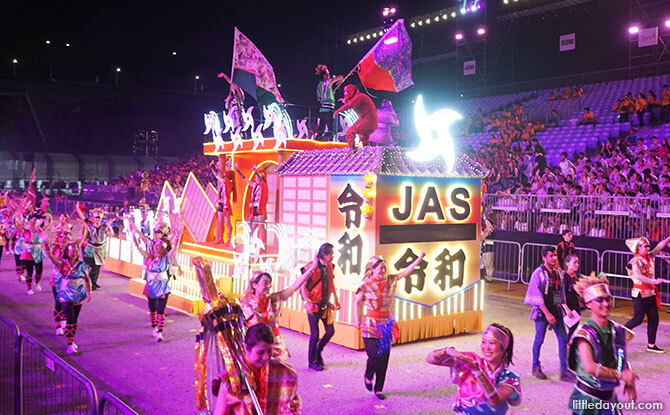 Bring your children to Chingay 2020 for an opportune time to learn about the musical instruments, dance, ethnic garments of each culture. We certainly enjoyed the diversity of the parade which included not just multi-cultural performances, various music pieces and instruments but also an international involvement from the Japanese and international communities.
So don't be surprised to see Dragonball character lookalikes and performers from Philippines, Russia and Vietnam! It really got us thinking about how a small nation like Singapore can embrace diversity in harmony.
4. Get a chance to interact with the performers!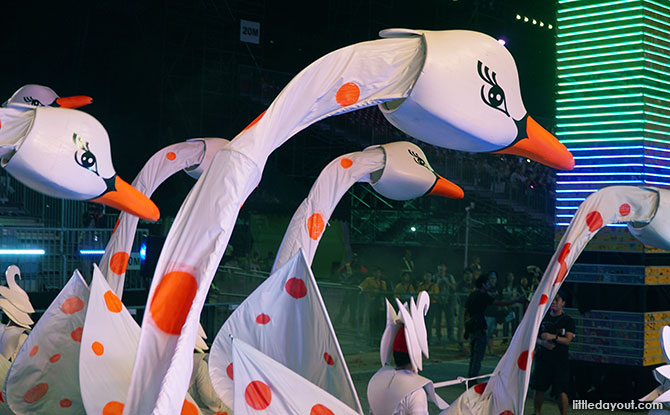 Receive a goodie bag which contains many items that would get audiences involved in the Chingay parade program! Wave those lightsticks, LED fans and get the chance to contribute to the lightup of the Bridge of Harmony where 20, 000 residents co-created the floats with "Harmony" tiles. We also had a chance to touch the adorable swans! Certainly a crowd-pleaser as all the kids reached out to try petting the swans.
5. Enjoy the parade in cool weather and soak in the CNY atmosphere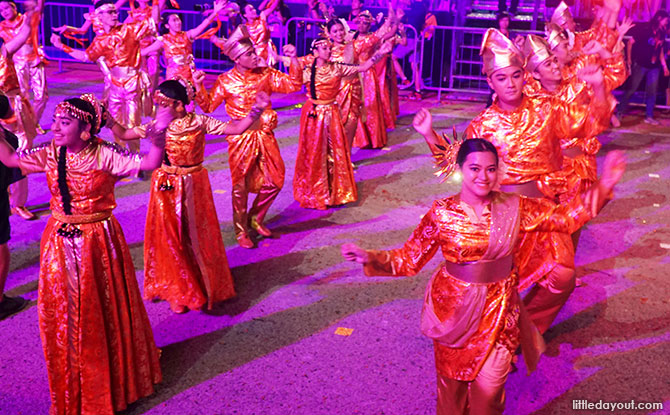 We enjoyed the cool evening and did not even perspire at the F1 pit building. It was such a lovely timing to enjoy the procession which is also held near the River Hongbao celebrations. It would be a treat for the kids to attend Chingay 2020 parade followed by a stroll at Marina Bay plus see the stunning displays of pyrotechnics and fireworks.
Post-parade activities include Chingay 2020 Carnival with food booths, hands-on activities like silkscreen printing and even gift redemptions at the merchandise store.
Chingay 2020: Spend your CNY weekend celebrating at the Parade
Join in the biggest Chingay parade ever at the 2020 edition! There is plenty to keep your little ones occupied during the 1.5 hour parade and a great way to spend a CNY weekend. For more details, refer to Chingay 2020's official website.
Media Invite to the Chingay 2020 NE Show.