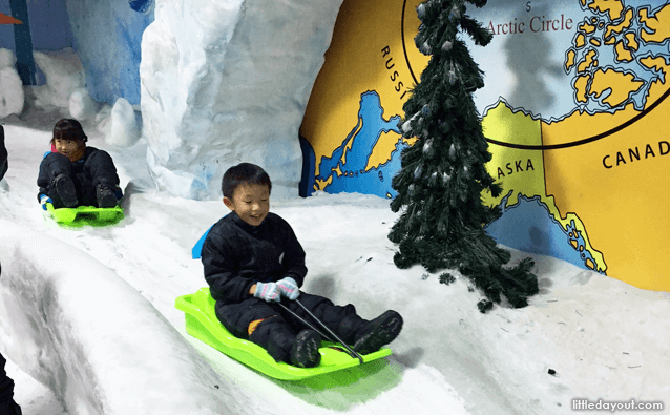 The time of the year has come where the season's festivities has people in the tropics yearning to escape to a winter wonderland. With Christmas around the corner, here are some of the best places you can find snow in Singapore 2017.
---
1. CHRISTMAS WONDERLAND
Starting off our list is Singapore's biggest annual yuletide fair Christmas Wonderland at Gardens by the Bay. For the first time, visitors can skate under the stars at the fair's first-ever outdoor skating rink at The Meadow. The 240 sqm outdoor synthetic skating rink is Singapore's biggest and will be framed by luminarie light sculptures.
The Spalliera light sculptures will continue to host the popular Blizzard Time, where visitors can experience "snow" in the tropics. Blizzard Time has been increased from three to five sessions daily this year.
Other highlights: One of Asia's biggest Santa's Grotto; the Asian debut of the highly acclaimed Circus Abyssinia from Ethiopia: and a tantalising festive spread by award-winning restaurants at SAVOUR for gourmet food lovers.
Christmas Wonderland
1 to 26 December 2017
4 pm to 11 pm daily                
Skating Under the Stars
1 to 26 Dec 2017
4.30 pm to 11 pm daily
Blizzard Time
1 to 26 Dec 2017                
More information on the timings will be available at a later date
---
2. TANGLIN MALL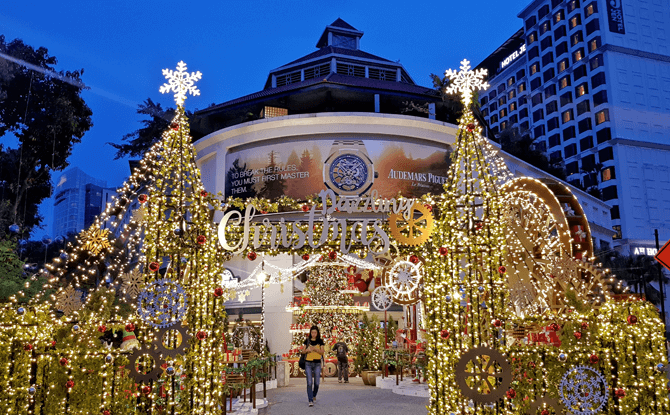 Snowfall at Tanglin Mall is serious business. Expect lots of foamy "snow" in Singapore at this annual event, held at the entrance of the mall. See the snowfall in full force here.
Other highlights: Santa workshops, Santa photo-taking, Christmas Markey by Invade, Acapella carol singing performances.
Snowfall
11 Nov 2017 to 1 Jan 2018

Weekdays:
Avalanche – 7.30 pm – 7.45 pm
Snow – 7.45 pm – 8 pm

Weekends:
Avalanche – 7.30 pm – 7.45 pm & 8.30 pm – 8.45 pm
Snow – 7.45 pm – 8 pm & 8.45 pm – 9 pm
See http://www.tanglinmall.com.sg/ for more details    
---
3. CHANGI AIRPORT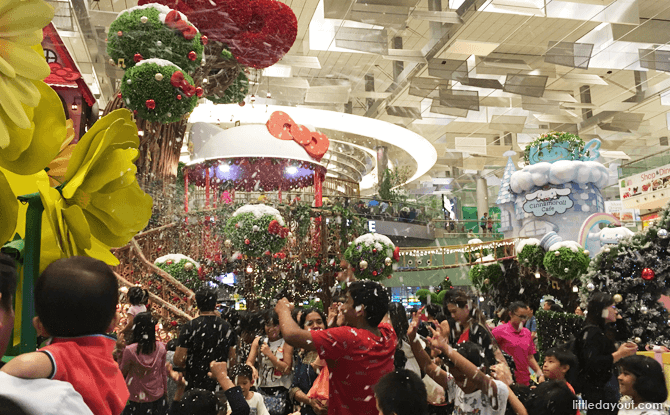 Changi's Mystical Garden with Sanrio characters features light and snow shows. Stroll among favourites such as Hello Kitty in locations such as a gazebo and treehouse, which is topped off with Hello Kitty's signature red bow.
Light and Snow Show
18 November 2017 to 5 January 2018
3.00 pm and 5.00 pm daily
The Mystical Garden is open from 10 am to 10 pm daily. See our full story for more highlights.
---
4. UNIVERSAL STUDIOS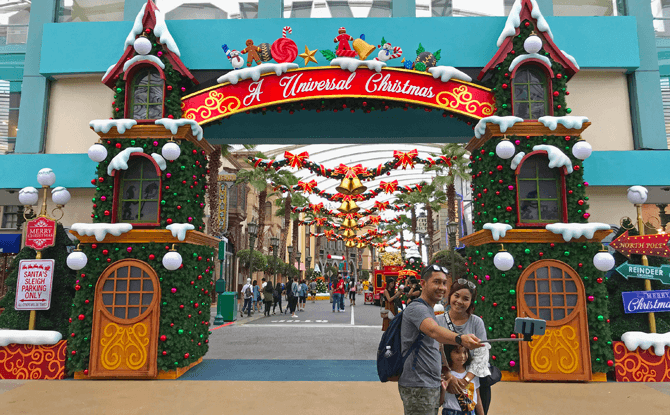 As part of USS' Christmas highlights, Santa Claus and his reindeer will bring a burst of snow in Singapore along the streets of New York. Visit Santa's Snowy Sleigh Ride and Santa's Christmas Tree House at New York & Hollywood zones to get a dose of bubbles.
Other highlights: Join the marching band, elves and toy soldiers set against a 15m-tall Santa's Christmas Tree House at Hollywood Lagoon; catch the antics of characters such as Charlie Chaplin, Gru and the adorable Minions from Despicable Me all decked out in Christmas outfits.
Snowfall during Santa's Snowy Sleigh Ride parade
1 Dec 2017  to 1 Jan 2018
12 pm, 2 pm, 4 pm, 6 pm & 8 pm
---
5. CITY SQUARE MALL
Explore this tunnel of stars spanning over ​50 metres and featuring over 24,000 LED fixtures. City Square Mall's Stellar Light Show is a 10-minute light and music display.
You can experience falling snow in Singapore this 2017 year-end with the kids during Snowy Playtime.
17 November – 31 December 2017
Level 1 City Green Park
​Stellar​ ​Light​ ​Show
Every 30 minutes, 7pm – 10pm
Snowy​ ​Playtime
8.10 pm
---
6. SNOW CITY
Go the whole nine yards and experience a snow blizzard at Snow City –  a storm with strong wind and lots of real snow. For a gentler snowfall experience, hang around the lobby at the top of every hour. The powder-like snow is produced by a specially designed snow gun.
Other highlights: Hop on the Chipsley train travel to different countries by completing the Arctic Express activity map. Read our full story on Snow City for more fun activities.
Snow Fall
Lobby
Every hour from 10 am to 7 pm daily
Snow Blizzard
Snow Chamber
12 pm and 3 pm daily
See website for more details http://www.snowcity.com.sg/whats-on/events/.
---
7. ORCHARDGATEWAY
Enjoy a daily shower of snow in Singapore 2017 amidst a galactic backdrop at orchardgateway's event An Extracelestial Christmas. Perfect for 'grams.
Snowfall
Level 1 Plaza
Half-hour intervals from 7.30pm to 9pm
---
8. AMK HUB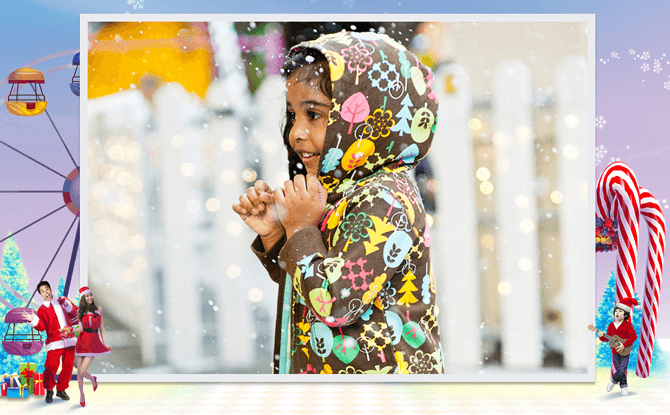 Enjoy 20-minute snow and bubble shows at Christmas Jolly Jamboree Carnival by AMK Hub, which gives back to NTUC U-Care beneficiaries.
Other highlights: Thematic carnival rides including a Balloon Wheel, Viking Ship, Helicopter Ride and a Royal Carousel, meet-and-greet with Santa Claus and friends, and Christmas Marketplace!
AMK Hub pledges to donate $2 with every purchase of the carnival entry pass at $20. All donations will be contributed towards NTUC U-Care.
Snow and Bubble Wonderland
4 November 2017 to 1 January 2018
Level 1 main entrance
Mon – Thu: 8 pm
Fri – Sun & PH: 6 pm & 8 pm
See www.amkhub.com.sg for more details.
---
9. PARKWAY PARADE
Experience chills and spills at Parkway Parade's Snow Fun House with a minimum spend of $50 in max. 2 combined same-day receipts ($100 for receipts from Cold Storage and Giant).  Free admission for American Express Card Members.
Snow Fun House
3 Nov to 25 Dec 2017
Basement Outdoor Plaza
12 pm – 10pm
Admittance to Snow Fun House starts from 11:30am (for the first session at 12pm) and ends at 9pm (for the last session at 9:30pm or when all the sessions are full; whichever is earlier. Redemption for passes are available at the Concierge and open venue next to Din Tai Fung from 23 Nov and Basement Atrium from 27 Nov. See details here.
---
10. SINGAPORE DISCOVERY CENTRE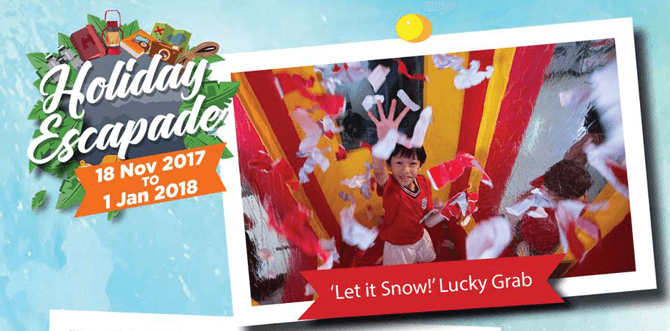 This isn't exactly snow or bubbles, but it made it to our list because of its creative take on snowfall. Singapore Discovery Centre's "Holiday Escapade" year-end special features an exciting line-up of activities which revolves around adventure, innovation and learning.
Nearer to Christmas, there will be activities which surround the idea of gifting. The "Let It Snow!" lucky grab activity which will take place on 17 and 18 Dec 2017 will provide participants with the chance to take home that special gift back.
Get blown away by the cooling breeze as it blends the colourful "snow" strips in the air!
More details at http://www.sdc.com.sg/.