When it comes time to deck the halls, there are plenty of places where you can get Christmas decorations in Singapore. Baubles, wreaths, ribbons, stockings and nutcracker dolls – name it, and you can find it in shops around Singapore.
For the busy decorator, we have put together a list of 15 of our favourite and best places to shop for Christmas decorations in Singapore. Fa-la-la-la-la, la-la-la-la!
---
Best Places To Shop For Christmas Decorations In Singapore
1. Mason Home Décor
Looking for a hyper-realistic Christmas tree and unique decorations that will transform your home into a winter wonderland? Masons Home Décor has an extensive collection of Christmas trees, ribbons, tree picks and decorative items, perfect for any Christmas theme.
---
-- Story continues below --
This year, choose from five new Christmas tree designs, including those that allow you to choose the direction of branches, shade of green and size of tips. There are also new and exclusive baubles, available in charming shapes like reindeer, snow boots, snowmen, gnomes, angels, stars, instruments, and more.
Other captivating festive decorations include trains, nutcrackers, snowmen, Santa figurines, gnomes, LED candles and stockings to help you express your unique holiday personality!
Get more details about Mason Home Décor.
---
2. Daiso
With everything in the Daiso store being $2, this is a great place to get cute decor items such as Santa Claus themed ornaments, snowman puppets, and even some cute stick-on gel decals. There are also wreaths, fairy lights, ornaments, and DIY Christmas tree kits.
---
3. Spotlight
This Aussie store offers a full range of Christmas ornaments in Singapore. While at Spotlight, you can also get nice tablecloths and napkins for your festive Christmas dinner too.
---
4. IKEA Singapore
Ikea has been a long time go-to spot when it comes to the Christmas season. The Christmas decorations in Singapore that you can find at Ikea often include decorative tabletop items, Xmas tree hanging decorations and even lighting to set the mood. And of course, Ikea also sells live Christmas trees too – perfect for bringing a touch of magic to the home.
---
5. Metro
Rock around the Christmas tree with beautiful hanging ornaments from Metro. While shopping for décor, you can shop for presents too!
---
6. Henry Christmas Wholesale
Products at Henry Christmas Wholesale range from Christmas crackers, timber cravings of nativity scenes and a herd of sheep figures alongside the trees and garlands. Shoppers at their online store can order their favourite decorations in bulk and get them delivered straight to their homes. Website
---
7. Vanda Win
You can find Christmas trees, pre-decorated trees, different types of ornaments and other Christmas décor at Vanda Win, located at Tanjong Katong.
---
8. RedMart
Shop for Christmas decorations in Singapore from the comfort of home at RedMart. The online retailer has a seasonal section during the year-end where you can purchase Christmas tree hanging decorations, door decorations, stockings and more. You can also purchase your Christmas tree online at RedMart too.
---
9. Etsy
If you are looking for an out-of-the-ordinary Christmas tree topper, check out Etsy. The creative folks there have interesting ideas about what should go on top to complete the tree.
---
10. Nurseries
One of the nicest ways to decorate the home during Christmas time is with a splash of colour courtesy of festive-looking plants. The most well-known Christmas plant is the poinsettia. You can pick these up from nurseries and florists around Singapore.
---
11. Lims Legacy
If you are looking for a wooden soldier nutcracker to incorporate into your Christmas décor, pay a visit to Lims Legacy at Marina Square. Various sizes of these painted figurines are available for sale at this décor shop.
---
12. Tangs
We love visiting Tangs to view the Christmas decorations on sale. There is plenty of Christmas tree hanging decorations to choose from, ranging from baubles to festive-looking ornaments.
---
13. Supermarkets
If you don't have the time to head down to a speciality shop for your Christmas decorations, you can often find festive objects at your favourite supermarket too. Whether at NTUC, Cold Storage or Giant, sometimes, convenience takes precedence during the busy Christmas season.
---
14. Marks & Spencer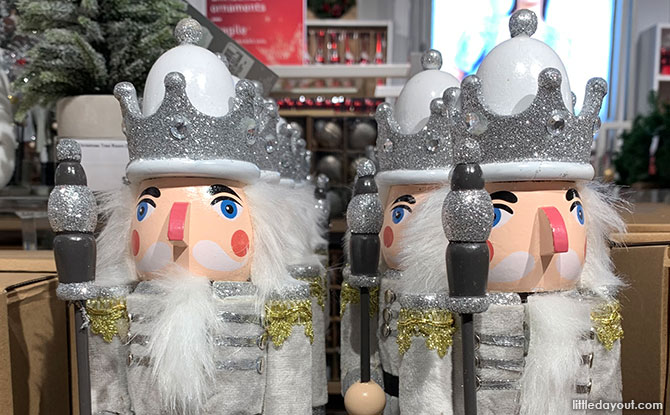 Well known for its quality foods and household products, iconic British retailer Marks & Spencer is a great place to get ready for the festive season. Offering a collection of Christmas gifts there are lots of gifts suitable for adults as well as kids of all ages. Plus, Marks & Spencer has some festive decorations to deck up the house too.
---
15. Hsen Global Pte Ltd
Hsen Global Pte Ltd was established in 2007 as a wholesale supplier for events and festive decorations. They produce and provide a prime selection of wholesale supplies in celebratory events, festive decorations, gifts, games & toys, art & craft materials, bags and packaging supplies at affordable prices. Website
---
16. Juz My Party by Yeo GM Trading
Located at Eunos, this store carries balloons, fancy party favours, decorations, props, costumes, wares and more at wholesale prices. Some Christmas decor includes brightly-coloured bauble sets and shiny tinsel garlands.