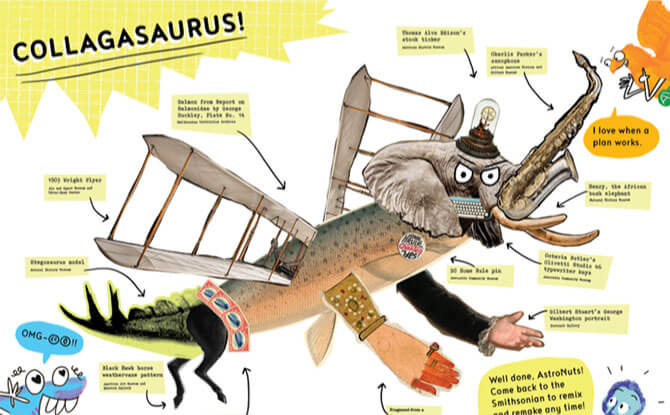 The Smithsonian Institute has just released 2.8 million high resolution images from its collections for people to browse through and download free of charge. The new Smithsonian Open Access platform release digital resources from its collections and gives schools, kids, creatives and just about anybody access to high quality sources which can be reused and transformed.
---
Smithsonian Open Access platform
The Smithsonian Open Access platform features data from 19 Smithsonian museums, nine research centres, libraries, archives and the National Zoo. This puts digital images across the fields of arts to science and specimens online for anyone to use for free.
These images will be available under the Creative Commons Zero (CCc) license, making them available as raw materials for anyone to use.
To help get the creative juices flowing, author-illustrator duo Jon Scieszka and Steven Weinberg have debuted a how-to booklet, How to Make a Collagasaurus, which provides kids with idea on how to transform the Smithsonian collections into fun art forms. In the booklet, kids are walked through how they can use the images that are now in the public domain, including George Washington's arm, a stegosaurus tail and Charlie Parker's saxophone, into a dinosaur.
With the Smithsonian Open Access platform, the institution is aiming to redefine its relationship with the public. Even if you have never been to its museums and libraries in the United States, it is still possible to have access to digital versions of its collections and to use them in collaborative and creative ways.
"Being a relevant source for people who are learning around the world is key to our mission," said Effie Kapsalis, Smithsonian's senior digital program officer. "We can't imagine what people are going to do with the collections. We're prepared to be surprised."
---
Trying out the Platform
When we accessed the Smithsonian Open Access platform online, it was interesting to browse the collection in the Open Access Highlights section. However, we did have trouble making use of the search function. Perhaps due to high search volume?
Nonetheless, the Smithsonian Open Access platform is exciting as it represents an significant step in terms of museums opening up their collections into the hands of the public – at least in digital form.
Visit the Smithsonian Open Access platform to find out more.