We were on the lookout for something fuss-free, outdoors and slightly off the beaten track for a family getaway in June. Sinar Eco Resort in Pekan Nanas, Johor seemed to fit the description.
Less then an hour after leaving our urban jungle we were rumbling down a semi-dirt track off the Pontian-Johor Road with only palm oil trees in sight. The resort had sent us clear directions, but the Hubby was still skeptical. Fifteen minutes later, much to everyone's relief, we emerged. Or at least the resort did!
Farmstay Resort in Johor
Three-year old Sinar Eco Resort is a private-holiday-home-turned-farmstay-resort open to both day-trippers and overnighters. We stayed one night here en route to another destination in the state, opting for a package that included room, all meals and several complementary activities.
We were greeted by these bright yellow containers, which turned out to be small guest rooms.
Unfortunately for our excited kids, we hadn't plumped for these, opting instead for a larger room in the main building for our family of five.
The room was basically furnished, but clean and comfortable, with air conditioning and an en suite bathroom.
Animals, Animals, All Around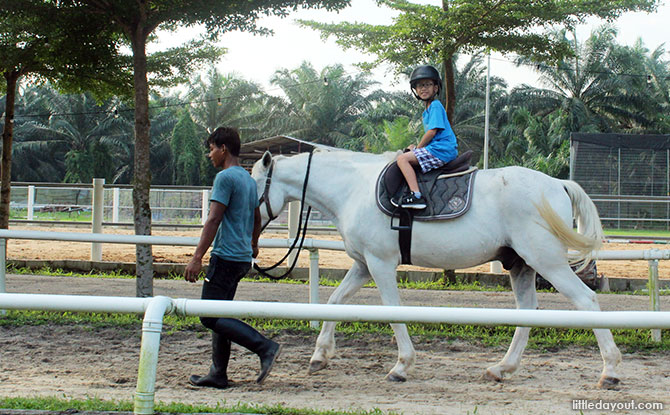 We arrived in the late afternoon and were shown around the premises, including a quick round of the farm and introduction to its various inhabitants.
The kids at once gravitated towards the stables for their first activity – horse riding. As a patient handler took the older boys around a trail on a gentle white mount, any nervousness they had disappeared in a jiffy.
Detox from Urban Life
After they were done, we ventured down to the banks of the meandering river that borders the resort, the base for its various water activities – river cruising, eco rafting, kayaking and a small aquatic obstacle course that would probably have been lots of fun for a contest if we'd been in a bigger group.
With the tantalizing smell of our barbeque dinner already wafting in the air, we opted not to take the cruise, but lingered to take in the sunset while watching another group return from theirs.
Dinner was unpretentious but hearty. Our crew wolfed down the barbequed chicken wings, sausages, corn, sweet potato, fried rice and bee hoon, served in an airy dining hall. Friendly servers checked in often to see if we needed more food, and a curious kid (of the hoofed kind) wondered in and out, providing amusement for my (human) kids.
Knackered, we turned in early that night. The resort has a KTV lounge and pool table to entertain older guests, but be warned that it has no WIFI, which, to me, was definitely one of its charms!
Early to Rise
Well-rested, we got off to an early start the next morning. After a filling breakfast of nasi lemak and chicken porridge, we headed off for a round of animal feeding on the farm, which I honestly thought would be the highlight of the stay for the kids.
My city-bred kids, however, proved wary of – of all things – the smaller critters! Despite encouragement from the friendly farmhands, they barely approached the rabbits and shied from the clutter of cats in the cat house, and the various occupants of the large fowl house!
Strangely enough, they were less reticent with the larger beasts, proffering carrots to the horse, grass to cows and goats and a bottle of milk to yet another kid.
"Mama, a goat really does say "meh"!" they gushed, as the goats bleated obligingly. Sigh. So much for all those visits we'd taken to Singapore's Hay Dairies Goat Farm. But I guess that's what spiral learning is all about!
Where things really started to warm up though was when the farmhand brought out the tractor and they all delightedly piled on for yet another ride around the farm.
Thrills on the ATV & Buggy
Apparently that only whetted their appetite for more vehicles, because the next activity got them even more revved up! The Hubby took each one in turn several rounds around a muddy circuit, first on the ATV, then the buggy. They were thrilled!
Suitably muddy, and with the noonday sun upon us, we would have liked to jump into one of inviting swimming pools, or take shelter in the shade of the small archery range. Unfortunately our schedule didn't permit it.
Instead, we settled for a quick clamber in the playground and some final fish-feeding before bidding good bye to the resort and heading off to our next destination.
In all, we spent less than 24 hours at Sinar, but found it a pleasant detox from urban life and full of simple experiences that the children enjoyed. There was lots we didn't actually get to try, but I suppose that's an excuse to visit again – with friends!
Sinar Eco Resort, Johor, Malaysia
Where: Lot 2346 GM 2535 Mukim Jeram Batu, Pekan Nanas, 81500 Pontian District, Johor, Malaysia
Website
---
Sinar Eco Resort Stay Giveaway
To take part in our Giveaway, simply fill in the form below and complete the required steps.
A 2D1N Staycation at Sinar Eco Resort
inclusive of all meals.
The following terms and conditions apply:
Valid until 31 Oct 2019. Not applicable on school holidays (my & sg), public holidays & eve of public holidays (my & sg).
Advance booking required.
Depends on room availability.
Maximum of 4 pax 2D1N stay with all meals. Activities not included.
Additional pax will have to pay the market price.
For a chance to win the staycay, simply follow these 3 steps:
Follow us on Instagram (https://www.instagram.com/littledayout/)
Subscribe to our YouTube Channel (https://www.youtube.com/littledayoutsg/)
Answer the question in the form below:
This contest has closed. Congratulations, Chin Chin Tan!
---