Shaw Plaza in Balestier has reopened and boasts of a newly renovated cinema Shaw Theatres, an awesome outdoor playground, FairPrice supermarket, F&B options and enrichment centres.
Here's a closer look at the key amenities at Shaw Plaza as well as upcoming plans sure to excite you.
---
Shaw Plaza: Things To See & Do at the Balestier Mall
1. Shaw Theatres
Movie buffs will be glad that Shaw Theatres has reopened its doors as a 11-screen cineplex plus a premium theatre concept with leather recliner seats, generously sized turntable and USB charging ports.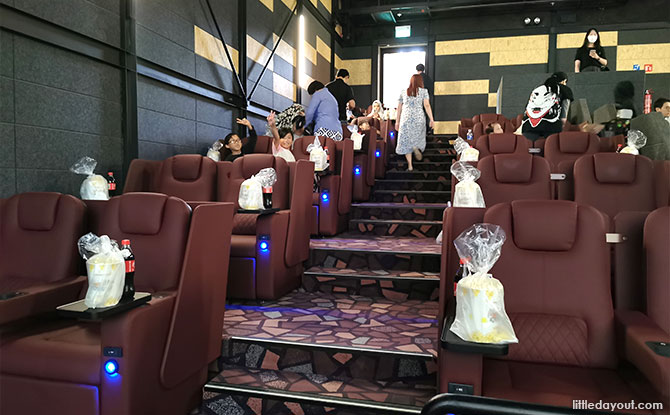 Look forward to Dreamers, a family-friendly theatre in the near future perfect for children and parents to enjoy family-friendly movies. Think beanies, softer audio and a cinema just for young ones!
---
2. Family-Centric Amenities
Since Shaw Plaza aims to be a family-friendly retail and entertainment destination mall, there are definitely amenities perfect for all. FairPrice supermarket is located on the second floor, right across Watsons.
This FairPrice outlet at Shaw Plaza in Balestier includes a ready-to-eat bento and dessert (Haagen Daaz) kiosk!
Nursing friendly rooms, family washrooms and baby-changing rooms are also easily located.
We found the mall to be very spacious and bright in terms of design, with light pouring in from the top and the side windows inspired by the airwells in Peranakan shophouses.
---
3. Shaw Plaza Food
Plenty of eateries such as Mui Kee Congee, COLLINS, Burger King, Ya Kun Kaya Toast, Two Bakers Studio are available.
There is a selection of food and beverage options for a plethora of tastebuds and budgets. Some of them are holding exciting opening deals which are perfect for bargain hunters.
---
4. Enrichment Centres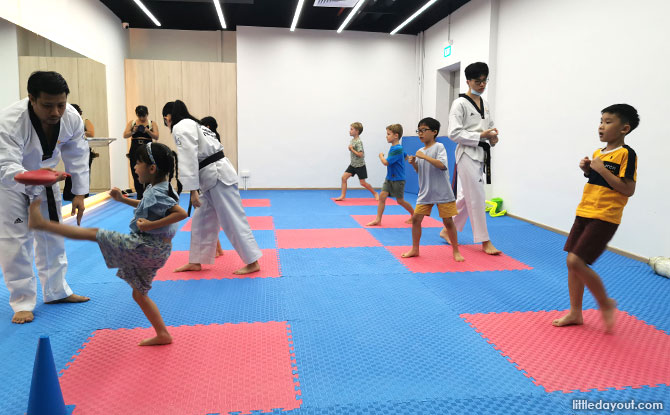 Parents looking for enrichment classes will be able to find various options from ballet, taekwando, coding, indoor swimming and even baking classes for children.
While waiting for classes to end, parents and caregivers can do groceries, have a cuppa or even watch a movie.
---
5. Outdoor Playground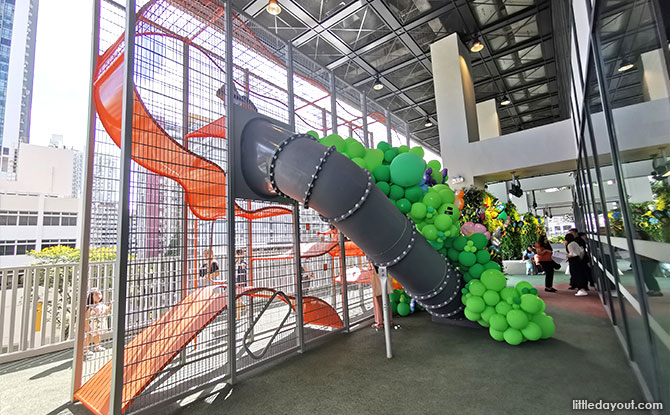 One of the highlights of the mall is the Sky Terrace and Shaw Plaza outdoor play area at Level 3.
Apart from lush greenery to take in some fresh air and surroundings, the outdoor play area is designed to excite, engage and entertain kids in active fun with a vertical playground otherwise known as walholla, mini zip line, and a trampoline.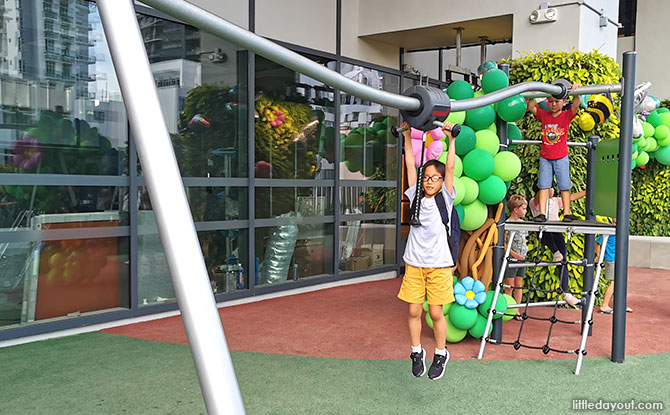 Children will have a field day climbing up, sliding down, whizzing through the mini flying fox and bouncing on the trampoline. It was certainly the highlight for the children who enjoyed the outdoor play area tremendously!
Read more about the Shaw Plaza playground.
Find out more about Shaw Plaza in Balestier.