Head underwater by heading down to the basement of Siam Paragon, Bangkok, where SEA LIFE Bangkok Ocean World is located. This attraction in the heart of Bangkok features aquatic creatures including fish, sharks, rays, turtles, penguins and even otters.
Located in the basement of the bustling, modern Siam Paragon shopping centre, from the outside, you would hardly be able to guess that SEA LIFE Bangkok Ocean World holds approximately 5 million litres of water and is set across two storeys.
Under the Sea
Inside the aquarium, tanks filled with colourful marine creature greet visitors.
The first section, Rocky Hideout, contains fascinating marine giants such as Giant Spider Crab and Giant Pacific Octopus.
Venture out deeper into the Ocean at the Shark Walk exhibit. This room is fitted with a glass-panelled floor that is fitted over SEA LIFE Bangkok Ocean World's Topical Ocean Tank. Standing on the glass floor, watch as sharks and other fish swim by unknowingly below.
Just next to the Shark Walk exhibit is one of the unique experiences at SEA LIFE Bangkok Ocean World – a glass-bottomed boat. For an additional fee of 200 Baht per person, you can board a glass-bottomed boat to go on a tour over the Ocean Tank.
Venturing further in, courtly seahorses await in the Seahorse Kingdom. Found in a wide variety of colours, look out for the unusual-looking Big Belly Seahorse and, hiding among the seagrass, the Alligator Pipefish.
Rainforest in a Shopping Mall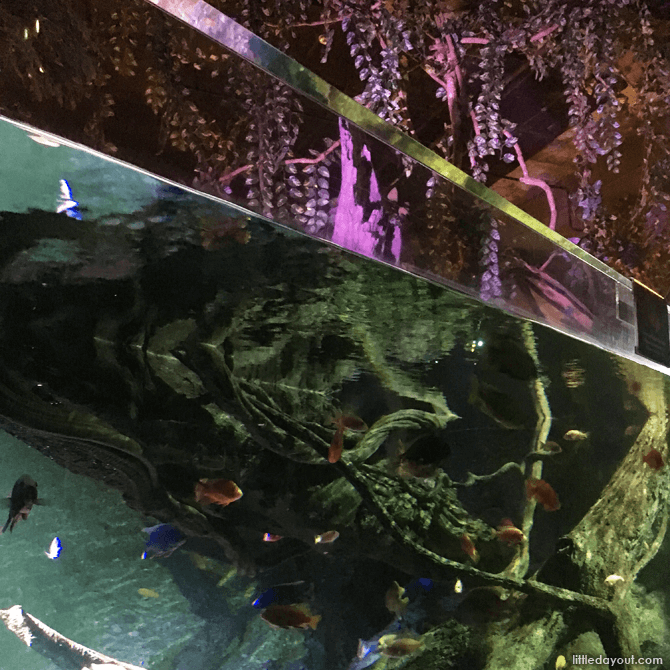 Amazingly, there is a Tropical Rainforest hidden beneath the glitzy shops at Siam Paragon.
In this section of SEA LIFE Bangkok Ocean World, you will encounter animals found in the marshy rainforest. These include poisonous dart frogs along with one of the largest freshwater fish in the world, the Arapaima.
Another interesting animal species found at SEA LIFE Bangkok Ocean World's Tropical Rainforest are the Short Clawed Otters. These playful creatures have their own habitat, fashioned to look like the rivers they call home.
More Than Fish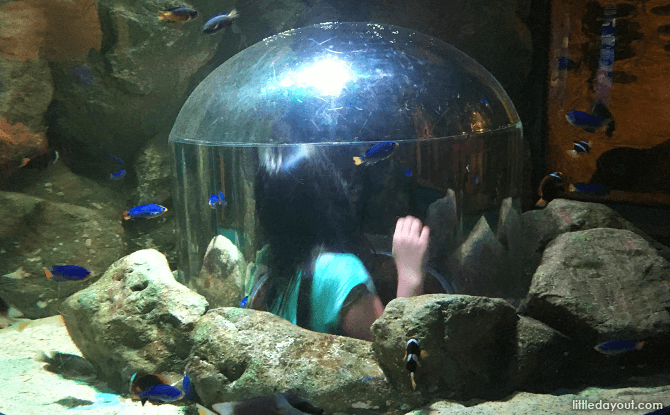 At the Rockpools, kids can climb into a Secret Cave Tank to experience what it would be like to be part of the underwater environment or pick up a Sea Star at a touch pool.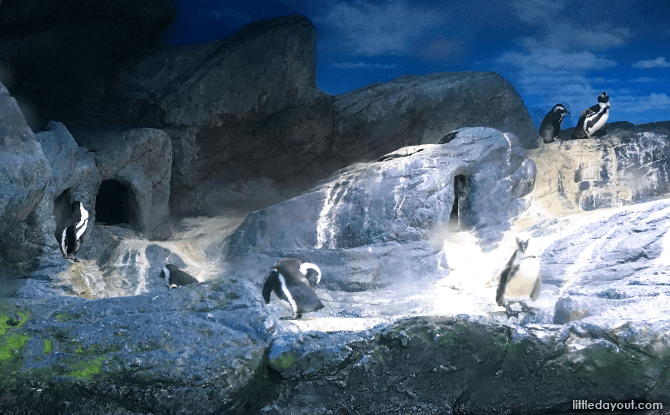 Over at the nearby Rocky Shore, watch sentient Jackass Penguins on standby.
Big Tank Time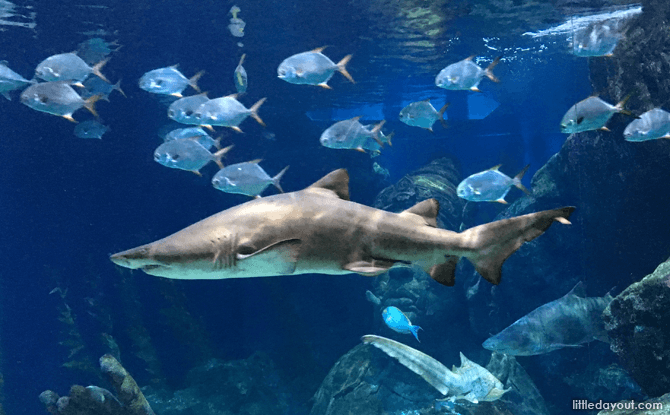 Next up are the Tropical Ocean Tank, Ocean Tunnel and Shark Shipwreck. Here, visitors can enjoy fascinating vistas of marine creatures such as Nurse Sharks, Tiger Sharks, Eagle Rays and more.
Visit the surreal world of Sea Jellies at a room where you can watch them floating about.
The final stop at SEA LIFE Bangkok Ocean World is the Penguin Ice Adventure and its Gentoo Penguins.
SEA LIFE Bangkok Ocean World is an interesting attraction found in the centre of Bangkok's shopping district. It makes for an interesting family outing especially for families with kids who love marine animals.
SEA LIFE Bangkok Ocean World
Address: B1-B2 Floor, Siam Paragon, 991 Rama 1 Rd, Pathumwan, Bangkok 10330, Thailand