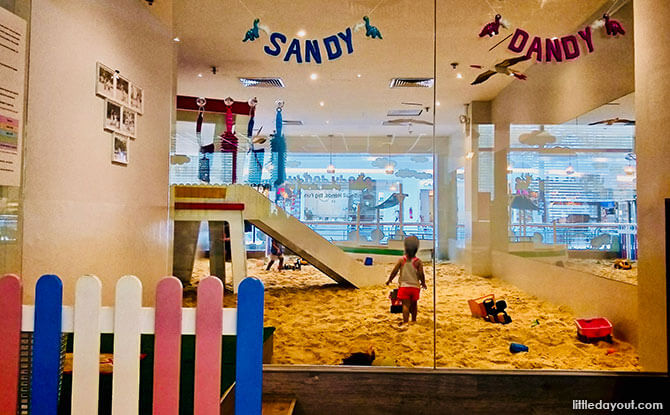 [Editor's Note (June 2019) – Sandy Dandy has closed.]
If you're all about sensory play and would love to introduce sand to your young child – minus the scorching tropical heat and humidity – the Sandy Dandy indoor playground is the place for you! A dedicated indoor sandpit, Sandy Dandy is a cool, clean, and conducive environment in which children can play with sand independently and safely.
Located in Forum The Shopping Mall – one of the most family-friendly shopping centres in Singapore, Sandy Dandy is a gem waiting to be unearthed.
Hygienic Kinetic Sand Play at Forum
Sandy Dandy makes use of two types of sand: kinetic and natural sand. The latter is from the Early Learning Centre, and was chosen because this produced in the UK sand has been washed and smoothed, so it isn't scratchy on delicate skin. The blend of sand feels lovely underfoot, although building a solid sandcastle might prove to be quite challenging since the sand is fine and soft.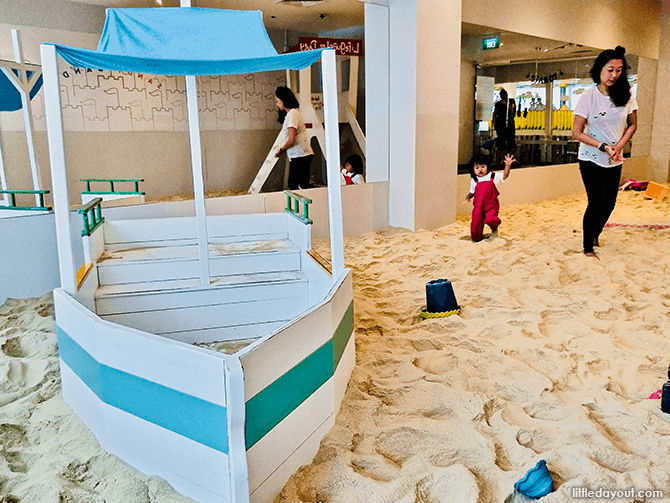 Playing with sand in Sandy Dandy means no nasty surprises, such as animal poo or broken glass, so our little ones can dig, scoop, and pour sand to their hearts' content. At the same time, the sand is flipped once every three days, and 100kg of new sand is added monthly!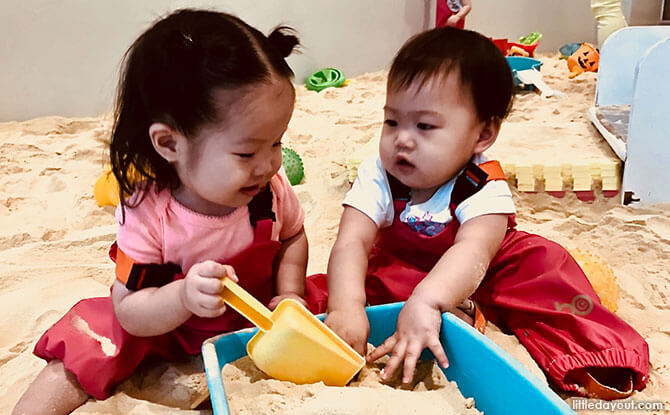 Beach toys of every shape and size are at the children's disposal, although from experience, first-time sand players simply want to run their hands and feet through the sand! There is also a large wooden sailboat for children to play in, and a lifesaver's lookout/slide. Word of caution – the lifesaver's slide is very slippery, so parents will want to supervise your children's way down!
Sand-free Play Areas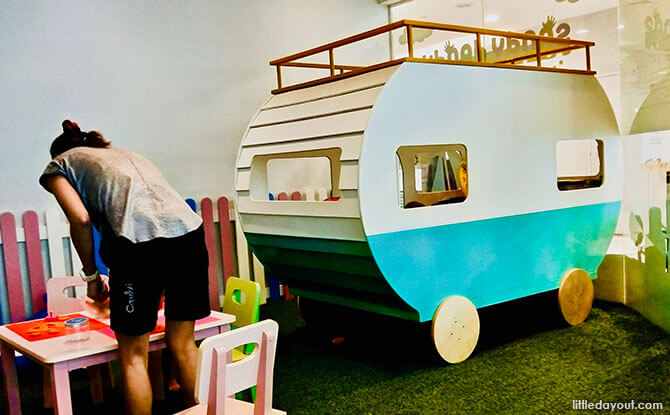 Right by the entrance of Sandy Dandy sits a large wooden caravan, alongside a mini slide, a play kitchen, and some low tables and chairs for play dough time. I reckon my daughter spent more time out here than she did in the sandpit! In fact, that was probably the case for most of the parents and children there then.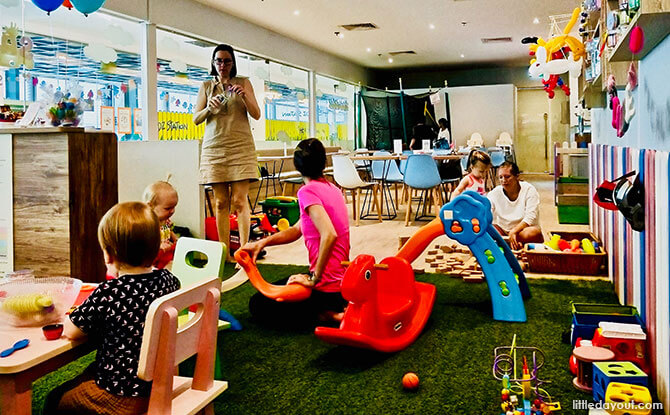 I do love that she was able to choose where it was she wanted to be, and that she had all these choices at her fingertips. As the toys are all toddler and baby-friendly, I wasn't in the least bit worried that she might get hurt playing alone.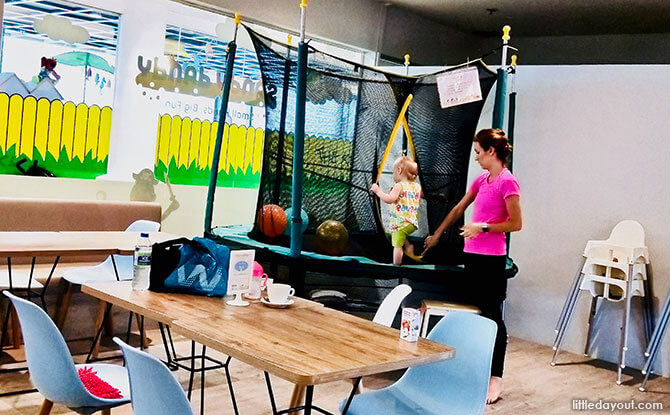 There's also a stand-alone trampoline in a corner of the cafe, and we all know how popular trampolines are! What's an indoor playground without one?
Sandy Dandy Cafe
There is a sizeable cafe within Sandy Dandy with a great menu of items, including steamed corn kernels, air-fried fries, and chicken lasagne. Or if you're feeling sweet and not savoury that day, choose from a selection of cupcakes, biscuits, and lollies. It's a decent cafe which will feed everyone, from the peckish mama to the super hungry growing child!
With Sandy Dandy conveniently located in the heart of Orchard Road, why would we ever need to contend with the sun, rain, and flies? Make your way to this indoor sandpit for a day of sensory play in sheer comfort!
Sandy Dandy Indoor Sand Play
Where: 583 Orchard Rd, Singapore 238884
Website