Wanting to let the boys try something different over the school holidays, we went online to search for rock climbing schools in order them to experience rock climbing for kids. We finally decided to register at The Rock School after a friend also recommended the place to us.
First, we headed online to sign-up, which was an easy process. The reply came promptly the next day with a confirmation and bank details for a fund transfer to be made.
Climb That Wall
Then we were set for our first rock climbing for kids session!
When our older boy found out he was going rock climbing, he was raring to go. Our younger boy was not keen at all. After probing a little more, we found out that he was a little afraid and unsure of what to expect.
My husband, who had done rock climbing before, walked him through the process. I also encouraged him by telling him that it was part of superhero training because he had been playing with superhero toys and also enjoyed dressing up like one. My young superhero-in-training finally agreed to give rock climbing a try.
Back to School – Rock Climbing For Kids
The Rock School is located at the Bedok Community Centre. We had signed up for a Fun Climb, which is the class suitable for first-timers. There were three instructors to a class of about 12 children.
The session started with games in the gym to get the children up and running and warmed up. The class had a mixture of ages. The youngest looked about four and the oldest probably in upper primary. Nonetheless, they all were having fun being chased by a "shark" and climbing up the wall to "escape". It was nice that the parents were welcomed to stay and watch the class. There were many eager parents like myself snapping away on their mobile phones.
After a while, they moved on to proper climbing on the indoor wall within the gym. Taking turns to move horizontally on the wall, the instructors made up little challenges by placing obstacles along the way that they had to climb above or under. It was a great exercise to improve their motor planning and coordination skills.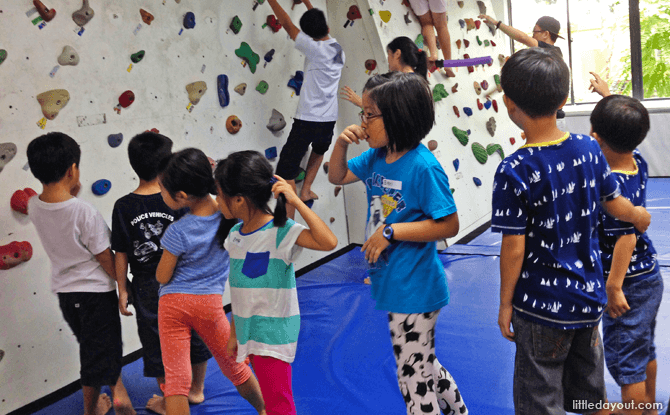 My husband and I took the opportunity to pop out to a nearby café for a drink. When we came back, the children were already climbing on the outdoor rock wall.
Building Confidence: Onward and Upward
The little ones looked so tiny on the tall rock wall. We could see some moving effortlessly up while others were struggling. The instructors were very encouraging, asking them to reach out to "one more rock" and guiding them where to place their hands and feet. A few of the children broke out in tears from fear but thankfully, their parents were around to soothe their nerves and cheer them on.
The rock wall was demarcated into different sections from the "Slope" to the "Peak" as the highest point. Each child was given a card where they could paste stickers at each level they manage to scale. After the class, they could bring the cards home.
By the end of the two-hour session, we all had a good time even though the boys were extremely tired.
My older one even expressed interest in attending another rock climbing for kids class. The instructor recommended signing up for a Rock School membership which has an annual fee of $25 and provides 10% off for classes, except individual classes. There is even a complimentary Rock School t-shirt, membership card and discounts from participating merchants.
Wonder what happened to my young superhero trainee who was initially apprehensive about rock climbing? He had decided that he had mastered the art of rock wall climbing and was ready to take on the next superhero challenge.
---
---