Kids can get active and experience trying different types of sports at the Sports for Kids activity, part of the 6-week Wellness Journey organised in conjunction with the upcoming Mandai Wildlife Run on 23 and 24 September 2023.
---
Sports for Kids at Mandai Wildlife West
At the recent session of Sports for Kids held in the morning of Sunday, 27 August 2023 at Mandai Wildlife West, participating kids took the chance to learn the fundamentals of different sports and enhance their motor skills in a fun and non-competitive setting.
One of these sports was rugby, something that kids normally otherwise not be able to experience. The training session was conducted by Ready Steady Go Kids.
---
-- Story continues below --
During the Sports for Kids session, kids had plenty of fun as they followed the instructions from the coaches.
Besides getting to experience the sports, kids also played side games as warm-ups. They even had a chance to make their own catapults out of recyclable materials as one of the fun activities during the session.
The next Sports for Kids session takes place during the September school holidays on 10 September, 8 am to 9.30 am.
Registration fees are $10 for the public and $5 for Friends of Wildlife members.
Get more details about the upcoming Sports for Kids session.
---
More Family-friendly Sporty Activities for Kids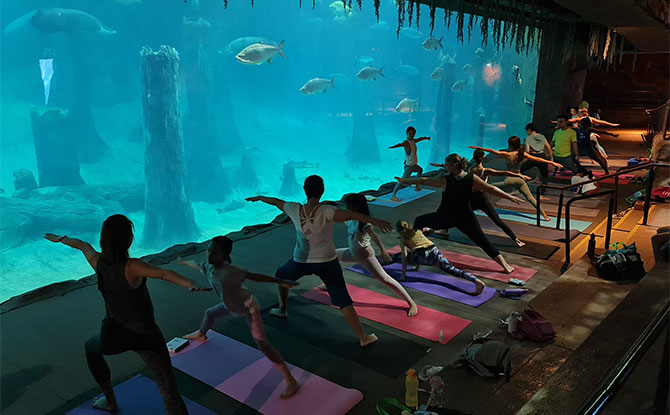 The one-and-a-half hour Sports for Kids session is just one several family-friendly activities being organised in the lead up to the Mandai Wildlife Run.
Other activities for families that are being held as part of the 6-week Wellness activities include Parent & Child Yoga sessions with the Orangutans and the Manatees.
The run will take participants on a unique route through the Night Safari, River Wonders and Singapore Zoo.
Parents can participate with their children in a 3.5km Ranger Buddies Family Dash. This race category pairs one adult with one child between 3 to 12.
It will end with an interactive mission at the race village where kids can complete a mission to earn an exclusive Ranger Buddies reward pin.
Registration for the Mandai Wildlife Run closes on 4 September 2023 and there is currently a promotion with 15% off the registration fees.
Check out the Mandai Wildlife Run details.
Media invite