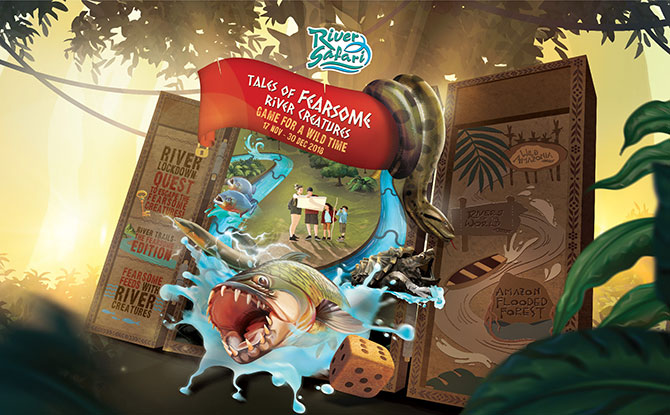 Brave adventurers – young and old – must save themselves by solving puzzles to get through River Lockdown at River Safari. Successful completion of the quest will mean escapees remain unscathed and have learnt lots about the many river inhabitants along the way.
Lockdown at River Safari
River Safari is joining forces with Lockdown Singapore and turning the park into a giant board game.
Designed for families, adventurers can form groups of up to six participants and together, as you pick your brains and make your way through River Lockdown, you will learn about fearsome river creatures such as the Green Anaconda and Tiger Fish.
A Pin of Honour awaits adventurers that are able to successfully rescue themselves, while stocks last.
---
-- Story continues below --
River Lockdown takes place every weekend, starting 17 November to 31 December 2018. There will be exclusive and limited Lockdown goodie bags and prizes for 17 and 18 November only, and tickets for these dates are required in advance. Tickets can be purchased here. The minimum age for River Lockdown is 7 years old.
Other activities that will be taking place at the River Safari during the year-end school holidays include games at the Giant Panda courtyard and feeding sessions with river-dwelling animals like that Giant River Otter and Red-bellied Piranha.
Amazing Encounters Await
If getting personal is how you like to get things done, sign up for Manatee Mania and meet the River Safari's adorable manatee family!
One of the River Safari's latest behind-the-scenes tours, you and your family will get to feed the manatees their favourite vegetables.
Can't get enough of the manatees? Treat the little ones to a night of glamping with the manatees in River Safari's family camp, Sleep with the Manatees.
Recommended for children aged 5 to 12 years old, you will get to spend some quality family time learning about the aquatic wonders of the park, and snooze the night away in the depths of the Amazon Flooded Forest with the manatees.
Camp participants will then wake to a jungle-licious breakfast with the orangutans. What a way to round off the hectic school year! To register for Sleep with the Manatees taking place on 1 December 2018, go here.
Become Friends of Wildlife
From 17 November to 31 December, use promo code FOWDB18 to sign up for a new Friends of Wildlife membership (individual or family) and enjoy a 10% discount of membership rates!
Local residents can also save up to 15% on admission when you purchase River Safari admission tickets online.
Get more information about River Safari's year-end activities for 2018 here.