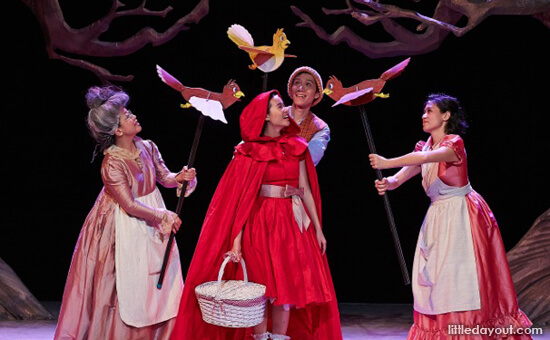 A brave young girl journeys far and deep into the woods to seek answers that could save her parents' ailing bakery…
Take a familiar fairy tale, knead in a couple of modern references, whisk with some magic spells and into the oven it goes. What do you get? The Singapore Repertory Theatre's (SRT) version of Red Riding Hood, first made popular by the German spin-writers – the Brothers Grimm.
A New Take on Little Red
The challenge for SRT's The Little Company was to craft a new story from a familiar favourite. This it did relatively well, coming up with a rather convincing storyline of how bright and spunky Little Red travelled deep into the woods to seek her grandmother's wisdom. The intention was to revive her parents' bakery that is on the brink of financial ruin following the curious disappearance of her father. The young child is however waylaid by a charming and persuasive Wolf, who convinces her to wander off the beaten path to pick flowers for her grandmother.

That's where the play, directed by Kate Golledge, takes a turn away from the expected. Little Red meets a helpful but forgetful woodcutter who carries around with him a Book of Important Things, aka a spell book. That's where the magic begins and the audience is teleported deep into a magical fairy tale world and the essential question remains: Will Little Red get to her grandmother's in time to save her from the Wolf?
Strong Cast Performance
Red Riding Hood's strength lies in its cast. Cheryl Tan steals the show as the brave and intelligent Little Red, with her experience as a jazz artiste clearly reflected in her strong vocals. "The Eyebrows Guy" Nelson Clemente was also understandably nefarious as the Big Bad Wolf. However, the surprise among the cast was the understated role of William the Woodcutter, played by Dwayne Tan, whose "forgetful" lines easily stole the hearts of many among the young audience.   
While the play is directed at children as young as 3, older children are likely to benefit more, given some of the slightly darker themes and visual effects. Children young and old will however feast their eyes on the delightful forest scenes. The songs and dances will also capture the imagination, with both emotive as well as catchy music, performed in harmony with the dazzling dance choreography.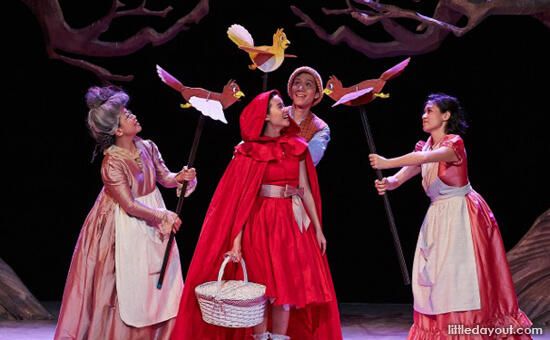 DETAILS
DATES: From 1 November to 15 December 2013. Please refer to www.sistic.com.sg for performance schedule
PRICES:
Weekdays $25/$28 excluding SISTIC fee
Weekends and Public Holidays $35/$38 excluding SISTIC fee
Group discounts/Family Packages available
VENUE: DBS Arts Centre – Home of SRT
TICKETS: SISTIC at 6348 5555 or www.sistic.com.sg
Recommended for 4-year olds and above.
The Red Riding Hood Holiday Week-long Programme takes place from 25th November to 13th December at SRT.