"There is a time for everything." So sing the insects during the final song of the play. There is a time for working hard and gathering food; but there is also a time for enjoying music and the arts. Indeed this final refrain from I Theatre's The Ant and the Grasshopper seems to capture the quintessential tension between what is "work" and what is "life" and how to negotiate a difficult balance between the two.
Brian Seward, in his re-creation of the famous Aesop Fable of the same name, has this time outdone himself. Seward has crafted a magical masterpiece around a seemingly simple tale warning children about the ills of not working hard and taken this to a deeper level, drawing out themes not only about work-leisure balance, but also about the importance of treasuring friendships and managing change. The production conveys that while seasons may come and go, there are things that stand the test of time and transcend whatever changes that may occur.

The strongest draw of the production were its larger-than-life characters. Take for instance the busy ant Ms Antoinette and her obsessive need for work and organisation. This is in stark contrast to the ukulele-strumming Criminy-Grasshopper and his "come-what-may" approach towards life. Throw in the buzzing busybodies, Bee One and Bee Two, and the change-adverse Very Hungry Caterpillar Nessa and the stage is more than teeming with a hive of activity. There is even the ostentatious fashionista of a ladybird, Lady Coco, whose dazzling appearance more than makes up for her lack of substance.
In terms of music, the partnership between Seward and composer Julian Wong is clearly a plus point of the production. The light-hearted yet soulful songs helped the audience become better acquainted with the happy-go-lucky disposition of the grasshopper. Conversely, the more serious and upbeat pieces conveyed the hardworking mindset of the ant.
I Theatre's production of The Ant and the Grasshopper is a delightful tale that will charm children as young as three (our son Z was in rapt attention through the play) and is even enjoyable for the adults accompanying the children (both of us parents enjoyed the intricate commentaries about life inserted at appropriate intervals). The production also engages children thoroughly (such as drawing on audience participation to teach the caterpillar how to exercise). Indeed, such interactive elements help to drawn in the younger audiences, providing an enjoyable experience for the younger children to develop a love for the theatre.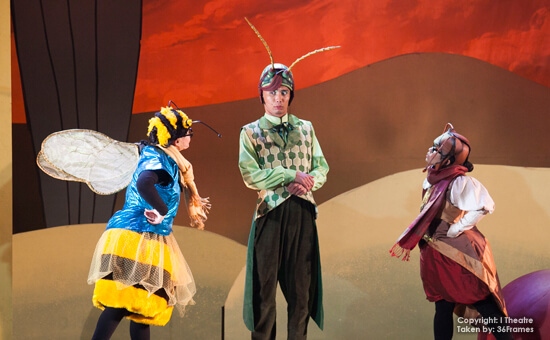 The Art and the Grasshopper is running from now to 15 March 2014.
Download Little Day Out's The Ant and the Grasshopper activity sheets and find out how I Theatre adapted the story from the "Page to the Stage".