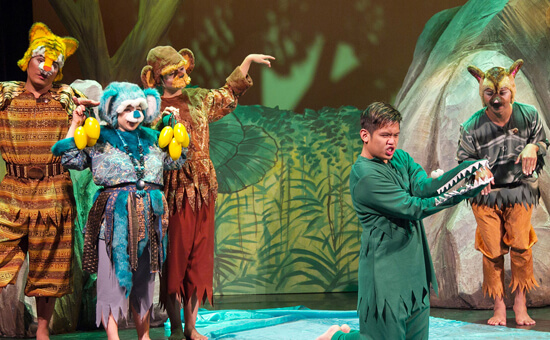 I Theatre's spectacular musical drama Hey, Little Mousedeer! spins a tale of wit, bravery and camaraderie. Set in a contemporary Southeast Asian jungle, the animals come alive as they sing and dance amidst breathtaking sets of rustic nature scenes like the forest and the river.
The hero of the story is of course Sang Kancil, the small but notoriously tricky little mousedeer. Artistic Director Brian Seward draws on several original folk tales from Malaysia and Indonesia to create the persona of a little creature who is sometimes too clever for his own good. But when Sang Kancil incurs the wrath of his fellow animals – Harimau the Tiger, Monyet the Monkey and Cicak the Lizard, he is banished from the place he calls home. Will he then learn his lesson and use his intelligence for a cause greater than himself?
Hey, Little Mousedeer! is an ambitious production merging themes such as environmental awareness with traditional values such as honesty and thinking of others. While the plot may not always flow coherently given the numerous issues discussed and amalgamation of different folk stories, the production is as enchanting as it is engaging.
The Southeast Asian theme comes through brilliantly not only through the names and personalities of the characters, but also via the dramatic wayang kulit shadow play complete with the imagery of fire and strife.
Also noteworthy was the music. Composed and arranged by Bang Wenfu, the audience was left singing away to the catchy tunes long after the drama ended.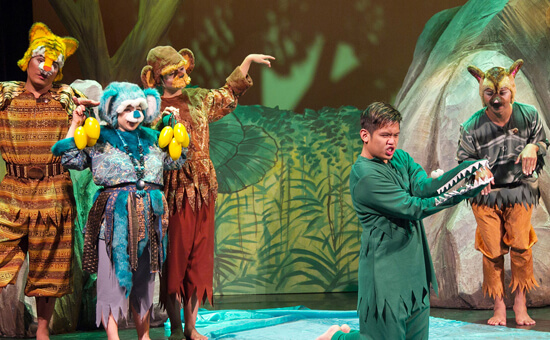 I Theatre's production is clearly targeted at children of all ages. While the older ones might come away with a deeper appreciation of the themes, the younger ones, like our 3-year-old son Z, was clearly enthralled by the elaborate animal costumes and their larger-than-life characters. As theatre enthusiasts ourselves, we are glad that the production has increased his interest in drama and the performing arts.
Read more about I Theatre's Theatre For All programme that brings arts to the wider community and find out how you can do your part.
To extend your little day out at Hey Little Mousedeer! for your children, download and try out the Hey Little Mousedeer! Activity Sheets and more from Little Day Out Shop!