CATS, the musical, first premiered in the West End of London in 1981. This makes it more than 30 years old – 34 to be exact. Based on T.S. Eliots' 1939 book of poems, Old Possum's Book of Practical Cats, the musical centres around the lives of different cats such as Old Deuteronomy, Grizabella and Rum Tum Tugger.
CATS The Musical Serenades
Relying on music, song and dance to entertain the crowd, don't expect a strong storyline here. Instead, it is a musical showcase that comes across as eclectic at times as the tribe of Jellicle Cats gather for the annual Jellicle Ball and relate their individual stories.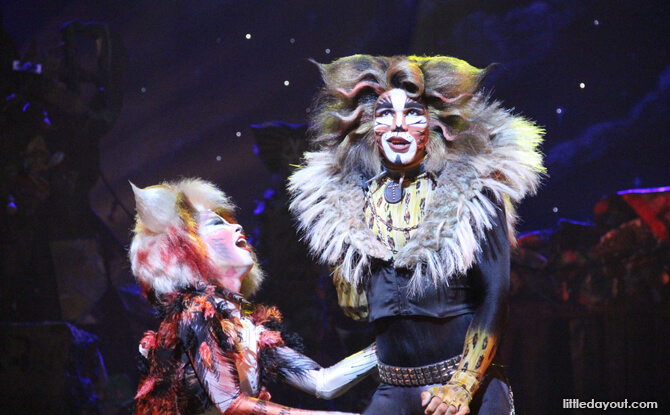 The actors purr and cavort around the stage supported by a live band. While the catty make-up and costumes were extraordinary in themselves, our memories of the evening are of Grizabella singing "Memory", the 1981 pop hit, that left us contemplating if CATS, with this Singapore version still in its original form, was finally starting to show its age.
CATS is showing now till 1 February 2015 at Marina Bay Sands Grand Theatre.