A collaboration between The Sagaya Collective and National Heritage Board, Project Teahouse: Play From Home is a fun online interactive experience that allows players to get a glimpse of Singapore's heritage in the form of a fun, interactive online experience.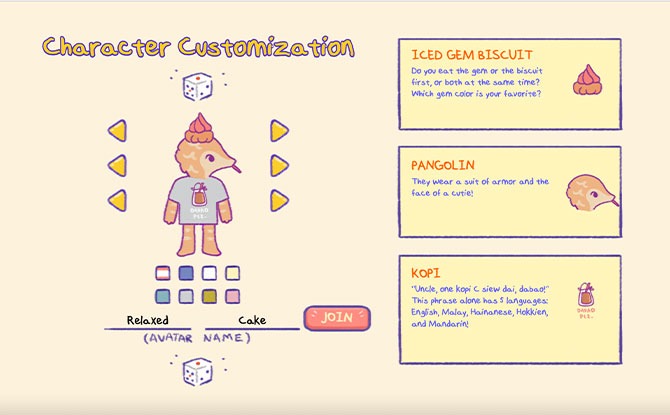 Create cute custom characters and explore this virtual world and discover Singapore's colourful heritage. There are various characters such as otters, pangolins, and khoels that you can customise with cute local icons such as durians, ice gem biscuits and more.
---
Games at Project Tea House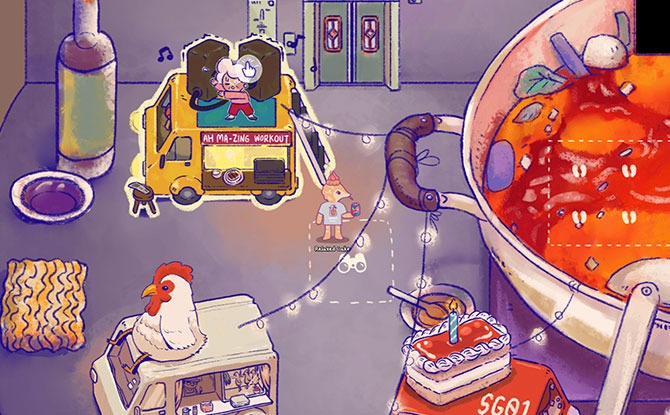 There are a total of four levels to explore with various activities, games and art to interact with. The games that are available for play can be found on the second level and feature the finalists from Heritage Game Jam 2020. Heritage Game Jam, an annual game jam exploring Singaporean identity, is also organised by Sagakaya. The event aimed to promote the usage of the medium of Games to talk about Singapore heritage: past, present, and future. Nine of the finalists are all featured in level two of the game.
---
Chicken Rice Dreams and Ah ma-zing workout at Project Tea House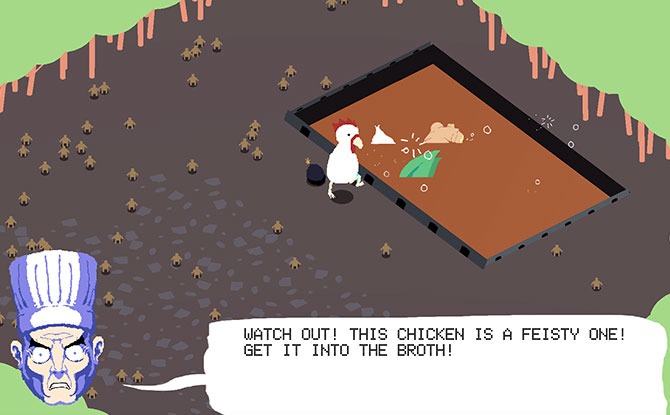 We tried playing two of the games that are available as part of the online experience. Chicken Rice Dreams is a fun online game designed by Brandon Yu, also known as Chaoclypse. Here you get to make our iconic local dish of chicken rice by throwing in the correct ingredients into the chicken broth with the help of fellow Singaporeans.
Another game we played was the Ah ma-zing workout, which is a rhythm game designed by Aqil Hilmi and Chan Qing. Help the feisty Ahma keep fit by hitting the circles according to the beat. This game was a little more difficult to get a hang of but it was fun to see the various graphics and backgrounds!
---
Virtual booths at Project Tea House
At level three, you see the exhibition booths of the various artists experience possible. It is highly recommended to walk through this section with sound as each of the individual artists have a unique background track and sound effects.
At level four, you can see the sponsors and also "buy some ice cream" from the ice-cream uncle to donate to the creators of this website. You can also access the donation link at the drink dispenser of the ground level.
---
Project Tea House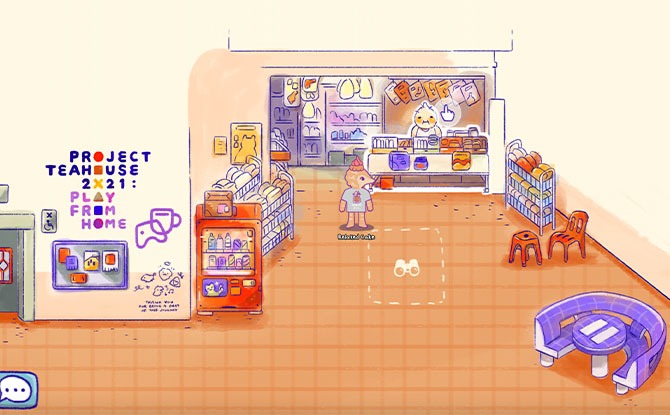 We enjoyed our time exploring this game and the creativity of the individual games and art that players can interact with. We especially enjoyed customising the different characters and the games engaging and just the right amount of challenge. Do note that some of the games and activities are required to be downloaded.
Enter the Project Teahouse: Play From Home website at the link here.