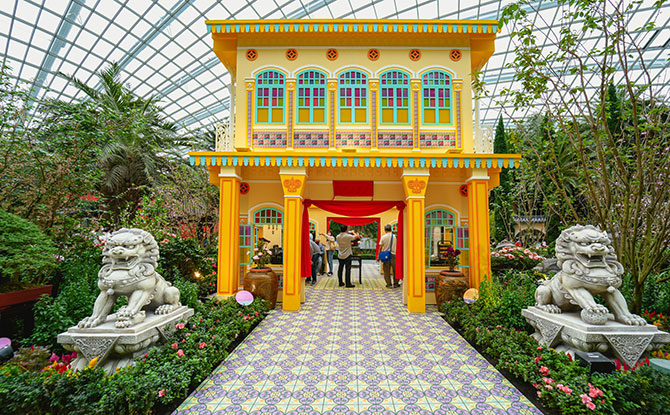 Admire more than just flowers at the Precious Peony floral display at the Flower Dome, Gardens by the Bay. In addition to the well-known flower from China, this latest floral display also features more than 70 artefacts of Chinese and Peranakan culture.
---
Precious Peony: The Journey of a Flower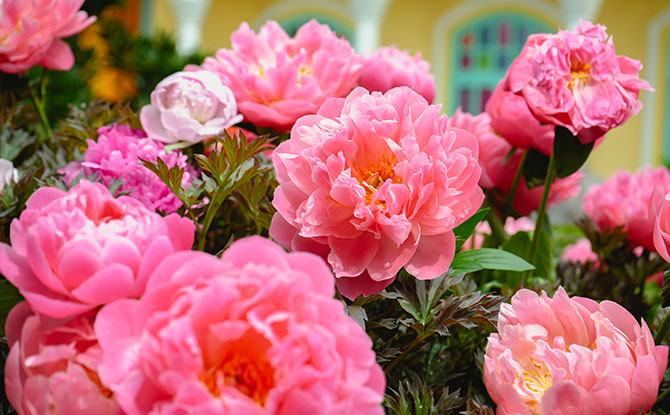 The Precious Peony floral display at Gardens by the Bay's Flower Dome is a tribute to the journey of the flower from China to Nanyang as it made its way south with the Chinese immigrants who were in search of a new home.
In keeping with this theme, there is a recreation of a Chinese garden in reference to the peony's roots in Chinese history. Part of the flower display also features a Peranakan shophouse, representing the evolution of the flower to become a motif favoured by the Chinese Peranakan community in Singapore. 
---
Heritage Artefacts at Precious Peony Floral Display
Amongst the flowers are artefacts of Chinese and Peranakan culture on loan from the Peranakan Museum, The Intan and The Society for Chinese Ceramics Studies.
---
-- Story continues below --
One of the highlights to look out for at Precious Peony is an antique blackwood bench inlaid with mother-of-pearl, an example of fine furniture found in the homes of wealthy Chinese Peranakans.
There is also a Chinese robe that shows how people adapted their lifestyle in the post-war austerity period, by blending traditional Qing-era embroidery techniques with mass produced fabric. 
Everyday items unique to Chinese Peranakan culture that are uncommon nowadays, such as kasut manek (hand-beaded slippers), chupu (covered jars), tingkat (tiffin carriers) and bakul siah (wedding baskets).
---
Precious Peony at Flower Dome, Gardens by the Bay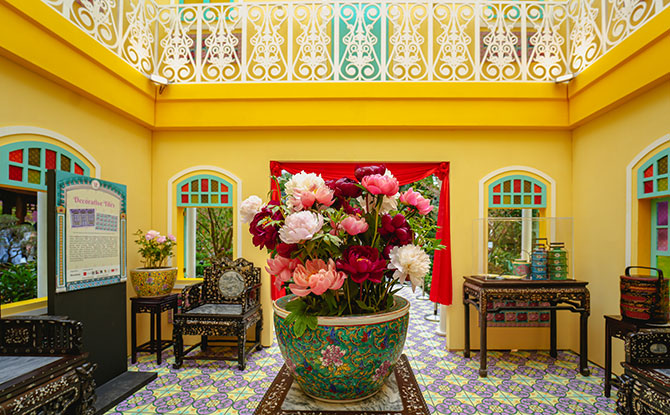 Here's a little secret about the Precious Peony exhibition – the flowers that will be on display during the first week are from Japan, Israel and the Netherlands.
While the peonies were originally to be from China, due to supply chain disruption caused by sudden measure to contain the COVID-19 virus there, the team at Gardens by the Bay had to find alternative sources for the flowers in time for the floral display's opening.
Precious Peony is now on till 3 May 2022.