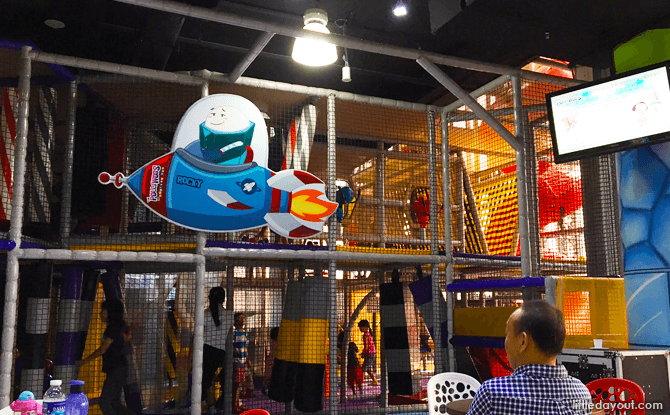 [Editor's Note: Polliwogs Eastpoint has closed.]
Located on the fourth floor of a suburban mall, Polliwogs Eastpoint lives up to its name as a family-friendly indoor playground providing "serious fun" for children while developing muscular coordination and balance through play.
The Final Frontier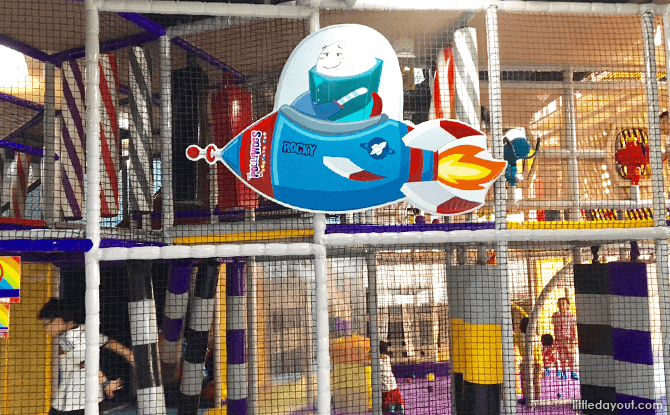 The main play area at Polliwogs Eastpoint indoor playground has a space theme. Three slides of different designs serve as its anchor attractions and get children, ages 1 to 10, climbing up and whoosing down over and over again in delight.
Slippery slides are FUN!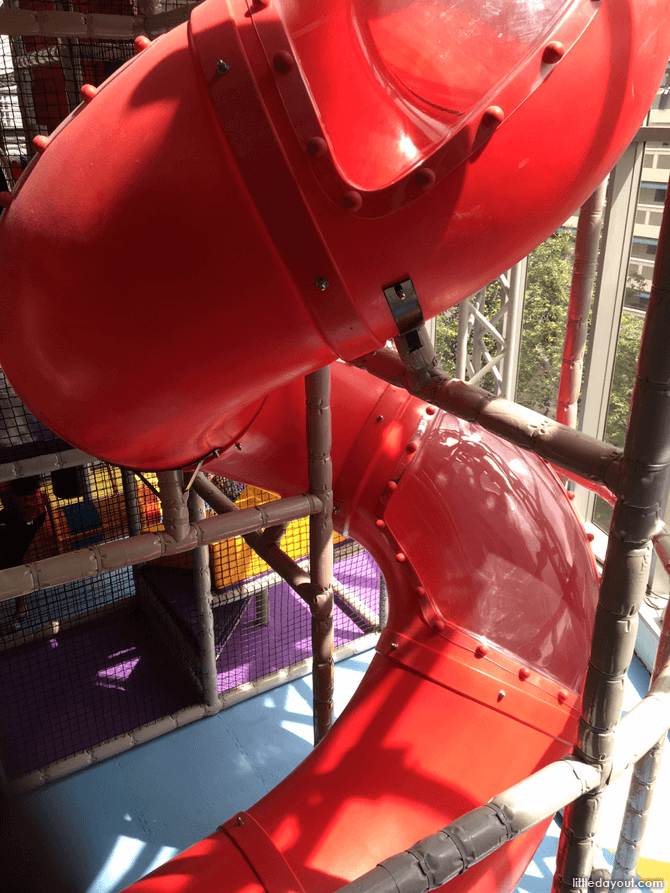 There is a red three-storey-high tubular spiral slide. It can be accessed through a narrow red rocket ladder-tunnel. Once kids launch themselves down the slide, their speed increases as they slide round and round back to earth.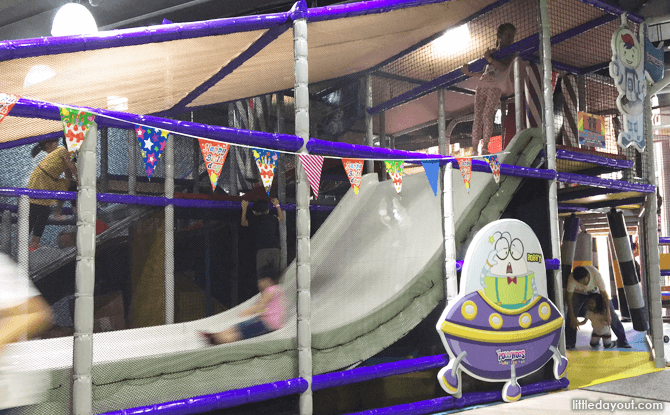 A pair of red double-wave slides let two kids race down together side by side. Another wide and straight slide lets three kids or adults glide down its steep white slope at the same time at a thrilling speed!
My kids also loved the air gun-blasters. There are four of them which they used to engage in an epic inter-galactic battle. The air gun-blasters shoot out colourful foam balls into an arena where more balls are shot out from a central funnel with air jets.
Docking at the Space Station
While not huge, the advantage of the Polliwogs Eastpoint two-storey play system lies in its compact size. It functions as a self-contained space station that provides a sense of security and empowers little and young explorers to run confidently on their own around its simple maze structure.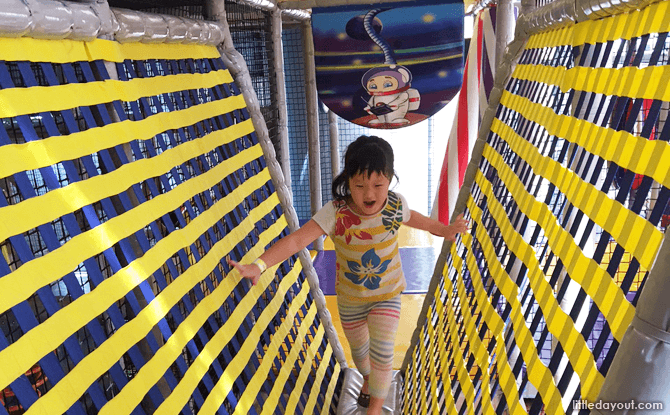 Children get to traverse netted bridge tunnels and corridors, collect flying balls to roll down the slides with, have a shoot-out with fellow playmates, tackle columns to climb through and up, as well ride on a large swinging log and hanging cylinder obstacles.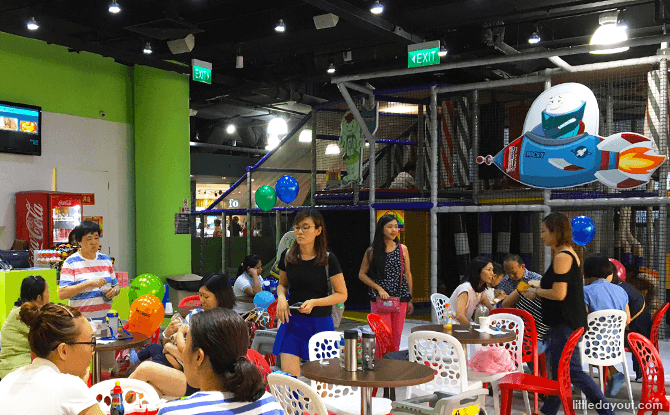 The structure also provides a reassuring vantage point for children to look down at the café area with round tables and chairs where their parents, grandparents or other caregivers are seated. A quick glance and off they go with their climbing, running, jumping and sliding!
Toddler-sized Astronauts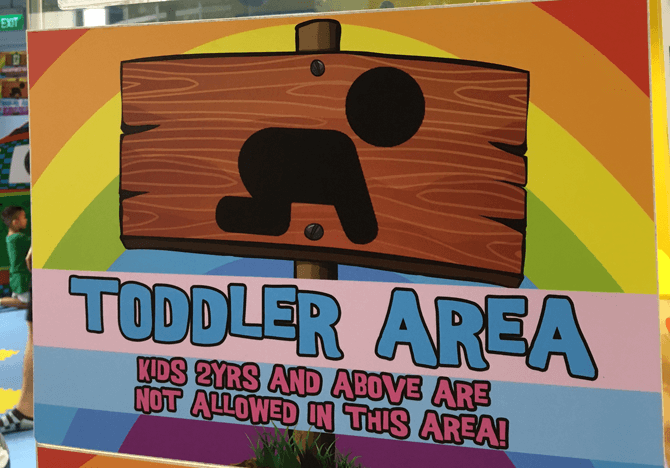 There is a separate padded play area for babies and toddlers ages two years and below (although there are brave little ones who do venture into the main play area under the careful supervision of a doting adult!).
The Polliwogs Eastpoint toddler area has a small ball pit, sensory wall games, a rocket-shaped activity pillar, a rolling tube tunnel and spinning cups with seats to encourage the development of fine and gross motor skills.
Refuel at the Cafe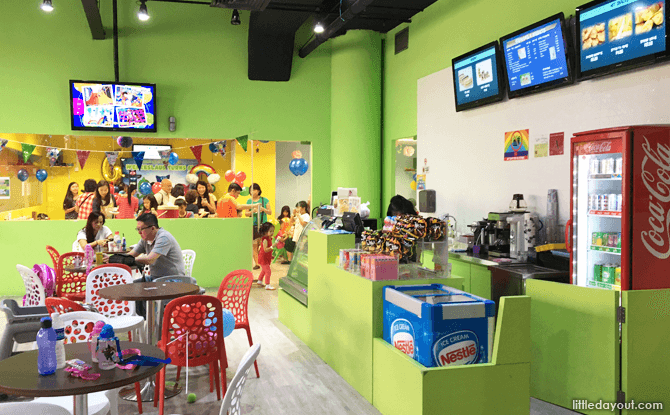 The Polliwogs Eastpoint café offers a happy selection of hot and cold beverages, including a variety of teas (hmmm). There is also a menu of light meals and snacks, which include mini chocolate donuts, mixed fruit cups, fried finger food, ice-cream and more, for hungry mouths.
Complimentary Wi-Fi is available for waiting family members.
Amenities, Programmes and Birthday Packages at Polliwogs Eastpoint
Like other outlets, The Polliwogians mascots – Rocky, Larry, Poco and Bobby are featured in the visual décor of the structure. They provide a sense of consistency and familiarity for children who have been to the other Polliwogs branches at Suntec, Vivocity and Waka Waka.
There are no washrooms or nursing room inside Polliwogs Eastpoint, other than a sink at the café. However, this is not an issue because Eastpoint Mall's washrooms are conveniently located just next to the indoor playground.
Lockers and a stroller area are provided outside the play area next to the front counter entrance.
Programmes offered at Polliwogs Eastpoint indoor playground include weekly creative craft and storytelling activities conducted in two function rooms. The two rooms can be combined into a single large party room.
Party packages, with complimentary access to the play areas, start from $588 for a party of 10.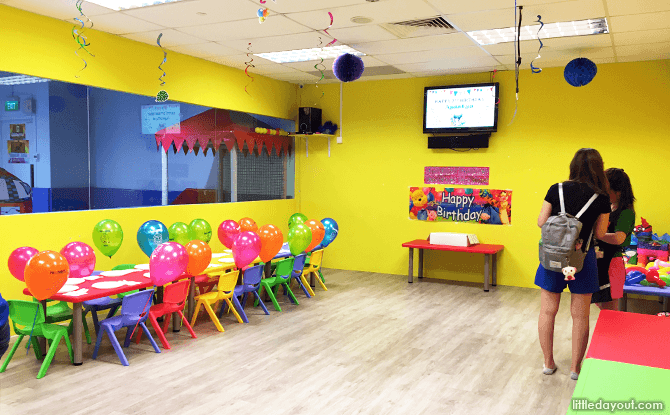 Polliwogs Eastpoint birthday party themes include:
Poco Princess Party – includes skit and drama, nail art and tattoos.
Rocky's Laser Tag Party – includes leadership-building and strategy games based on a battle zone.
Larry's Junior Chef Party – where children make their own chef hats, pizzas and sundaes.
Taekwondo Party – where children learn taekwondo moves and piñata-hitting.
Tropical Paradise Hula party – where children get to make hula garlands and do body painting.
[Editor's Note: Polliwogs Eastpoint has closed.]
Polliwogs Eastpoint
Address: 3 Simei Street 6, #04-07, Eastpoint Mall, Singapore 528833 (next to Simei MRT station)
Opening hours: Sunday to Thursday – 10 am to 8:30 pm; Friday to Saturday, School Holidays, Public Holidays and Eve of PH – 10 am to 9 pm
Charges:
Single Admission:
Weekdays (unlimited play hours): $20 per entry for children aged 2 – 12; $13 per entry for children below 2.
Weekends, School holidays and PH: $25 for 2 hours for children aged 2 – 12 years old; $15 for 2 hours for children below 2. Additional charges apply for additional playtime.
Value Pass (12 visits for 1 year validity – can be shared between siblings, for unlimited play all days at all Polliwog branches but additional top-up of $7 at the Waka Waka outlet) – Children aged 2 to 12 years old: $198; Children below 2: $128