[Editor's Note, 2020: Cool De Sac has closed.]
This must be the coolest cul-de-sac in Singapore for kids. Designed as a close-ended road, as its name implies, meandering through a fun-filled neighbourhood, indoor playground Cool De Sac offers unlimited play time per admission, with free entry for two accompanying adults. We give you the low-down in this Cool De Sac review.
Arriving at the Suntec City venue at 10.45 in the morning, we played all the way till 3.20 in the afternoon, with just a lunch break in-between! It was with a lot of persuasion that we managed to get our six-year-old to finally go home.
The biggest draw of Cool De Sac is its wide variety of play options. There are the climb-and-slide activity stations, create-and-build zones, artistic expression areas, gaming stations, and even a stage with an adjoining "make-up", or rather face-painting, room!
---
-- Story continues below --
---
Cool De Sac Review: Major Attractions in the Neighbourhood
This is the first major play structure you'll encounter coming through the entrance. With its intricately interconnected tunnels, a mini ball pit, and long, slippery slides, this station is very popular.
Children love to climb up the bumpy "steps" and slide down together, squealing with delight as they make their rapid descent, many taking a tumble at the bottom. (Don't worry, the area at the foot of the slides is well padded.)
Maybe because of the inclination of the slides, a ride down is really fast. Some of the littler kids may be intimated by the speed, though after a few rounds, they should start enjoying it. Toddlers should not try this, unless accompanied by their parents. A sign states that this station is designed for children aged three to 12.
---
Build Mega Structures
Those who like to build will enjoy creating mega structures with foam pieces in various shapes and sizes at the Cool De Sac indoor playground. Furthermore, as they play in the moderately spacious area, children learn about sharing, cooperating, and having fun together.
This station attracts children of all ages – from toddlers who are practising their hand-eye coordination, to preschoolers who're amazed at the larger-than-Lego structures that they can create, and older kids who approach building like a group project.
Another attraction located in the same area is a ball pit. It's obviously a favourite among younger kids, who just can't get enough of jumping into the sea of colourful balls. All parents whip out their phones at this station, clicking away at their happy kids. After all, who can resist a photo opportunity like this?
Undoubtedly a crowd favourite among younger kids is the treehouse, although it's not exactly built on a tree.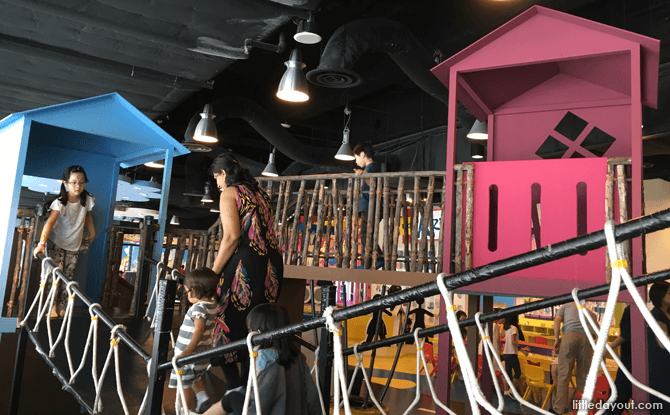 After climbing up the house, the challenge is to cross the suspended bridge, which sways with every step taken. A tyre swing attached to the house completes the picture.
Across the road from the treehouse, the arts station provides a change of pace from the physically intensive activities. Here, children can do some colouring and decorating, and consequently display their masterpieces upon completion.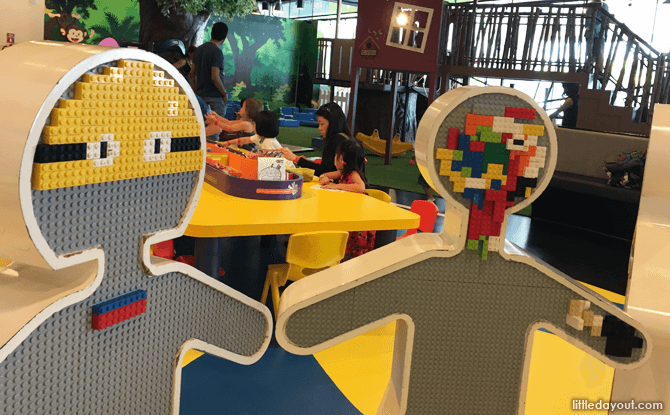 The blocks station is another interesting place, allowing children to create freely using Lego-like blocks both horizontally (on a table top) and vertically (on upright human-shaped structures).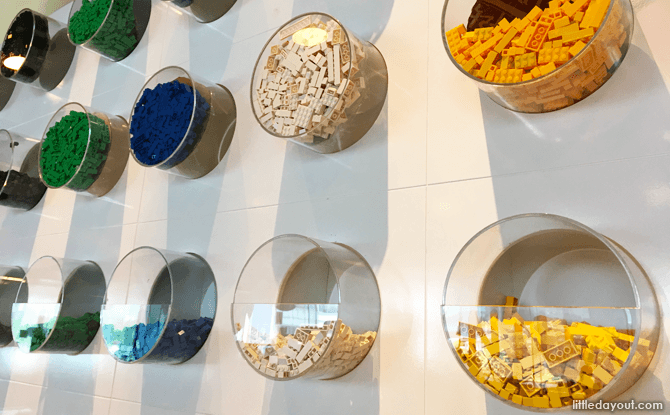 At the back of the area are rows upon rows of blocks, sorted according to colour. Children are free to help themselves to the blocks in the shades that they want.
---
Cool de Colour

Another activity at Cool De Sac creative kids may be interested in is painting. Armed with paints, a palette, and an apron, every young artist will have fun "vandalising" on the full glass panels of the indoor playground – without having to be scolded by Mom.
An activity not common in indoor playgrounds is face painting. Reference pictures are available for children to choose the designs they like, which will be painted on by the Cool De Sac staff on duty.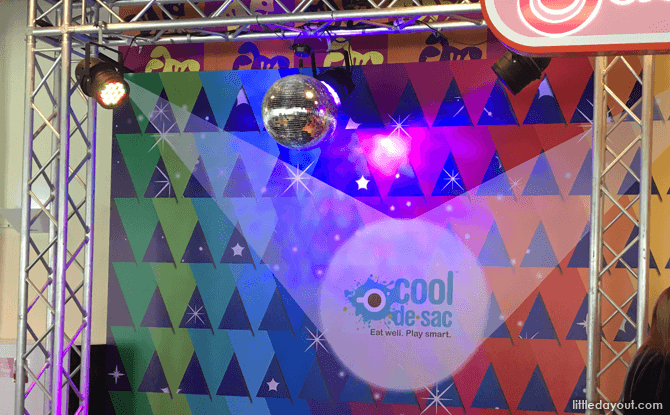 While some children are contented with a nice print on their faces, or arms, "performer types" will go for the full package of dressing up for the stage. There are a few racks of costumes available, complete with accessories, to turn out little princesses, pirates, and red riding hoods.
---
Tweens and Toddlers Can Be 'Cool' Too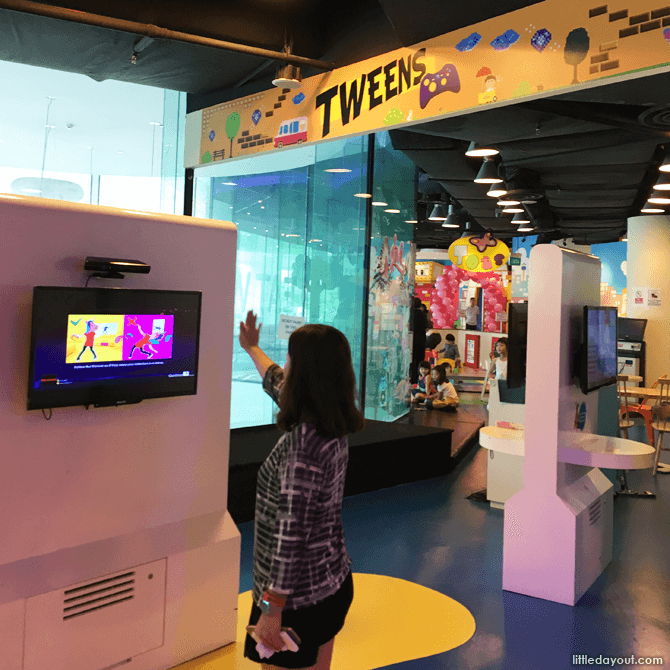 Tweens and toddlers are also catered for at Cool De Sac. In fact, there are two areas demarcated by the signs "Tweens" and "Tots". The first is filled with Wii game consoles for the former. Next, there are Fisher-&-Paykel type toys and mini obstacle courses for the latter.
---
Bistro at Cool De Sac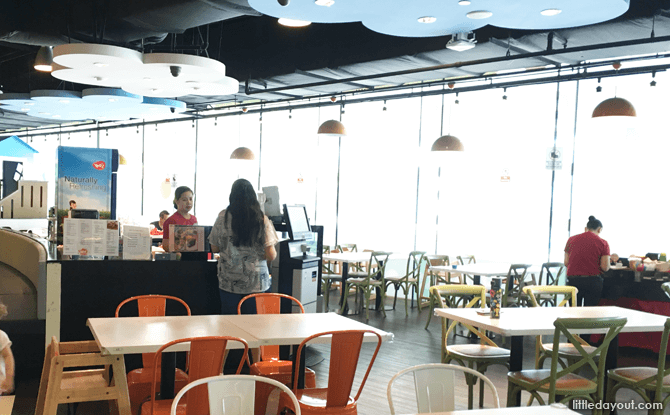 Cool De Sac Singapore is conceptualised as a place where children can enjoy creative play while parents chill out at the in-house bistro with some light refreshments, or indulge in a full meal.
The menu is alright, with a Western and Korean focus. But with so many choices just around the corner from Cool De Sac – we're at Suntec City, with a multitude of dining options! – why limit yourself to the choices in-house?
All you have to do is to keep the wristband fastened around your wrist, to be given re-entry into the indoor playground within the same day.
---
Party and Other Facilities at Cool De Sac
Thinking of hosting your child's birthday party at Cool De Sac? The indoor play centre has two party rooms available for rental, and offers various themed packages for those who want a hassle-free celebration.
The City Alley room caters to a party of 20 to 40 children while the Club Flash room is meant for a smaller group of 12 to 20 kids. More information on party packages can be found here.
There is a diaper room at Cool De Sac, but no toilet facilities. Locker usage is charged at $1 every time it is opened. Socks can be purchased at $2.30 per pair.
Cool De Sac Singapore
Address: 3 Temasek Boulevard, Suntec City Mall, #02-379/80, Singapore 038983
Operating Hours:
Sunday – Thursday: 10.00 am to 8.00 pm
Friday & Saturday: 10.00 am to 10.00 pm
Admission charges:
Monday – Friday
Children under 6 months          FREE (unlimited play time)
Children under 3 years old        $10.70 (unlimited play time)
Children from 3-12 years old     $21.40 (unlimited play time)
Saturday, Sunday & Public Holidays
Children under 6 months          FREE* (unlimited play time)
Children under 3 years old        $13.90 (unlimited play time)
Children from 3-12 years old     $27.80 (unlimited play time)
Two accompanying adults are allowed free entry with every child. Subsequent accompanying adult will be charged $5.50.
*Adult rates still apply for children under 6 months for weekends and public holidays.