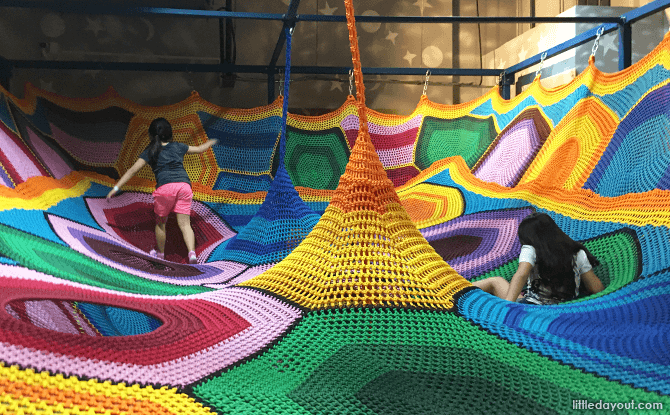 An indoor playground inside a children's game arcade? With crafting activities too? That must sound like music to little ears and that's what you get at Kidzland at The Grandstand.
The indoor playground is just one part of the overall concept at this large children's entertainment centre. Located beside Pasar Bella/Giant Hypermart, it is filled with amusements to keep kids between 0 and 12 well-entertained.
---
The Forest – Kidzland's Indoor Playground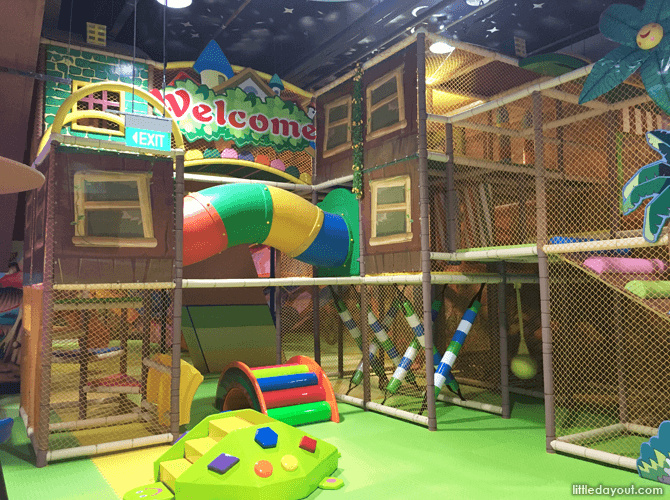 The Forest is Kidzland's indoor playground. With a jungle theme, it has a three-level play structure for kids to climb up and down.
---
-- Story continues below --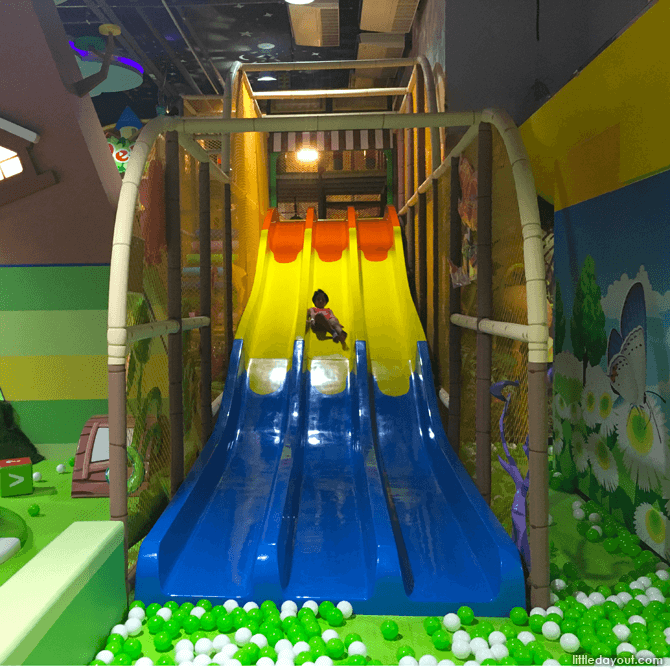 A three-lane slide makes for a quick way down from the top to the ball pond below.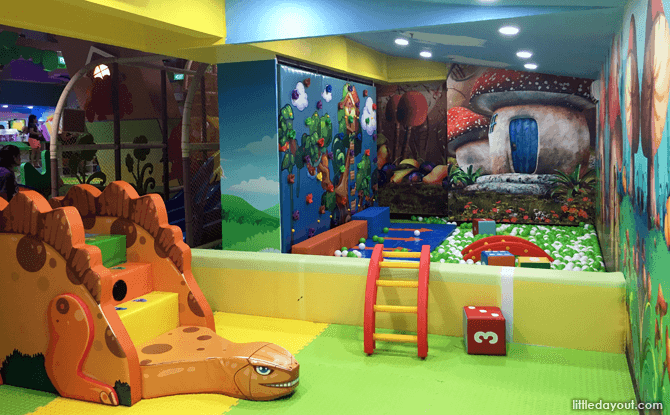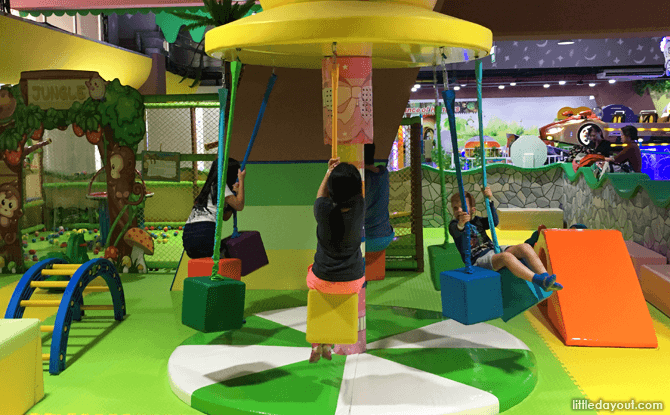 Another hit with the kids is the swirling block merry-go-round. Jump on board and hang on for a round after round.
The Forest at Kidzland also has a section with air cannons that shoot out soft foam balls. With four air cannons, you can have fun parent-child battle here.
Alternatively, load up the hopper in the centre of the battle arena, press a button and watch the balls fly through the air.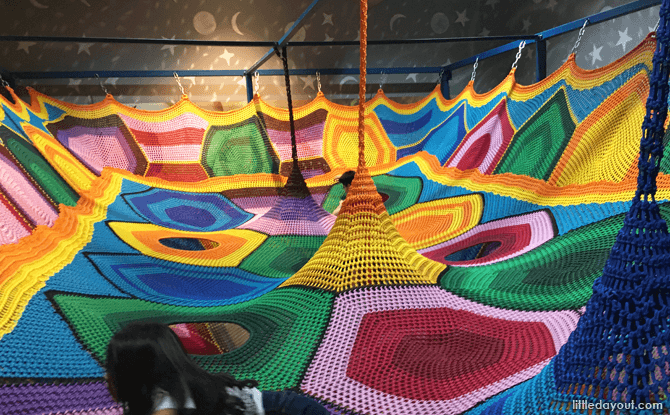 An amazingly fun section of The Forest is the Rainbow Net. Part hammock, part trampoline, kids (and adults) can climb into this colourful, bouncy net from entry points at the bottom.
There are two levels, an intermediate on which you first enter into and the top layer where kids can get the full bouncy experience. As kids move around, their weight shifts around the Rainbow Net, making it a fun wobbly experience.
Just take note that those on the top level should look out for those below in the intermediate level.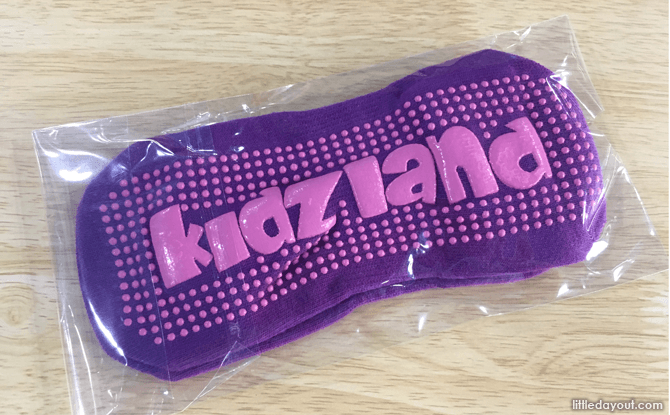 Socks are required to enter into The Forest. Bring your own or purchase them at Kidzland.
---
Amusement Centre
Beside the Kidzland indoor playground section, there are other amusements around the entertainment centre. There are electronic arcade games and rides tailored for kids.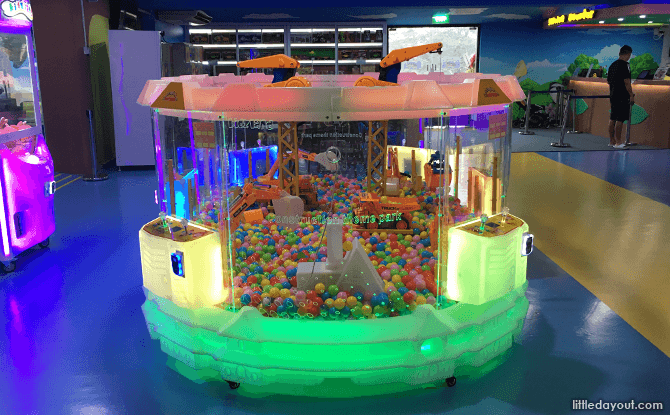 There is a construction station where kids can try operating a crane.
And a 12-person carousel, complete with flashing lights.
---
Hunters Alliance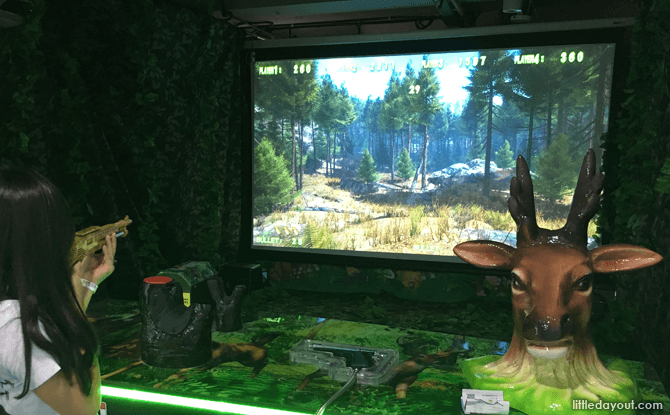 Older kids may gravitate toward Hunters Alliance towards the rear of the amusement centre. There are four different types of guns which they can use to shoot away at animals in a shooting gallery.
---
The Beach
Kidzland also has an indoor sand play area. Called The Beach, kids can play around in a sandbox. What is innovative is the use of projection technology. This superimposes an image on to the sand. This image is interactive and changes as kids play with the sand.
---
Craft and Activity Areas
Kids who are more craft-inclined can try out the Magic Pen station. Using table-top touch screens, kids can draw their own creations before sending them up to a big display wall.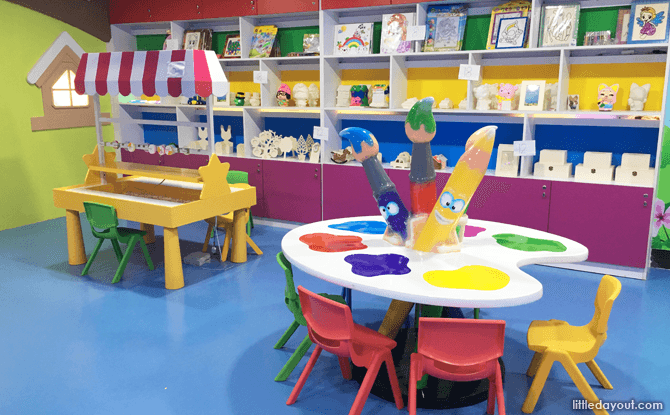 There are also other painting crafts and activities available.
---
How Does Kidzland Work?
As a children's entertainment centre, Kidzland at The Grandstand functions very much like an amusement arcade such as TimeZone.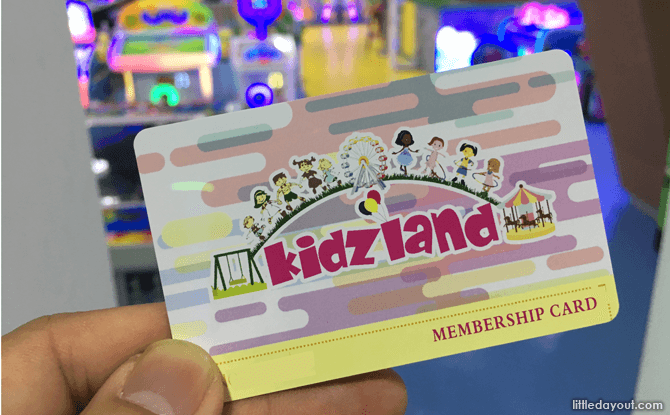 First, you have to register your child at the counter. You will then get a card and you have to top-up money into the card. This stored value card then gets tapped at each station and the relevant amount of money deducted.
If you run out of money, top up the card again.
It is also good to know that The Forest, Kidzland's indoor playground, has pay-once unlimited all-day-entry. This means that the kids can enter to play, leave for lunch at The Grandstand, and then go back in again for more fun, within a day.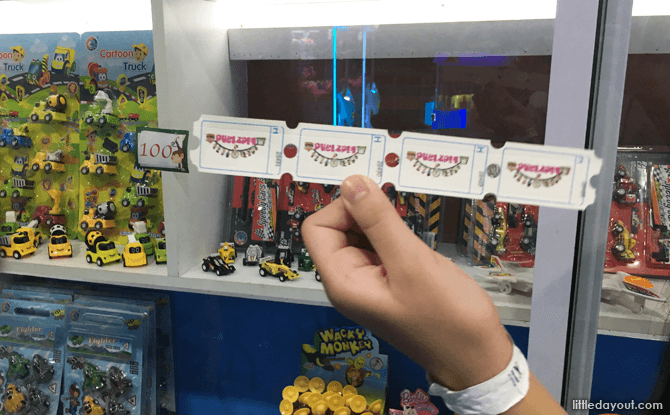 Another thing to take note off is that some of the machines at the amusement centre let you earn tickets. Collect enough tickets and you can redeem prizes.
---
Prices at Kidzland
Here are some of the prices at Kidzland:
The Forest Kidzland Indoor Playground
Babies: Free
Toddler (1 to 3 years old): Off Peak – $16; Peak – $18
Children (Above 3): Off Peak – $20; Peak – $22
Accompanying Adults: 1st one – Free; Subsequent adults – $5
Construction Theme Park: $4 per play
Claw Machine (Big): $3 per game
Claw Machine (Small): $2 per game
Other Game Machines: $2 per game
Carousel: $5 per ride
Magic Pen: $5 for 10 minutes, $2 for printing
Hunters Alliance: $5
The Beach: $5 for 30 minutes
Kidzland also offers birthday party packages starting from $488 for 10 kids.
---
Kidzland – Indoor Playground and Children's Entertainment Centre
Address: The Grandstand, Level 2, #02-14, 200 Turf Club Road, Singapore 287994
Opening Hours
Mon to Thu: 10.30 am to 8.30 pm
Fri: 10.30 am to 9.30 pm
Sat, Sun & PH and School Holidays: 9.30 am to 9.30 pm
www.kidzlandsg.com