Pokémon fever is taking over Sentosa this weekend with Southeast Asia's first Pokémon GO Safari Zone taking place from 18 to 22 April 2019.
Trainers who have been lucky enough to get tickets to the Pokémon GO Safari Zone event on Sentosa can look forward to catching rare Pokémon like Unown and Shuckle. Even those who did not manage to register for the event can still immerse themselves into the world of Pokémon around Sentosa's scenic spots.
Pokémon Sightings
The world's first six-metre tall inflatable Lapras can be found at Palawan Beach. The water-type Pokémon can be spotted floating in the waters off the sandy beach.
Lining the route from Sentosa Boardwalk to Tanjong Beach are various Pokémon photo points.
---
-- Story continues below --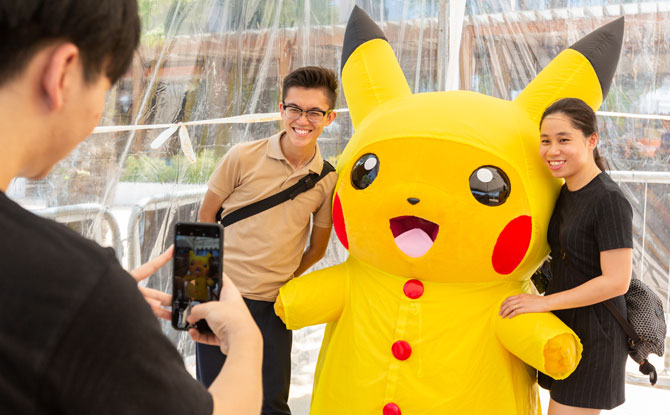 Pikachu will also be making appearances during the Pokémon GO Safari Zone event days. Head down to either Palawan Beach or Tanjong Beach at 11.30 am, 2.30 pm and 4 pm for the free Pikachu meet and greet sessions.
Pokémon trainers can also head over the official store at Palawan Green to pick up official Pokémon merchandise and plushies.
It can get hot out there and so the organisers have set up some shaded spots along the Pokémon GO Safari Zone route. Most notably, there are Player's Tents at Palawan Beach and Tanjong Beach in the livery of Team Mystic, Valor and Instinct.
Weary Trainers can rest their feet and hang out with their fellow team members before heading off again to catch 'em all.
Kiosks selling drinks and light bites are located along Palawan and Tanjong Beaches.
How Registered Trainers Can Start Their Pokémon GO Safari Zone Experience
For Trainers who have successfully balloted for one of the 125,000 tickets given out for the four-day event, they can head over to one of the Pokémon GO Check-in Pokéstops, one at Resorts World Sentosa and the other at Palawan Green  to get started.
Check-in Pokéstops are also marked out in the Pokémon GO game.
When registered Trainers spin the Pokémon GO Safari Zone Check-in Pokéstops for the first time, they will be prompted to either scan the QR code they received in their participation email or manually enter in the code. Once done, off they can go to start hunting down Pokémon.
Looks like it is going to be busy Pokémon GO weekend at Sentosa!