In Singapore, it is amazing how we always seem to be able to maximise the use of space. The Play Corridor in Bedok is a case in point. It manages to squeeze in four hubs with some play features along a walking and cycling route that stretches from Bedok Reservoir Park to East Coast Park.
The four-kilometre-long Play Corridor project is now several years old. It connects Bedok Town Centre with Bedok Reservoir Park in the north and East Coast Park to the south.
Play Corridor: From Bedok Reservoir To East Coast Park
Starting from Bedok Reservoir Park, the Play Corridor stretches past Block 720 Bedok Reservoir Road and Bedok Town Park, and across the Pan-Island Expressway to Bedok North Road. It continues on to Bedok MRT and Bedok South Avenue 1 before providing a connection to East Coast Park at the Laguna Flyover area.
---
-- Story continues below --
Along the route are four "hubs". These serve as the landmarks of the Play Corridor.
The Hill
Along Bedok North Avenue 1, there is The Hill. This hub is inspired by Bedok's hilly terrain of the past. It features hexagonal planter seats made from stone.
---
The Wind Valley
Further along, at the junction of Bedok North Avenue 1 and New Upper Changi Road, is The Wind Valley. The stone planters make a reappearance and there are wind sculptures which were intended to twirl in the wind.
Several years on, the wind sculptures look like remnants of the past themselves.
---
The Fishing Village
The Fishing Village at Bedok South Avenue 1 has distinctive pavilions which have been built to resemble traditional fishing traps.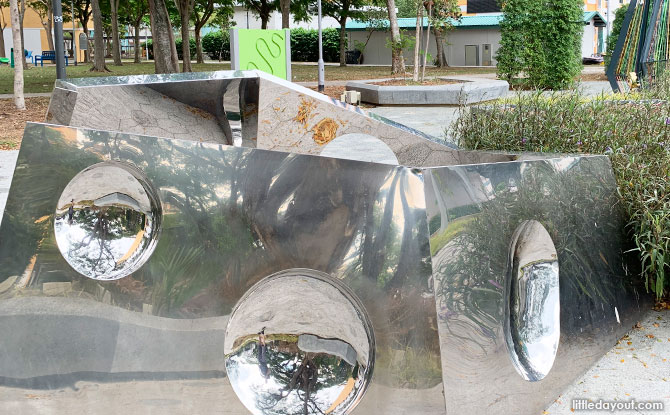 Reflective stainless steel sculptures adorn this hub of the Bedok Play Corridor.
There are also net-like play structures.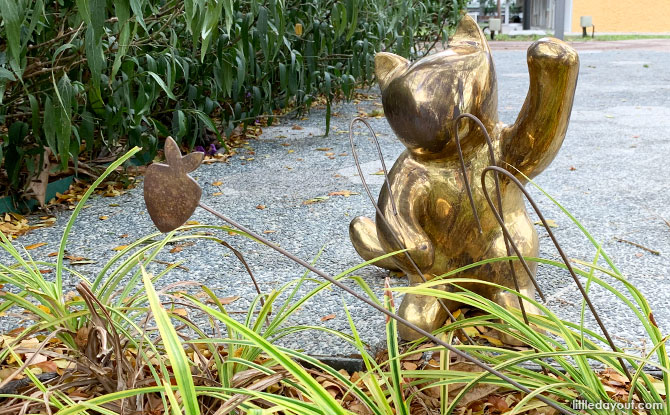 Look out for adorable cat-and-fish sculptures hidden around the foliage.
---
The Beach
At the other end of Bedok South Avenue 1 is The Beach. This hub is intended to represent the shift from land and sand.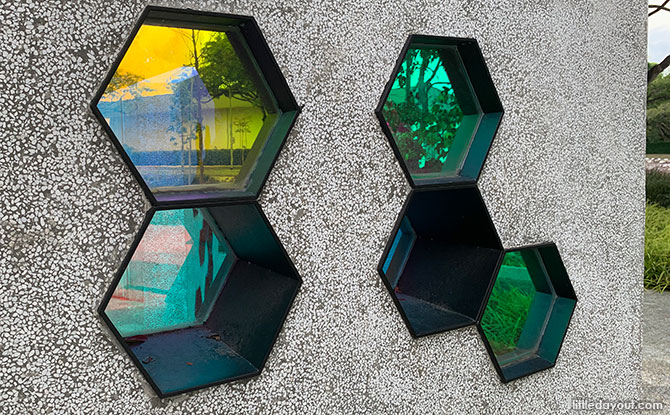 Colourful glass panels catch the sun at this hub of the Play Corridor.
A blue-coloured section of The Beach evokes images of the sea with the mounds representing islands dotting the water.
The Beach is a reminder that the sands of East Coast Beach are not far away.