Bedok Reservoir is about the size of 135 football fields and can hold enough water to fill 5000 Olympic sized swimming pools. However, few people know that it was once a sand quarry and the earth from the quarry was used in the reclamation of the East Coast in the 1970s.
By the early 1980s, it was decided that the location would be transformed into a reservoir to meet the growing demand for water in the East of Singapore. After 3 years, Bedok Reservoir was completed in 1986.
Nowadays, it is hard to believe that Bedok Reservoir used to be a huge sandpit. Instead, Bedok Reservoir and the park that surrounds its 4.3 km shoreline is a lifestyle destination, attracting scores of visitors on the weekends.
Here are 5 recreational activities that you can do at Bedok Reservoir and its park.
---
-- Story continues below --
---
Jogging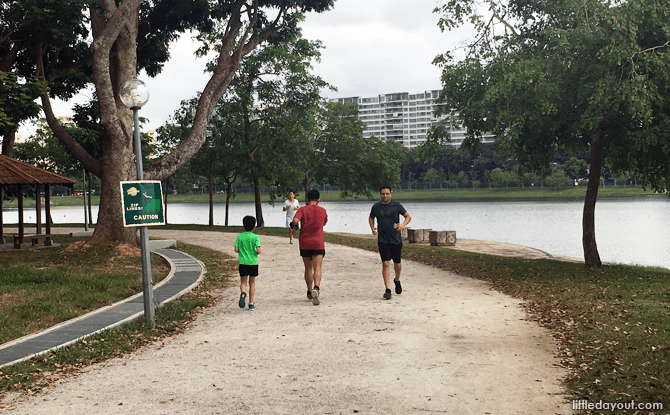 There are both paved and dirt running tracks at Bedok Reservoir. The elevation of the track around the water is flat, making for an easy and pleasant jog.
---
Children's Playground
Located close to the car park at Bedok Reservoir Road is a children's playground. In addition to a two-level play structure, the Bedok Reservoir playground also has swings for kids to play on. Nowadays, the sand of the playground is about as closest reminder you will find of the reservoir's former life as a sand quarry.
---
Kayaking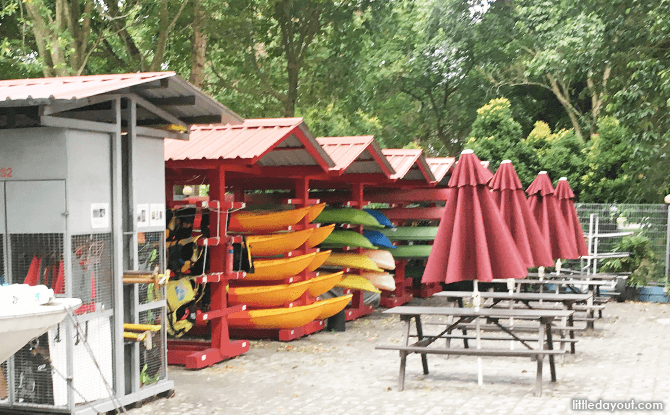 PA WaterVenture has been operating at Bedok Reservoir since 2005. They offer kayak rentals to the public at the rate of $15 for two hours. To go on a single kayak, children need to be at least 11 years old. Kids as young as 7 years old can go on a double kayak provided they can fit into a life vest and are accompanied by an adult. Contact PA WaterVenture Bedok at 97101697 or through their Facebook page for more details.
---
Adventure Ropes Course
Forest Adventure offers ropes courses that cater to everyone from kids to adults. Take on the challenge of the Kids, Junior or Grand Course while soaking in the views of Bedok Reservoir nearby. Make a booking before heading down to Forest Adventure to be assured of a spot because it can get busy, especially on weekends.
---
Dining at Bedok Reservoir
Wawawa Bistro by the Reservoir is a full service restaurant close to the Bedok Reservoir Road car park and the children's playground. On its menu are pastas, western mains, pizzas and the odd local fare. It is open from 5 pm, Mondays to Fridays, and from 11 am on Saturdays and Sundays.
Close to Wawawa Bistro is a special enclosure that originally housed part of the Berlin Wall that was on loan to Singapore from American Robert A. Hefner II and his Singapore-born wife MeiLi.
After those segments of the Berlin Wall were returned to the couple in 2013, a new Berlin Wall-inspired artwork was unveiled in 2015. The two graffiti artists who spray painted the original wall were invited to create a new mural artwork on one side of the wall, while the other was left for Temasek Polytechnic students to decorate.