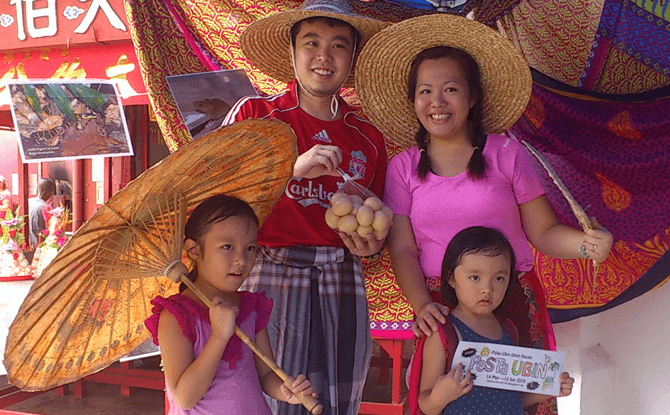 Pesta, pronounced 'Payst-ta', is Malay for festival or party. And you can expect a festive atmosphere at Pesta Ubin 2017 where all-things Pulau Ubin get celebrated with a host of kampong-flavoured activities between 10 May and 16 July.
During the 10 weeks of Pesta Ubin 2017, visitors can discover Ubin's charms through more than 30 planned activities.
These range from nature tours to communal campfires to quarry kayaking. Whether you are a nature-lover or the adventurous type, or just looking for new experiences to discover as a family, there are plenty of reasons to take the 15-minute bumboat ride and visit Pulau Ubin.
Here are some highlights of the activities taking place at Pesta Ubin 2017.
---
-- Story continues below --
1. Kampung Photo Booth and Colouring Fun at Uncle Lim's Shop
Make your first stop on the island Uncle Lim's shop at Ubin Town. Pose with cool props at a photo booth to get you into the kampung spirit and capture your memories in pictures.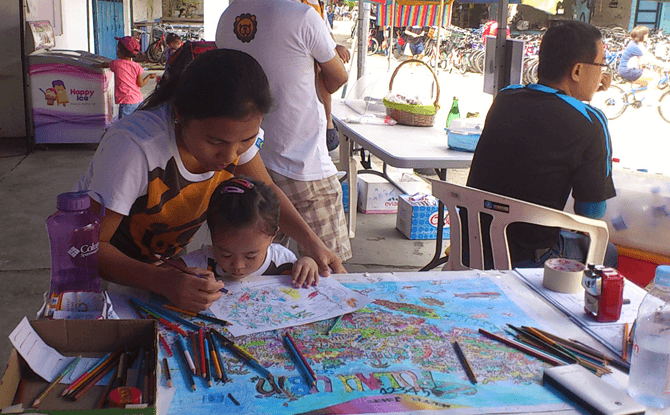 Kids can help to colour a 15-year old detailed map of Ubin, its kampungs, places and people. Limited copies are also available for sale from Uncle Lim's Shop. The shop is also Pesta Ubin Central and where you can find out what is taking place around the island.
When: Every weekend from 13 May to 16 July, 10 am to 4 pm.
Where: Uncle Lim's shop. Located at No. 42 Pulau Ubin, opposite the Wayang Stage in Ubin Town.
2. Round Ubin Interactive Race
The organisers have promised a FREE interactive race that visitors to Ubin can play around the island. Suitable for ages four and up, there will be prizes for the top three teams. Registration is required. Stay tuned to the Pesta Ubin facebook page for details.
When: 10 May to 4 June.
Where: Details to be announced
3. Tour Floating Fish Farms
Wonder what the life of a fish farmer is like? Go on a 30-minute boat tour to find out first-hand about life at the floating fish farms around Pulau Ubin. The minimum age for tour participants is two years old and the participant must be able to fit into a life vest.
When: Fridays, Saturdays and Sundays, with tours between 11 am to 5 pm.
Where: Living Fisher Village at Uncle Ah Kok's house.
Cost: $15 per person, maximum of six persons per trip. Registration at least two days in advance required.
4. Play Kampung Games in the Village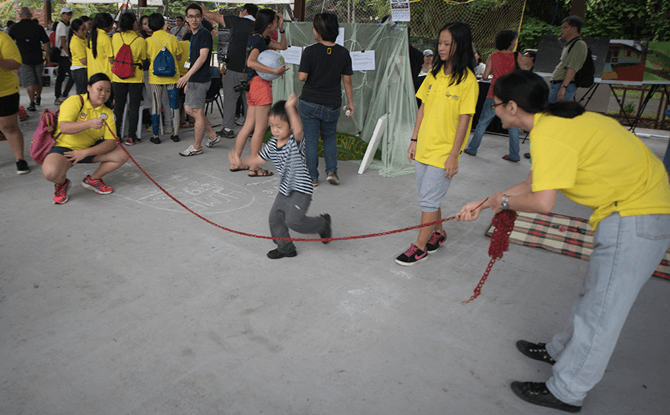 Try out traditional games such as five stones, hopscotch and chapteh with the volunteers from U Cares.
When: 20 May and 16 July, 9 am to 4 pm
Where: Assembly Area in the Village (former basketball court)
5. Go Hunting for Musang at Night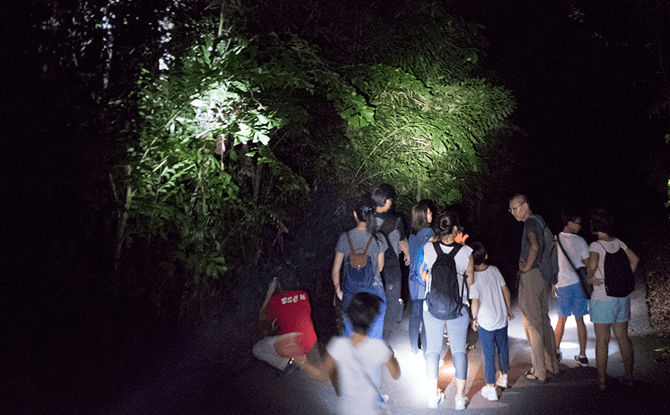 The Common Palm Civet or Musang is a small native carnivore found on Pulau Ubin and mainland Singapore. Join a leisurely guided nature walk in search for the Musang after dark. Specially organised with kids and families in mind, the tour takes place on level ground to make it easier for children to participate.
When: 23 Jun, 7.30 pm to 10 pm
Where: Meet at Uncle Lim's Shop. Registration required and registration details to be announced.
6. Kampung Reunite – Sunset BBQ and Campfire
Phillip Lin and Uncle Ah Kok, two Ubinites will be welcoming people to their traditional house to enjoy a barbecue and campfire while watching the sunset at the Living Fisher Village. Trade stories and share music around the campfire and experience the kampong spirit at this evening activity.
When: 13 May, 7.30 pm to 12 midnight
Where: Living Fisher Village at Uncle Ah Kok's house.
Cost: $2 per person entrance fee to Ah Kok's house which will go towards covering Uncle Ah Kok's food, electricity and medical bills. Bring your own food or buy food on the spot.
7. Boat Tour of Secret Mangroves
Go on a 30-minute boat tour of Ubin's mangroves. The tour starts from Living Fisher Village and returns to Living Fisher Village. Minimum age is two years old.
When: Fridays, Saturdays and Sundays only, 11 am to 5 pm
Cost: $10 per person, maximum of six persons per trip. Registration at least two days in advance required.
8. Chek Jawa Open House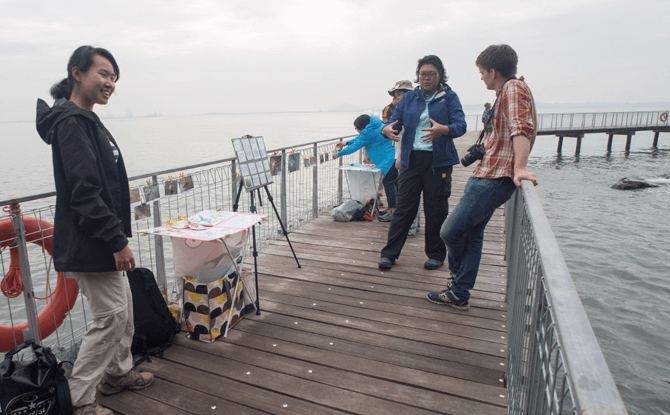 Visit Chek Jawa and learn about the flora and fauna found along the shoreline. Guides will be stationed along the Chek Jawa boardwalk to point out the wildlife to visitors.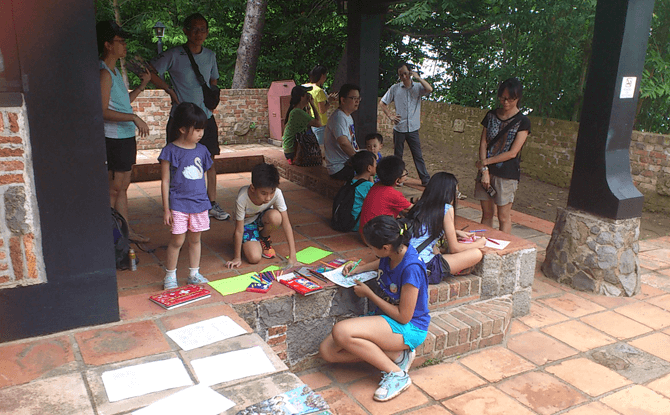 There will also be activities for kids and families at House No. 1.
When: 3 June, 10 am to 3 pm
Where: Chek Jawa Info Kiosk. Chek Jawa is about 3.3 km away from Ubin Jetty.
9. Go Camping as a Family
Cicada Tree Eco-Place has organised a special, two-day one-night camping experience for families as part of Pesta Ubin 2017. Go on inspiring nature walks and bond together as a family on an overnight camping trip under canvas.
When: 10 to 11 June
Where: Ubin Living Lab. Registration is required. More details will be announced.
10. Get Inspired with Art Activities
Take part in an interactive hand-on workshop by Darel Seow. He will be guiding participants on how to use paper and natural materials to create a Pulau Ubin wildlife diorama. This hands-on workshop is suitable for ages four and up.
You can also join Hazel Hung for a craft activity to turn an unwanted coconut husks into a beautiful piece of art with some paint.
Wildlife Adventures – Interactive Kids' Workshop by Darel Seow
When: 28 May, 2 pm to 4 pm & 11 Jun, 10 am to 12 pm
Cost: $50 per person before GST. Registration required.
Paint a Husk
When: 4 June, 11 am to 4 pm
Where: Uncle Lim's Shop. Free.
Pesta Ubin 2017
Pesta Ubin 2017 is organised by the Friends of Ubin Network (FUN). To stay updated on Pesta Ubin 2017 and registration details, visit their website or follow Pesta Ubin on Facebook.
Images courtesy of Pesta Ubin.