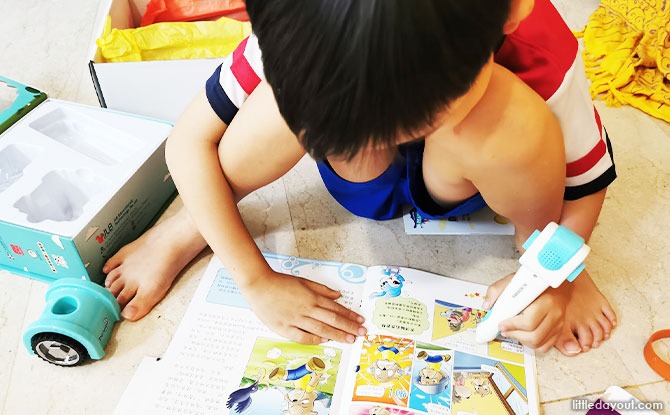 Do you sometimes find difficulty occupying your child during a Zoom call? Or wish to have your child being read to – while you are busy with chores? As part of our parent review series, we have come across the magic of reading pens! Reading pens are pens that read books aloud and we had the privilege of trying out the PenPal Whizz reading pen by JLB Educational Technology
---
Overview of PenPal Whizz Reading Pen and Books
The cute PenPal Whizz Reading Pen is shaped like a little robot. It reads out words on the Penpal Whizz compatible books so children can follow the storylines and pick up new words, vocabulary and gain new knowledge.
Simply switch on the reading pen, tap PenPal on the book cover and it is ready to read. Tap on text, graphics, game icons for the pen pal to read aloud. It came accompanied by readers, science magazines and Chinese resources suitable for different kinds of readers. Whether your child is learning to read, or gaining confidence in reading or is a proficient reader – the resources are pitched at varying competencies.
The PenPal Whizz books that we were given included English readers from Cambridge Reading Adventures, Letterland Phonics Readers, Storybooks like Hullabaloo, The Animal Boogie, Kinder Science Series (a junior version of Science Adventures), Junior Mathematics series, Tang poetry, Life series and One Thousand Whys (十万个为什么).
---
Functions of PenPal Whizz
The PenPal Whizz Reading Pen is an easy-to-use device a child can manage quite easily. Each PenPal Whizz compatible book has a volume unit for volume adjustment, and also recording functions for children to record their own voices. This is great practice for readers to practise pronouncing and reading aloud. There is also a calculator function to tap on – this complements the Mathematics series.
If the Reading Pen is reading too fast, there are five speeds to choose from for reading speeds.
For the playing of games, tap on the game icon, listen to the questions then use the Pen Pal Whizz to tap on the right answers.
---
Parent's Review of PenPal Whizz and Books

Busy parents will find PenPal Whizz useful for a screen-free time that is engaging. Plus who wouldn't like a mini "robot teachers" that reads to your child at his or her pace? With an assortment of books, the children can read the books on their own, play games or even do their own recording.
Even the older ones like my boys, who are both in primary school, enjoyed reading with the accompaniment of PenPal Whizz Reading Pen. I also appreciated the ability of the pen to read the ones in Mandarin – which would be challenging for me given how technical some of the terms are.
Perhaps one added function which could be useful would be a dictionary mode where the pen teaches the child certain words to read and explain the meaning of a certain phrase or word.
---
PenPal Whizz Reading Pen – A Helpful Pen for Independent Learning
The PenPal Whizz Reading Pen will be a helpful tool for independent learning during the Stay Home days. For parents who are going to busy working from home, getting PenPal Whizz Reading Pen could help reduce the noise levels while keeping the children glued to books.
For more on PenPal Whizz Reading Pens and resources, click here.