Ever since the Covid-19 pandemic, parents have become keenly aware of how viruses and bacteria can cause upheavals in our lives. Aside from mask-wearing and good hygiene practices, it is also important to keep our home areas clean. We reviewed the Efil Household Disinfectant Spray and share our thoughts.
---
Efil Household Disinfectant Spray by Taiho Pharmaceutical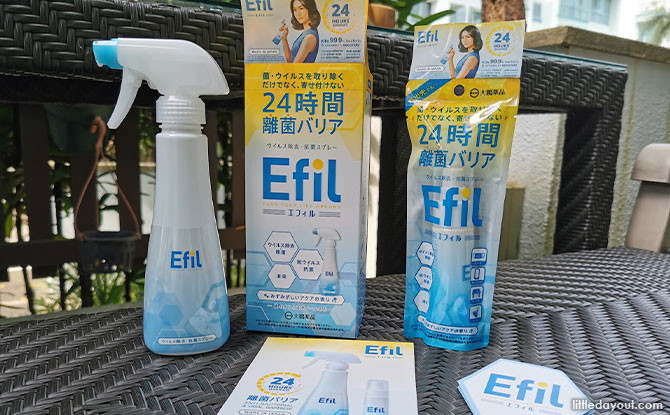 Efil Household Disinfectant Spray was developed by a Japanese pharmaceutical company that specialises in medicines for cancer treatment. The company known as Taiho Pharma launched its first consumer product for households.
Efil is also the word "life" spelt backwards, meant to help households to turn their life around with innovative products. The disinfectant spray is designed to disinfect and kill 99.9% of bacteria and viruses within seconds, it also provides a full 24-hour protection against bacteria and viruses.
---
-- Story continues below --
Ingredients include ethanol, silver and zinc ions, with a mild fragrance.
---
Product Usage
Meant to be used post-cleaning to leave a protective surfact, Efil eradicates microbes using ethanal while the silver n zinc ions maintain the antiviral and anti-bacterial effect for a whole day. It is also anti-mould.
The disinfectant spray comes in 300ml and 50ml sizing. It can be used on many surfaces including high-touch areas like doorknobs, keyboards, gadgets, bathrooms. It can also be used on the external surface of masks, keeping the wearer protected against viruses and bacteria. However, it cannot be used on wood, silk and leather as it may cause discolouration.
Efil can be used to eliminate germs and deodorise carpets, bedding, mattresses, towels, baby items like strollers, carriers, toys.
Dustaway cleaning services came by to use the product during the home-cleaning service to ensure a cleaner and safer home for the family.
---
Product Review of Efil Disinfectant Spray
It is important to keep our home and work areas clean to prevent any spread of sicknesses. We have had bouts of stomach viruses or other contagious sicknesses plague the home. Living with elderly and young children can mean a higher susceptibility to falling ill since children often do not keep their hands to themselves, while the immune system of elderly is generally weaker. Hence, the Efil cleaning product is a welcome addition to our cleaning arsenal.
The Efil disinfectant spray can be used on most surfaces – kitchen counters, laptops, tablets and merely spraying does the trick. However, as many of our surfaces are also wooden, the product isn't so suitable for cleaning our dining table or other wooden surfaces.
I like it that disinfecting with Efil meant no strong chemical smells like bleach. It left a subtle fragrance that does not linger. My experience with some strong cleaning agents was that they could cause headaches or even unknown side effects. Thus I liked how "mild" the smell was.
It will be a handy addition for spraying on the children's belongings especially since they are out and about in school or outdoors, as well as devices we use so frequently without thought. One area I would frequently use Efil on would also be the bathroom counter where microbes linger. It is a versatile product and I was impressed with the possibility of wide usage.
But I would caution one against using it for things babies and children tend to put in their mouths as the spray should not be ingested.
Last but not least, it can be cumbersome to be disinfecting surfaces daily so this spray will be used as and when areas require additional protection levels. Occasions for more diligent disinfecting will be when someone is nursing a sickness (like stomach flu) or after we host visitors.
---
Protecting Your Family's Health is Easy with a Spray
Efil Disinfectant spray is one that may help protect your family against germs and bacteria. It is easy to use and leaves a pleasant smell. Find out more about the product here.