Newly-minted parents looking for strollers might want to check out the all new Bugaboo Butterfly – a one-second fold city stroller. As its name suggests, the new Bugaboo Butterfly is a lightweight, single-hand collapsible stroller that's ideal for travels and daily commuting. We took it for several spins and here is our take on the new Bugaboo Butterfly.
---
A One-Second-Fold City Stroller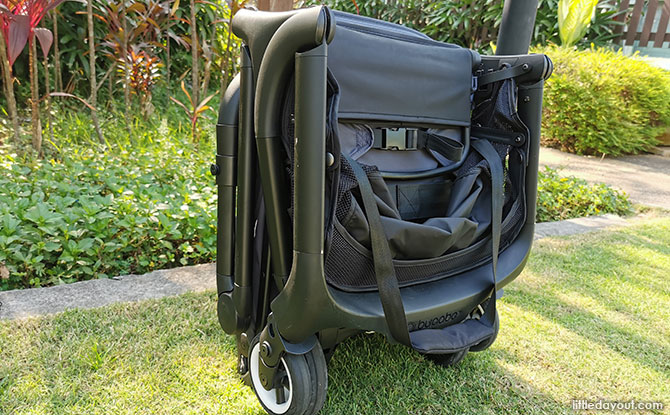 Parents on the go and eager to travel with their child would love the Bugaboo Butterfly as a compact stroller that requires just one arm and one second to collapse it.
As a parent who favour lightweight strollers and using public transport for commuting purposes, city strollers have to be easy to handle. This is vital when you have a baby to hold, groceries to carry, a baby bag to manage and perhaps even a toddler to care for. Japanese brands of city strollers might have the same functions but they are flimsy and loses their balance once you mistakenly tilt the weight towards the back of the stroller.
---
-- Story continues below --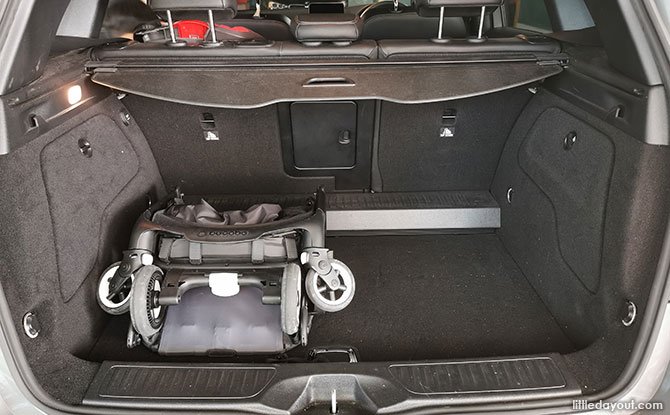 The Bugaboo Butterfly folds very quickly and easy and I love this function best. It does not take much of a hassle to fold it and store it. Hence it can fit car boots, corners of buses and trains or even the legspace between seats quite easily.
---
Cabin-friendly Stroller
Because of its relatively compact design, The Bugaboo Butterfly is definitely cabin-friendly. For parents travelling, the Butterfly would be an ideal companion during trips with your little one.
Its four rugged wheels and 4-wheel suspension gives the stroller an added stability across various terrain. This means easy manoeuvrability, especially important in parks and uneven terrain. According to a mum who owns the Bugaboo Butterfly, it is much sturdier than competing brands with similar built.
---
Bugaboo Butterfly Review: Comfort & Weight Limits of Bugaboo Butterfly
The Bugaboo Butterfly weighs just 7.3kg, hence it is light enough to setup while sufficiently sturdy to bear weight. The handsfree shoulder strap also allows parents to manage it easily. I did think the shoulder strap was a little flimsy and could be made stronger with thicker fabric.
The city stroller is designed for babies and toddlers over 6 months old, weighing up to 22kg. It is built to last a good number of years and siblings can even share the stroller at different life stages.
Another of my favourite feature is the underseat basket. It is very roomy, accessible from the front and the back of the stroller and can hold a whopping 8kg worth of necessities. Whether it's a grocery run, library run or trip to the beach or pool, the stroller can hold up to 30kg!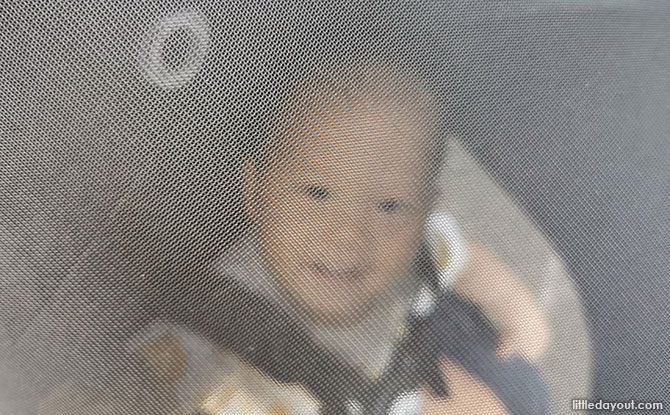 Canopy wise, the Bugaboo Butterfly has a canopy that extends well to shelter baby from the elements. There is also a netted portion of the canopy that allows you to peek at your little one.
---
Safety & Maintenance of the Butterfly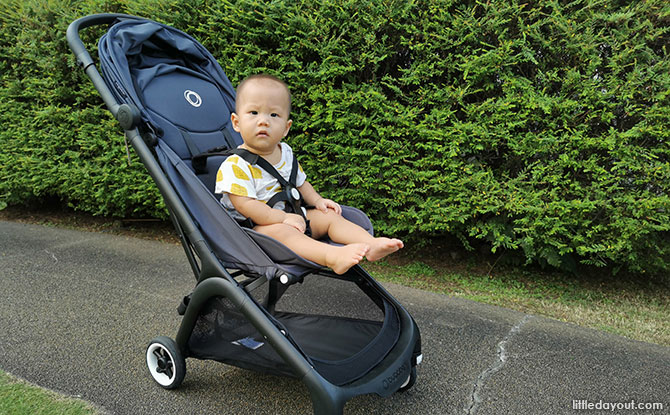 The compact stroller comes with a 5-point harness, for the shoulder and waist region. For added safety, parents can purchase the add-on handlebar. One thing that can be possibly improved is the harness system. Perhaps a magnetised quick-click harness could be used for accessibility.
Maintenance wise, the seat in lay, underseat basket and carry strap fabrics can be easily removed and machine-washed.
---
Where to Try and Purchase the Bugaboo Butterfly
The Bugaboo Butterfly stroller is available at First Few Years, Mothercare and Motherswork, and the Bugaboo Official store on Lazada.
Click here for more info.