Like many other parents, I find it challenging to encourage bilingualism in my children using fun methods. Rote memorisation is the usual strategy to scoring especially during examinations. But do we really want our children to learn a language purely by memory work? How can we help them enjoy learning a language and putting it into practice?
Dim Sum Warriors comes to the rescue of parents! Dr Woo Yen Yen and Colin Goh founded Yumcha Studios which uses innovative pedagogy and education to develop Dim Sum Warriors.
What is Dim Sum Warriors all about? They are characters developed by Dr Woo and husband Colin Goh, using mainly food as characters. Its bilingual comics, the app and books were developed based on the storyline, some of which is inspired by real-life incidents.
We review Dim Sum Warriors to find out how it works.
Using Dim Sum Warriors App for Learning Mandarin
We took advantage of the free 6 month subscription to try the Dim Sum Warriors app for half a year! Since it was a stay-home June holidays, we tried the app which meant educational screentime. It also assuaged the mum-guilt for resorting to using the screen to engage them since it was enriching.
The app consists of the comic reader which has new comic stories weekly in both languages. After listening to the story, the children will need to practise telling the story with the app rating each sentence read. The higher the fluency and accuracy, the higher the ratings. To reinforce the learning of key words and phrases, the children also play games with words found in the story.
They have to read aloud, identify the right words and successfully find the translated word before unlocking the next story. This spurs the children to want to get through each level to see what happens next.
---
Dim Sum Warriors Doodle Date
Dim Sum Club members are also invited to the biweekly Dim Sum Warriors' Bilingual Doodle Date. More sessions were added during the June holidays and we were thankful for that. The Doodle Dates are all about drawing together. Given Cartoonist Colin Goh's expertise, he deftly drew out characters in hilarious food forms via the live sessions.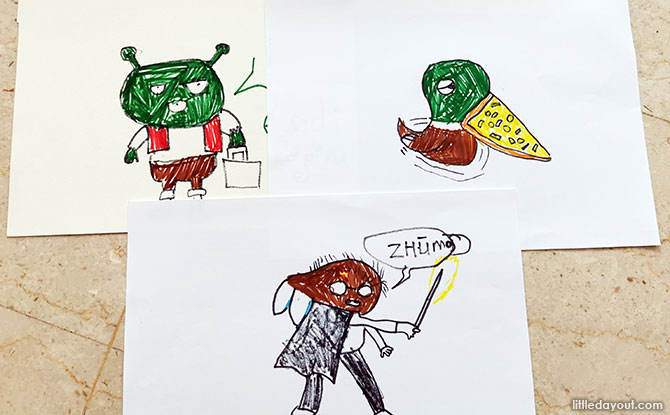 Each session had a theme such as fairy tales. Participants together with Dr Woo, Colin Goh and a Chinese teacher spoke in mostly Mandarin while they thought of the characters to draw.  Characters like Harry Trotter, Beauty and the Bao, Ninja Bao, Ugly Pizza Duckling, Ramen Rapunzel. Requests from attendees were also entertained.
My sons preferred to watch the videos after they were recorded so that they could draw at their own pace and pause when needed. One was so inspired he wants to compile all his drawings into a Dim Sum Warriors book.
---
Parent's Review of Dim Sum Warriors App and Doodle Date
Indeed Dim Sum Warriors is an innovative concept that engages children well and gets them to use the language without much fuss. Compared to practising Chinese assessment books, using the approach of games, stories and doodling makes the language come alive. I love the idea of combining a skill and the language. As my children love to draw, it's a fantastic way of getting them to listen to the bantering and learning the different terms through an enjoyable medium.
For Dim Sum Warriors App, the opportunities to practise oracy skills through stories are great. I find that part of the language is bit more "Taiwanese" and not so "localised". Nevertheless new words are used and reinforced through games as well. This gamified edutainment platform is a handy one and subscription costs are also not high. It is great for building confidence in the language. For parents keen on pursuing academic goals, this would not be so helpful.
---
A Fun and Engaging Way to Learn Chinese through the Dim Sum Warriors
Dim Sum Warriors has become a welcome staple in our household in learning Mandarin. To join us in our Dim Sum Warriors journey, click here.