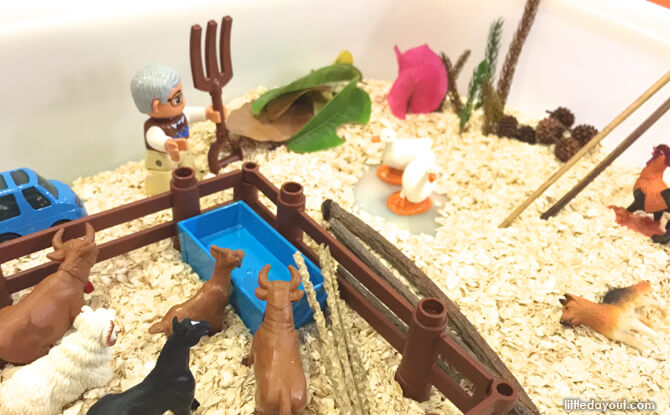 Montessori-inspired sensory bins are a great way to introduce the world to your baby or toddler.
Involving tactile, sensory play, baby-safe sensory bins creates little worlds for your child to explore.
Little Day Out takes our excited tot outdoors to collect items and create two sensory bins: At the Farm, and Ocean Life.
What's so great about sensory bins?
Play-learning is the best way for babies and toddlers to explore the world around them. Sensory bins, while not truly Montessori, are inspired by the methodology's principle of child-directed play.
Sensory bins are helpful in encouraging:
Fine motor and practical life skills – Scooping, arranging, dumping, for example, are part of the exploratory play of sensory bins
Language development – Leads to good conversations about the "world" they are exploring; springboards opportunities for adults to explain topics like nature, cultures, math, and science.
Emotional development – Sensory bins are good for both social play and independent play, with other children or with parents.
Stimulates the senses – Good sensory bins involve many of our body's five senses: Touch, sight, hearing, taste and smell.
Focus and concentration – Especially if you understand your child's interests, you can create exciting sensory bins that could lead to long play, and help your kid improve focus and concentration on the hands-on activities.
Sensory Bin #1: At the Farm
First, we have to collect items to make our Farm sensory bin. It's simple family fun to make a trip outdoors to parks and collect leaves, twigs, flowers. Involve your child while picking up items, and let his wonder guide you in explaining nature.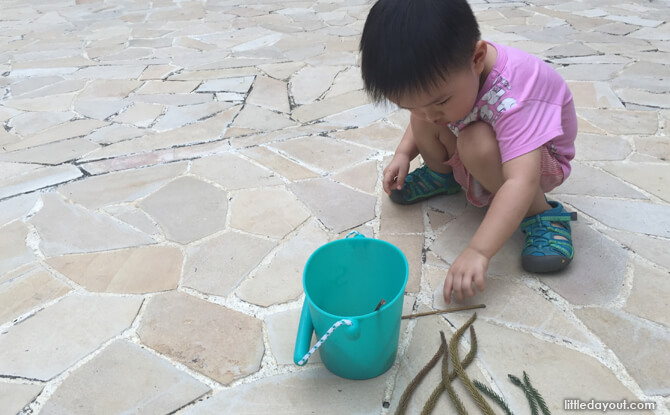 "Mummy, this leaf is red! This leaf is yellow! Wow!"
"That's because of the four seasons. During autumn, leaves turn red, gold, brown…"
Lots of opportunities to learn even at the stage of picking items up.
Things we used for At the Farm sensory bin:
Trofast bin from Ikea
Rolled oats (for edible "soil" or ground)
Safari Toob of Farm animals
Leaves
Twigs
Flowers
Small dried fruit (Casuarina fruit looks like mini durians!)
Toy people and farm pen (Lego Duplo)
Toy vehicle
Spoon and cup for scooping and dumping
… use your imagination and go crazy!
Our tot loved this sensory bin, because animals are one of his favourite things.
Let the cow drink some water!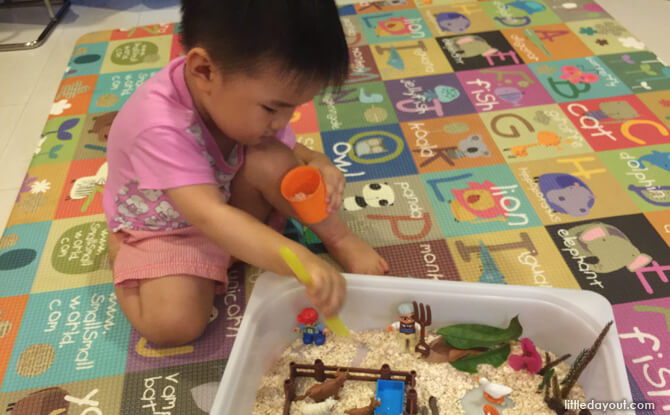 Scooping and dumping fun.
The sweet, rustic smell of the raw rolled oats wafted up as he scooped and played with it, making it a pleasant experience.
Sensory Bin #2: Ocean Life
Collecting items for this sensory bin made for a nice family day out at the beach along East Coast Park. Of course, we spent some time with sandplay too!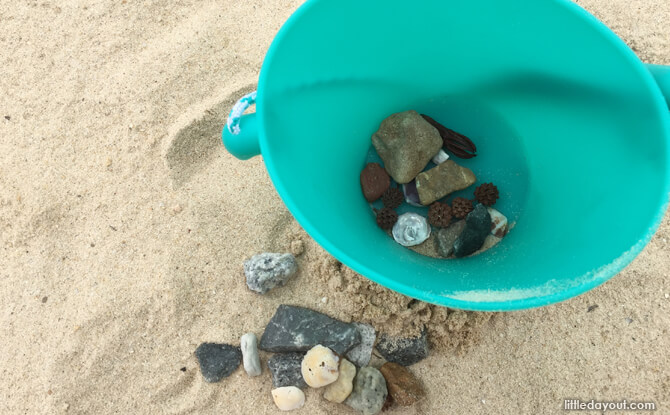 We picked up small sand-worn rocks, seashells (we could hardly find any, for some reason), twigs, and all sorts of things.
Of course, we could bring home some sand, but we didn't include this as part of the sensory bin as we wanted a less messy bin.
However, messy play is all part of the fun and learning experience of sensory bins, so you can decide on your level of tolerance of mess!
Things we used for the Ocean Life sensory bin:
Trofast bin from Ikea
Safari Toob of Ocean animals
Twig and string to make a "fishing rod"
Smooth rocks
Seashells
Water (you can choose to colour this blue with food colouring)
Spoon and cup for scooping
Floating "boat" or "imaginary sea creature"
*Sand (we left this out, but you can use this too)
… any other ocean-related items – use your imagination!
Fishing for good stuff. What's for dinner?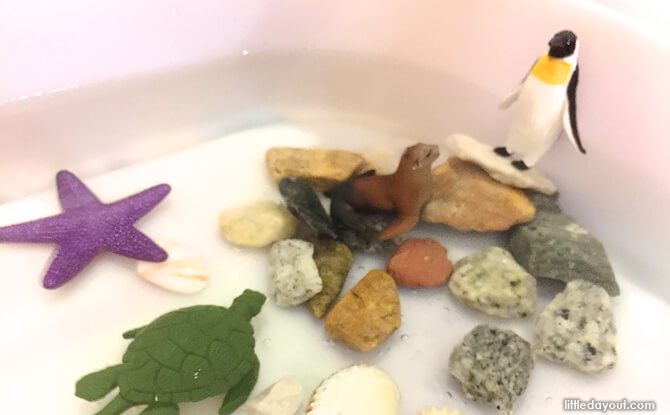 All bow before the Penguin King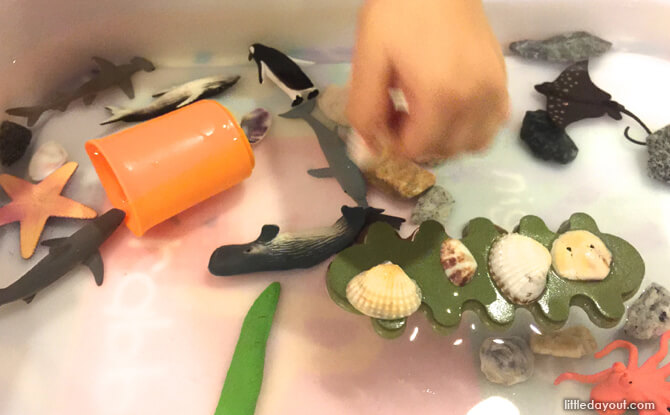 Our tot lined the floating platform with seashells and started singing "Michael Row Your Boat"
Some other sensory bin themes you can explore:
Garden
Construction site
Pond life
Beach
Wild Safari
Jurassic dinosaurs
Paleontologist with dinosaur bones