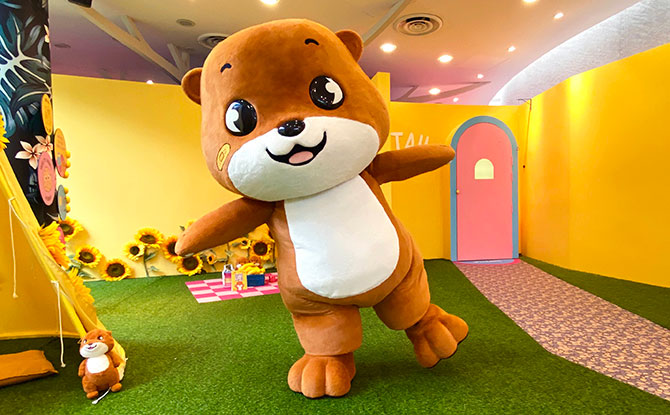 Otah & Friends, the otter-themed experience at Gardens by the Bay will be extending its run till 4 April 2021. In addition, it will be unveiling refreshed offerings which include a meet-and-greet with Otah himself and an Easter Egg hunt.
Otah & Friends was launched on 15 December 2020. At the otter-themed experience, visitors make their way through brightly-coloured and Instagrammable rooms in order to look for Otah before his cookies burn! On finding Otah, visitors get rewarded with Otah's favourite snacks – cookies and lemonade!
---
Otah & Friends Extended Till Apr – Refreshed Space
With the extension of Otah & Friends from 26 February till 4 April 2021, new experiences will also be introduced at the otter-themed exhibition.
Tan Weiting, Managing Director of El Masnou, the organiser of Otah & Friends, said, "Since its launch, Otah & Friends has received much love from more than 8,000 visitors! We were fully sold out in our first month, and our tickets continue to be well-subscribed. As Singaporeans continue to look for places and new experiences locally, we hope to bring Otah & Friends to more people. In our extended run, visitors can look forward to creating memories with Otah in person, an egg hunt themed to the upcoming Easter holidays, as well as new touches and surprises to the space."
New add-ons to the space include a tunnel decorated with fairy light, portraits of Otah with his family and more.
---
Meet-and-Greets & Easter Egg Hunt
From 1 March 2021, between 3 pm to 6pm on weekdays, visitors will have a chance to meet Otah the otter! Visitors can enjoy a picnic with the larger-than-life Otah.
From 1 to 4 April 2021, an Easter Egg Hunt will be held at Otah & Friends. Visitors who collect five eggs hidden around Otah's home will get to take part in a lucky dip. Prizes to be won included limited edition plushies and discounts on merchandise.
Tickets to Otah & Friends are available online and priced at $15 per person. Groups of five will enjoy a special rate of $12 per person. For groups larger than five can write in through a website form.