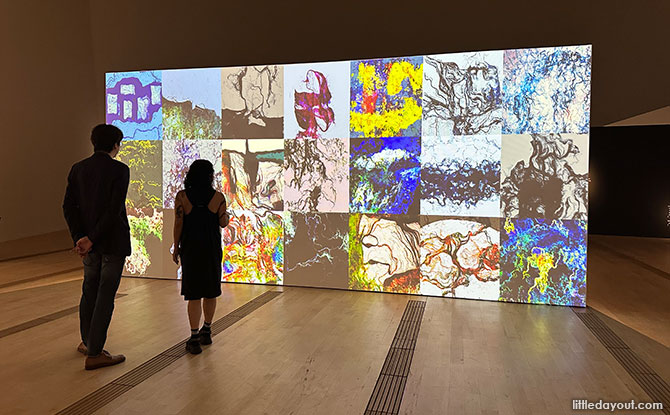 Explore the realms of digital art at ArtScience Museum's latest exhibition, Notes From the Ether: From NFTs to AI Tomorrow, running from 19 August to 24 September 2023.
The exhibition explores the world of dynamic digital art with contemporary artworks such as Non-Fungible Tokens (NFTs) and Generative Artificial Intelligence. It examines how developments in technology are shaping the way artists express themselves.
---
Notes From the Ether at ArtScience Museum
Notes From the Ether: From NFTs to AI Tomorrow is spread out over seven galleries at ArtScience Museum.
---
-- Story continues below --
The exhibition is curated by Deborah Lim from ArtScience Museum, and independent curator Clara Che Wei Peh, and brings together 20 artists to explore digital realms.
Amongst the artists are pioneers such as Simon Denny, Holly Herndon, Rhea Myers, Jonas Lund and Memo Akten. They are joined by important contemporary digital artists including Emily Xie, Sarah Friend, AI artist Botto and local artists jo+kapi.
---
Coded Possibilities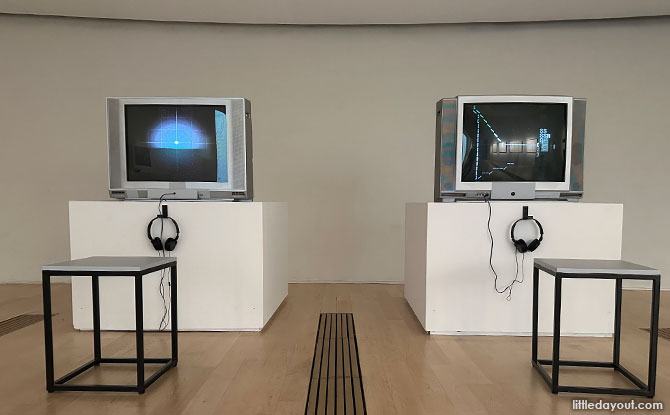 Step into a world where art is created by code and algorithms.
Series 0 Synth Poems by DEAFBEEF consists of one-minute pieces which incorporate FM (frequency modulation) synthesis to create visualisations of an audio wave. The sound and video in the work make use of the computing language, C, and the Ethereum blockchain to generate and store the images.
Another work here is Memories of Qilin by Emily Xie. This explores the concept of folklore through code, with mythological imagery of dragons and phoenixes that draw inspiration from Japanese woodblock prints and classical Chinese paintings.
---
Co-Creation
Art co-created by humans and machines gets showcased in this gallery.
Conceptualised and designed by artist Mario Klingemann and software collective ElevenYellow, Botto – a fully autonomous artist – creates new art from its AI-powered art engine. It also takes into account Botto's several thousand community members vote for their favourite pieces each week.
---
Networked Systems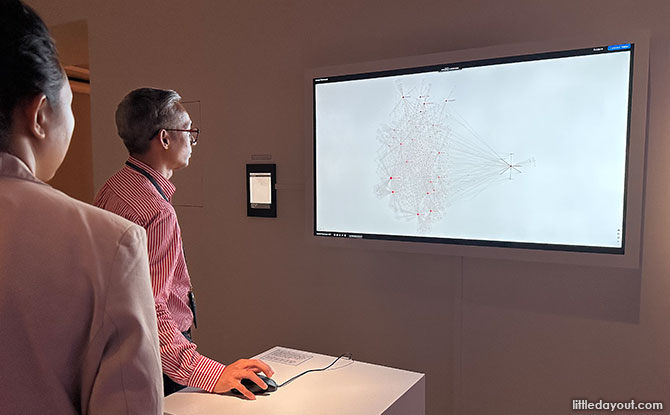 The gallery spotlights an emerging networked system – the blockchain – through three artworks created by Sarah Friend, jo+kapi and Burak Arikan. These artworks are designed to evolve over time as audiences interact with them.
---
Physical-Digital
This gallery presents artworks that highlight the nuanced interplay between tangible and intangible art.
Each of the works address the volatility of value, ownership and interaction with regards to the adoption of blockchain for the authentication and distribution of artworks.
Sarah Meyohas launched her own blockchain and token project titled Bitchcoin. The Bitchcoin tokens were created in 2015 and are backed by physical pressed petals related to the artist's 2017 Cloud of Petals series.
NFT Mine Offset series by Simon Denny responds to the perceived environmental costs that are incurred by using crypto networks such as Ethereum. He purchased five secondhand Ethereum mining computers and worked with a gaming illustrator to produce detailed 3D portraits of the mining computer to form new digital artworks.
---
Expanded Self I
This gallery explores digital identity in the light of generative AI and deepfakes.
The CLASSIFIED series by Holly Herndon and Mathew Dryhurst introduces 80 AI-generated self-portraits that capture the many facets of "Holly Herndon", as envisioned by what the machine knows of her. Three of these portraits will be featured in the exhibition.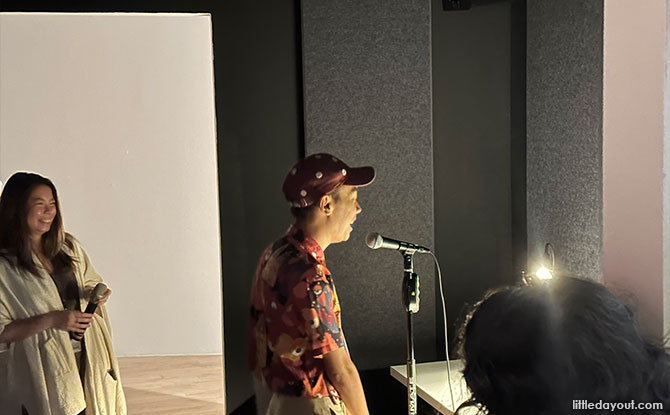 Holly+ is Holly Herndon's digital twin, developed in collaboration with Herndon Dryhurst Studio, Never Before Heard Sounds and Voicemod. It is an AI-driven voice tool that has the capability to take any audio input and reinterpret it in Herndon's voice. You can try it out for yourself at a booth at the gallery.
---
Expanded Self II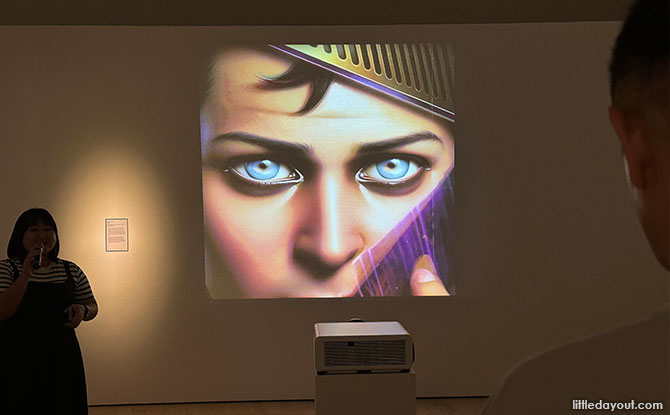 This gallery continues the conversation through the explorative lens of Ninaad Kothawade and Rimbawan Gerilya. It feature different AI-generated iterations of the artist's likeness.
---
Collective Futures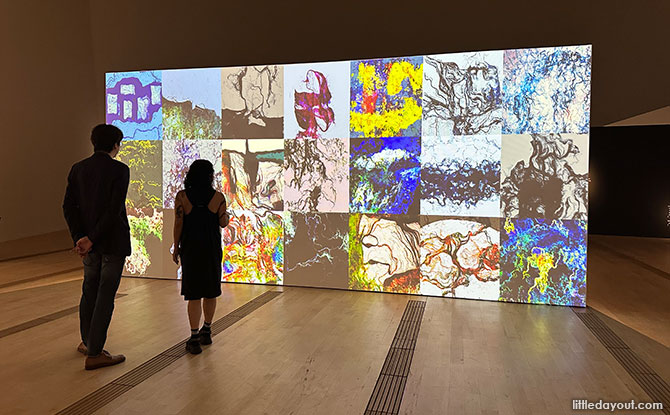 The final gallery portrays humanity's collective future in terms of societal developments and human-machine interactions. This is done through two artworks by Memo Akten that addresses the interconnectedness between humans and machines.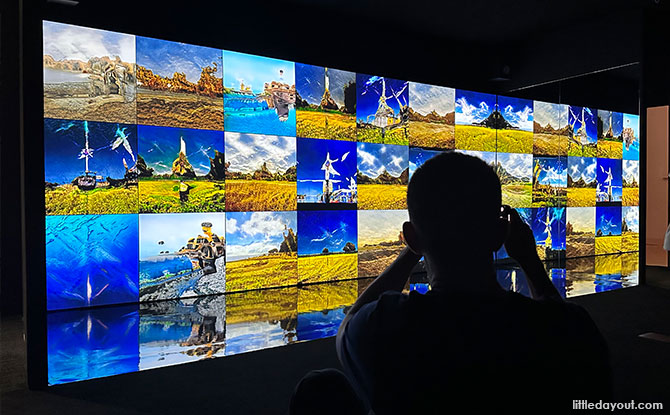 Deep Meditations is a large-scale, one-hour long video and sound installation that celebrates life, nature, the universe, and the personal experiences of human beings in relation to the world. The work is a contemplative and spiritual journey, reflecting the imagination of an artificial neural network through shifting images and sounds.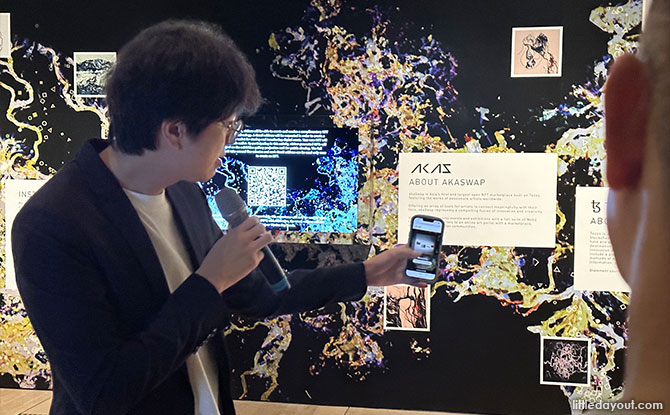 Visitors can then co-create digital artworks by uploading any photo of their choice, which will be transformed by AI into art on the Tezos blockchain, which then gets minted on to a Gmail account.
---
Technology & Art
"The interdependence of humans and technology is symbolic to me of a desire for constant progress and innovation, and the emerging technologies of NFTs and generative AI have taken over our social consciousness in the recent year. Artists have historically adopted the latest technologies to push the boundaries of their works, and Notes From the Ether profiles 20 artists with cutting-edge artistic practices. I hope that visitors approach the exhibition with openness and curiosity to these topics, prompted to do further research into how technology is changing our world," said Deborah Lim, Curator of Exhibitions at ArtScience Museum.
Notes From the Ether: From NFTs to AI will run from 19 August to 24 September 2023. Tickets are available for purchase at all Marina Bay Sands box offices and online. Get more details here.
If you liked this story, we think that you will also enjoy reading about this festival taking place in Singapore this August. Also, did you know that McDonald's Singapore is launching their own NFTs? Or if you found it all too "digital", how about checking out some nature in Singapore; we've got two picks for you, one in the east and one in the west.