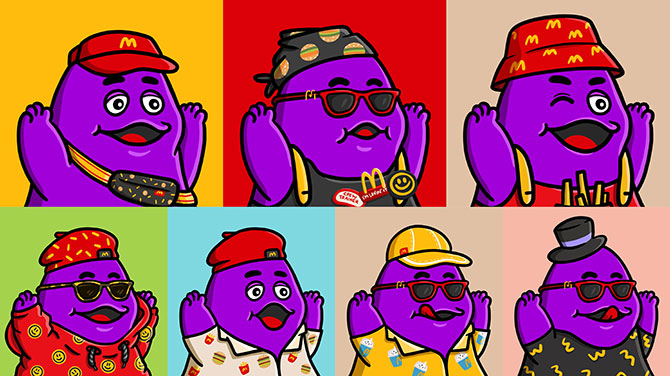 On the week of 21 August 2023, McDonald's Singapore will be releasing 2,000 exclusive Grimace Digital Collectibles, each with its own unique design. This innovative initiative combines the charm of a classic McDonaldland character with the modern world of NFTs and digital collectibles, allowing fans the unique opportunity to own a piece of McDonald's history.
---
McDonald's Singapore's Grimace Digital Collectibles
Grimace is known for his friendly and playful personality and iconic appearance. He has been a beloved character in the McDonald's universe for over 50 years.
McDonald's Singapore, powered by Bandwagon Labs and in collaboration with local NFT artist 'The Hidden Walls', is bringing the character to life as a digital collectible.
---
-- Story continues below --
Fans can celebrate their love for Grimace by owning one of these limited-edition digital collectibles by McDonald's Singapore, each showcasing a one-of-a-kind design that captures the essence of this endearing character using generative art.
The digital collectibles pave a new way for McDonald's to engage with fans and members through digital experiences. Holders will be able to unlock exclusive treats in future.
The launch of the Grimace NFT aligns with McDonald's Singapore's commitment to providing memorable experiences for its customers, elevating the brand experience for all customers and fans of the brand.
The 2,000 unique digital collectibles will be available for free through a seamless minting process via the McDonald's app, and members and fans are encouraged to act swiftly as these collectibles are expected to be fully redeemed quickly due to their limited nature.
---
How to Get the McDonald's Grimace Digital Collectible
To acquire one of the Grimace designs, individuals will simply have to open up their McDonald's app and select the 'Grimace Digital Collectibles' section to be re-directed to a homepage whereby tapping on a 'Mint Now' button will begin the entire process.
Individuals will require a Digital Collectibles wallet and they may connect through the web3auth or the MetaMask app, with the latter option allowing for members to add the Grimace Digital Collectible to their existing Web3.0 collections.
After successfully logging in, they will then be directed to a page where they will be directed to tap on a 'Mint Now' button to generate their unique Grimace Digital Collectible.
Successfully minted collectibles can then be viewed on the McDonald's app by heading over to the 'My Collection' section, or on the blockchain itself.
The 2,000 unique, soulbound Grimace designs are free for anyone to redeem, but are limited to one redemption per McDonald's account and cannot be traded or transferred.
"We're excited to bring Grimace closer to our fans through these unique digital collectibles," said Drina Chee, Senior Director, Marketing & Digital Customer Experience. "Grimace holds a special place in the hearts of many of our superfans, and this initiative allows us to evolve the character from nostalgic memories to love for all generations."
Do you like this story? How about reading this other one where you can view some IRL collectibles as well as this one on an exhibition about the future of digital art including NFTs and Generative AI?